We recently caught up with Steven Blasini, a born and bred New Yorker, with nearly 100 film credits to his name. The co-owner and VFX supervisor at BFX Imageworks has worked on productions of all types from feature films to webisodes for over 24 years. He's completely self taught from computer programming and assembly to network integration to visual effects from concept design through final output. He was inspired after seeing the revolutionary CGI of Jurassic Park!
Discover why he can't live without Boris FX Continuum plugins (and Boris FX Mocha Pro) inside his Adobe After Effects workflow.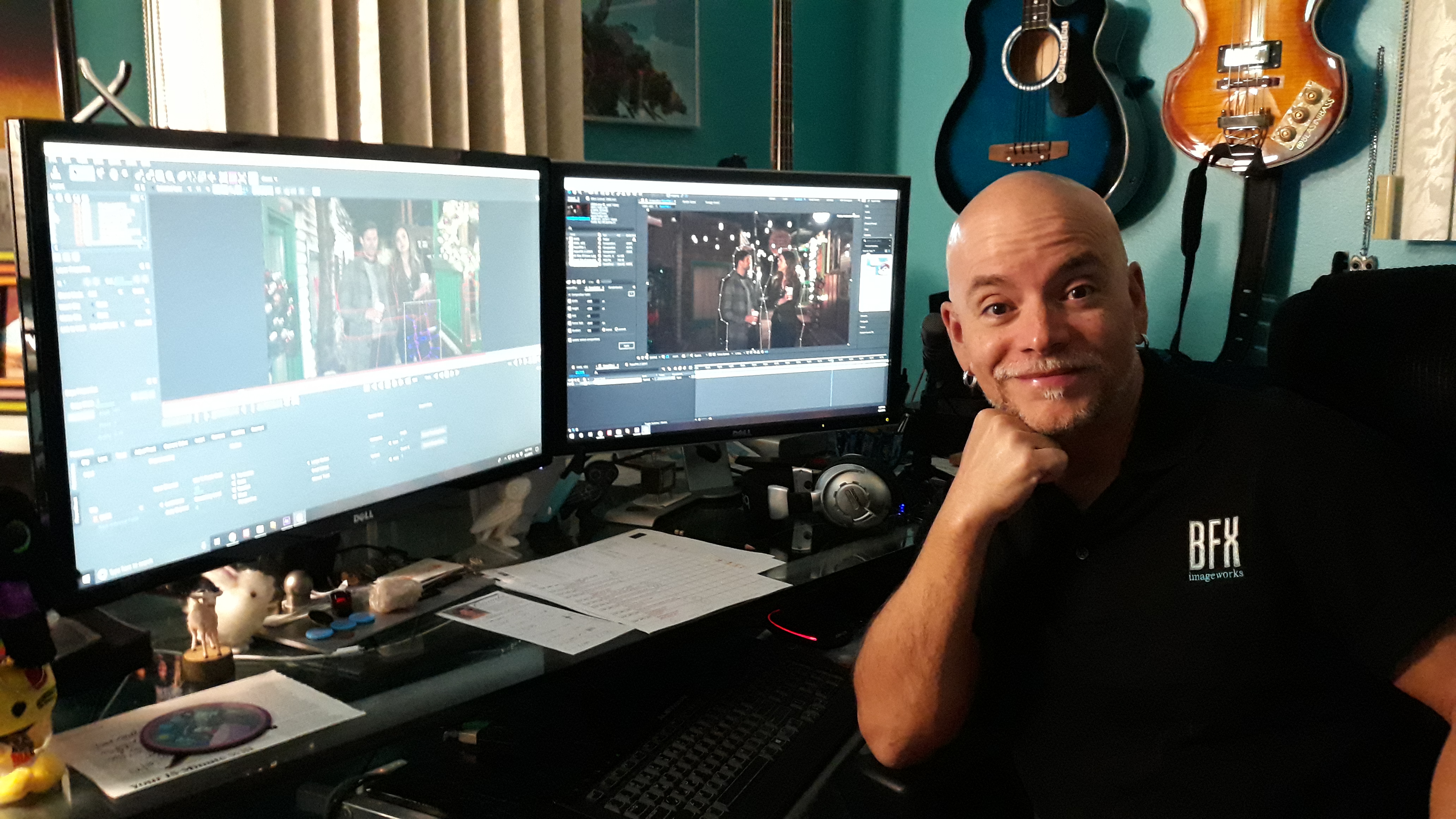 What type of tasks do you look to a plugin like Continuum to help with on a daily basis?
So far it's been an amazing toolset that comes into play when you least think you need it. This week we had a really short deadline to deliver work for the Netflix series On My Block where we used Continuum to gradually slow down footage over the course of a shot and add spotlights.
We all know that even with pixel motion interpolation within AE, slowing footage down almost always results in a stutter effect. In comes BCC_OpticalFlow, an amazing plugin that, quite honestly, on its own, is worth the price for the entire Continuum package. This plugin allows you to retime footage with no worries over any kind of stutter. Rather than blending the adjacent frames during the retime, it actually recreates all the interim frames making for smooth motion. (See below for how Blasini tackled adding the spotlights with the help of built-in Mocha tracking)
I had really no room for any more work. But one of my best clients came out of nowhere and asked us to do a title sequence and various interstitial animated text cards throughout the movie. They wanted fully 3D metallic lettering with internal shimmering and particles. I was about to tell them, sorry we're overloaded at the moment. But instead, I remembered Continuum and sure enough, I went in…and with BCC_TypeOnText, BCC_Shimmer, and Particle Illusion, I was able to take care of their needs while not affecting our delivery for the Netflix shots. I banged this out for the client in literally no time at all in between the Netflix shot renders and reviews. And got approved on the first version.
How did you first discover Continuum and how long have you been using it?
I have worked with Imagineer Systems, makers of Mocha Pro, ever since they began. Matter of fact, I've helped them hone the plugin over the years as a beta tester. When they joined forces with Boris FX, you can say I "inherited" the new knowledge of all of their products because of my loyalty to Imagineer. Now I can easily add loyalty to Boris FX as their amazing plugins have been a true revelation to us as a busy boutique studio. So, all told, I've been a Boris FX fan since 2014.
Which Continuum features do you use most — and why?
Primatte Studio is our absolute go-to keyer with predictable and reliable results that streamline our workflow immeasurably. Particle Illusion makes working with particles a breeze. Title Studio's Type on Text and Extruded Text has made our titling tasks more efficient and impressive…the list goes on and on.
What are your top 3 reasons why a VFX Supervisor like yourself should use Continuum?
These days it's all about deadlines and speed and efficiency. Continuum allows us to meet any deadline with high-end work quality that always impresses our clients and makes them come back for more.
Super affordable with amazing power which gives you a whopping bang for your buck.
The all-important compatibility! Boris FX Continuum works with so many different defacto standard VFX packages I'd say you'd be hard-pressed to not be already working with one they support.
Continuum includes Mocha's award-winning tracking & masking/effects isolation tools. How has this integration helped streamline your overall workflow?
Here's a great recent example of how we use integrated Mocha inside Continuum. Several shots on the same Netflix show needed to have spotlights added to a theater and they had to match the on-set lights exactly — and the camera was dollying and panning. Continuum's BCC_Spotlight plugin came to the rescue with dozens of presets for different looks and intensities and falloff. And then the biggest save? Built-in Mocha within the plugin.
You might ask why do I need Mocha built into the plugin when, perhaps, I already own Mocha Pro (which we do). Simple. With Mocha Pro you would need to translate tracking data into the parameters of the spotlight plugin, which aren't always a 1 to 1 correlation. With the Mocha built-in to the plugin, you track the camera and the effect's positional data is automatically added. Total time-saver!
What's your best pro tip to artists new to Continuum?
Just use it. Whenever you have ANY kind of an obstacle to work around check your Continuum list of plugins. Chances are you'll find your solution there. And once you're loaded up just experiment and push the parameters to the limit. You'll be so glad you did!
What's your favorite project you've ever worked on — and why?
We completed a fabulous film that starred Christopher Plummer before he passed. It was released domestically and internationally and it took us over a year to complete. It was loaded with tons of invisible VFX that implemented Mocha Pro intrinsically. The director was a close friend of ours and the entire process was like a dream. The film is Cliffs of Freedom. We actually submitted a before-and-after clip for inclusion in the Mocha Pro demo reel for that year.
Learn more about Continuum and download a free trial