If you love stop-motion animation, you're most likely a huge fan of Laika. The studio has made its mark on the film industry with stunning stop-animation features including Coraline, Kubo and the Two Strings, and most recently Missing Link, which won a Golden Globe (Best Motion Picture - Animated), a VES Award (Outstanding Visual Effects in an Animated Feature), and is currently nominated for an Oscar (Best Animated Feature Film).
We caught up with James Pina, a senior paint artist, to talk about all things Laika & Missing Link, the challenges of stop-motion animation, and why the team turns to Mocha Pro and Silhouette to rotoscope, paint, and track quickly.

You've worked as a roto/paint artist and VFX compositor on many notable projects including Missing Link. How does it feel to be part of Laika's team?
It's absolutely incredible feeling to be part of the team at Laika. I am very proud to be part of this amazingly talented pool of weird and wonderful people making films that we all believe in. It's the first job that I have worked where I get to see the entire process of the film being put together from design concept to model and puppet builds and finally the visual effects. There isn't a day that goes by that I am not floored by the attention to detail and amazing craftsmanship that goes into our films at every level.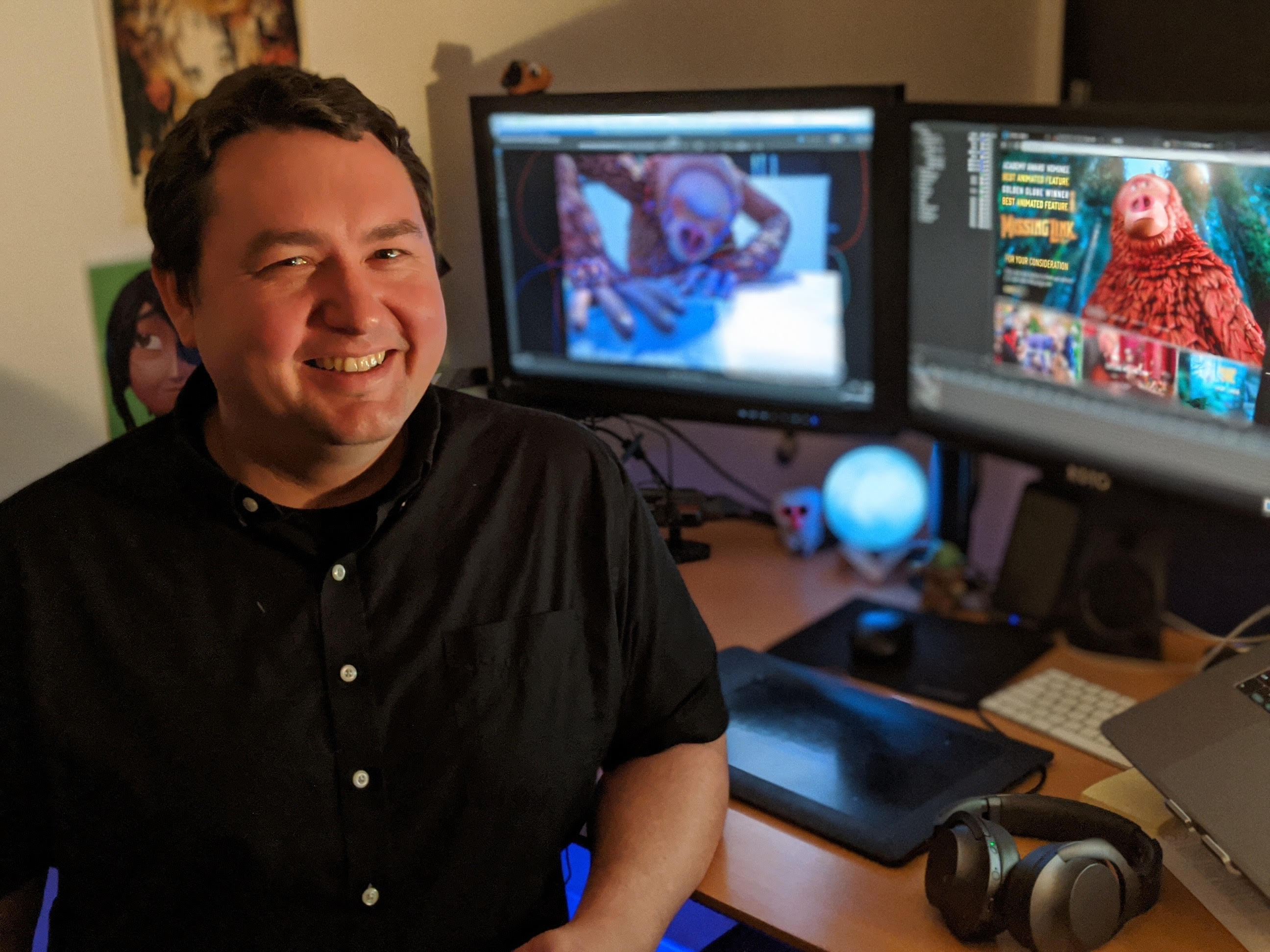 What led you to a career in visual effects? How did you get your start?
I started in visual effects at Cal State Monterey Bay in the Cinematic Arts and Technology department working on my senior thesis capstone project called The Sniffer. It's a fairly ambitious stop motion animation film that I did the entirety of the post-production on. It's a quirky little tale of a boy on a planet with a nose and all the other inhabitants have no sense of smell. It took us about a year and a half from start to finish. I had lots of time to learn the basic fundamentals of roto, paint, and compositing while making it. Several of the other people involved in that project, Kenny Lowe and Brice Schultz, currently work at Laika today.
From there, I was hooked on visual effects. After university, I signed up for Pixel Corps online training as well as FXPHD. Both were tremendously helpful in advancing my skill-set to where it is today and got my foot in the door to many film and television projects. I spent my time learning the ins and outs of both Mocha Pro (I think it was called Mokey and Monet at the time), Silhouette, Shake, and eventually, Nuke. I rejoined forces with the Pixel Corps team for internet-based freelance work and this is the team that became Boundary Visual Effects. Boundary is another pool of tremendously talented artists and is still going strong to this day. I owe a lot of gratitude to the Boundary VFX team for the friendships we have formed along the way and in helping me develop further as an artist.
What are the differences between working on an animated film versus live-action?
There are several huge differences in working with stop motion animation and live-action. The first and probably most obvious being the lack of motion blur in our filmed plates. If there does need to be some motion blur, it's all added in post by the compositing team. Secondly, there is an opportunity to shoot multipass plates that are tremendously helpful in creating the final look of our shots. For example with one camera and a motion control offset that resets per frame, we can shoot shots in stereo. We also do various lighting passes on a per-frame basis as well. That means we can light a beauty pass of the animation, a properly lit pass specifically for keying blue and green screen, and even passes utilizing blacklight and UV paint for isolating regions. The UV paint passes allowed us to do things like animating Link's fur on Missing Link or create glows for the Moon Beast on Kubo. These multipass plates are tremendously helpful in our VFX pipeline and something that would be impossible, or at least very difficult to do, on a live-action production.
What was the biggest VFX challenge you faced on Missing Link?
Missing Link, as with all our films, had such a diverse set of challenges that it's hard to pick just one! We did everything from seam repair on faces, massive rig removals, "de-chattering" to clean up inconsistencies from frame to frame on the 3d printed faces. We do all of these things and many other fixes across all fourteen hundred plus shots, all in service of the animation and being careful to make sure that the audience never knows we touched the footage. Mocha and Silhouette were a huge help in making that happen!
Where do you see the VFX industry going in the next 10 years? Are there any new technologies you're most excited about?
I am always excited to see advances in VFX tools and am curious to see what AI and machine learning holds for the future of that development. I think whatever changes happen in the industry in that regard will always ultimately be artist-driven, but any improvement in the roto/paint workflow is definitely welcome.
What are your favorite films?
I always enjoy a good science fiction movie, especially a Nolan film. His team always does incredible work with in-camera effects. This year I really loved 1917 and The Lighthouse.
Where do you turn for creative inspiration?
Going on set at Laika and seeing all the incredibly detailed and beautiful work from all the artists here is absolutely inspiring.
How important is it for you and your VFX partners to have access to tools like Boris FX Sapphire, Mocha Pro, Silhouette or Continuum in your pipeline?
It is incredibly important for me and my VFX partners to have access to the Boris tools. Between Mocha Pro and Silhouette, the bar for quickly and efficiently completing roto, paint, and tracking tasks is definitely raised. I am a huge fan of the Mocha tracking plugin inside of Silhouette. It powers almost all the roto I do. My co-worker Veronica Hernandez especially likes the paint tools within Silhouette for her frame to frame stereo paintwork. Your software was used on nearly every single one of the fourteen hundred shots in Missing Link by almost every single artist in our 21 person roto/paint crew for this film.
Sara Ireland, our Compositing Supervisor, also adds we used Sapphire for the ripple/sparkle/glow on the water in the big view of Shangri-La Valley. It really helped sell and give life to our winding surfaced waterway through the valley. It was also used to help with the FX water textures that fall down Nessie's neck and body as she breaks free of the water surface. We love having Sapphire in our arsenal of tools for tackling more complexities in the compositing side!
Is there anything you'd like to say about working with Silhouette or Mocha teams over the years?
I have been using Mocha's technology since it was named Mokey and Monet and Silhouette since it was version 2. We've always had a very positive experience working with your customer support. I will never forget the time Mary Poplin had to remote into my computer to fix a license issue and complimented me on the "Diablo 3" video game shortcut on my desktop. We both had a good laugh. Your video training is fantastic as well! Very helpful when we need to pick up the software and just start getting stuff done!