Where would we be without planar motion tracking? Painstakingly working frame by frame? Yes. Tired and needing tons of caffeine? Also yes. The tracking and masking technology that you've come to love revolutionized post-production workflows by helping to automate previously tedious visual effects and compositing tasks including object/wire removes, set extensions, matte painting, rotoscoping, adding digital makeup, de-aging talent, screen inserts, and more. 
Let's take a look back at 20 years of planar tracking and Mocha — and its lasting impact on the world of film and television.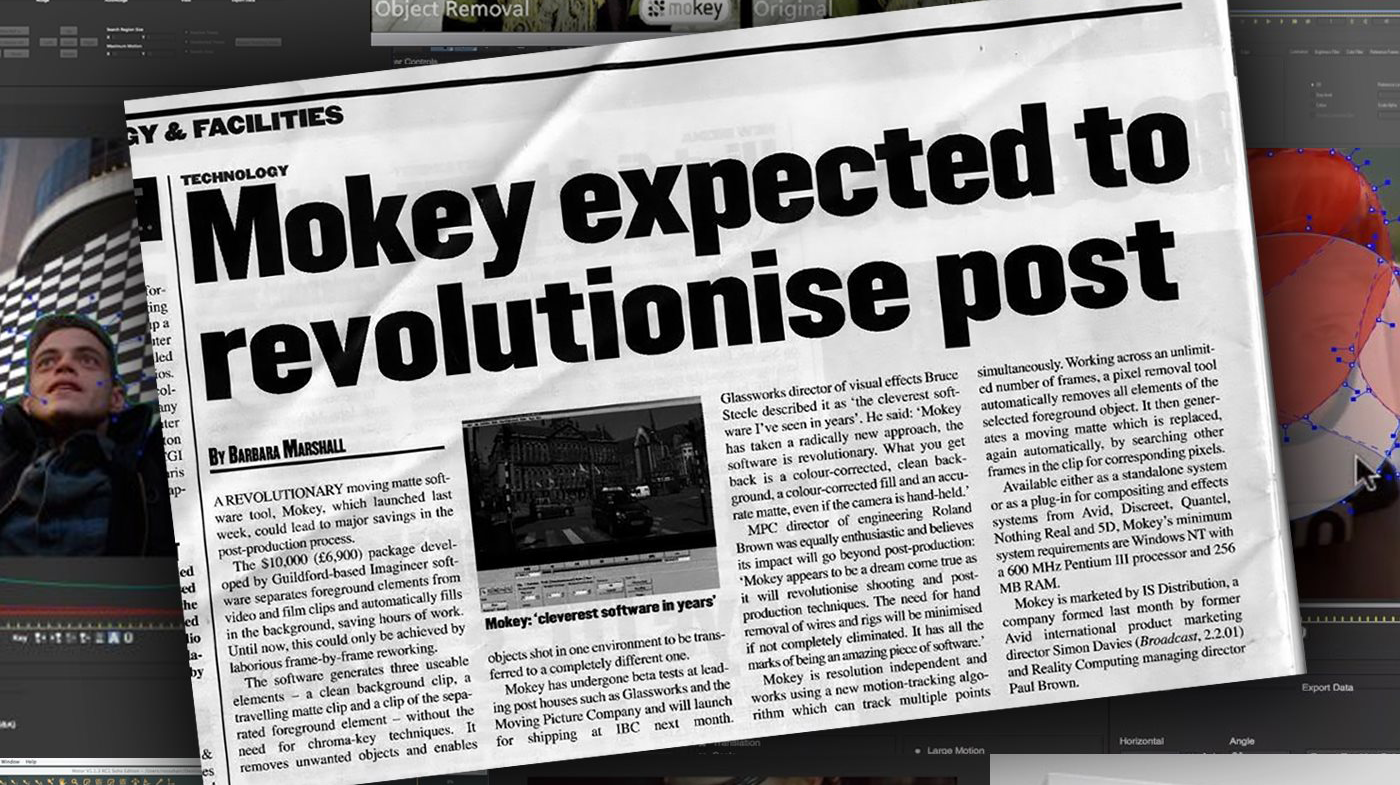 Product timeline:
2001: Planar tracking innovators Philip McLauchlan and Allan Jaenicke found Imagineer Systems Ltd. and release Mokey — a commercial software developed for wire and object removal
2004: Imagineer Systems (with input from London-based VFX studio Cinesite) creates Monet — designed to track planar motion and insert new content (think the moving Hogwarts paintings in Harry Potter and the Prisoner of Azkaban)
2006-2007: Imagineer develops the Mocha Pro standalone interface, delivering the time-saving technology to VFX artists, colorists, and editors en masse
2008: Adobe licenses Mocha AE, bringing free planar tracking & masking tools to After Effects artists (see comparison chart between Mocha AE & Mocha Pro)
2013: Recognized with Academy Award, Science and Technical Achievement
2013: Mocha's planar tracking SDK integrated into Silhouette
2014: Mocha Pro joins the Boris FX family
2016: Mocha Pro available as a plugin for Adobe, Avid & OFX 
2016: Mocha's planar tracking & masking tools integrated into Continuum
2017: Introduces 360/VR mono and stereoscopic workflow; Mocha VR wins Advanced Imaging Society Award
2017: Mocha's planar tracking & masking tools integrated into Sapphire
2019: Recognized with Engineering Emmy Award
2019: Adds MegaPlate stitched extended frame VFX workflow
2020: Adds PowerMesh "sub-planar" tracking feature to track organic and warped surfaces like skin and clothing
2021: Releases Mocha Pro 2022 with up to 40% faster render speeds, Apple M1 native support, Adobe After Effects multi-frame rendering (MFR) support, and more
Top artists and studios share why they love Mocha and how planar tracking helps bring the seemingly impossible to life.
We also thank our industry partners and peers for showing their support.
Keep on trackin'!
Three cheers to 20 years! It's been a wild ride. We're endlessly grateful to our customers who continue to inspire and push us to develop the planar tracking tools you need most. And thank you for turning to Mocha as your go-to tool to tackle advanced VFX tasks on everyone's favorite movies and shows.
Boris FX Live:
Watch a replay of our 20 year anniversary + Mocha Pro 2022 live stream featuring the original inventors of planar tracking! Hear fun stories, get insider secrets, and lots more.