Nick Harauz is the Director of Product Marketing for Continuum at Boris FX. He is a prominent LinkedIn Learning trainer for iPhone video production, video editing, and motion graphics. He is also a certified Adobe, Avid, Resolve and FCP certified trainer. Harauz is regarded within the post-production community for his deep knowledge of host applications mixed with a relatability that keeps students engaged. He is a regular guest speaker at Adobe MAX, has written a book on Apple Motion 5, and is currently writing his second book entitled "Finding Creativity in Uncertain Times," which will feature a corresponding LinkedIn Learning course.
In addition to his training expertise, Harauz has worked as an editor and motion graphics artist for domestic and international clients, including Proctor and Gamble, Yahoo, Virgin Mobile, and Blackberry. He has also produced and filmed celebrities including Lady Gaga, Katy Perry, Richard Branson, and Nelly Furtado and co-edited the feature documentary My Father and the Man in Black, the untold story of Johnny Cash. Follow him on Twitter.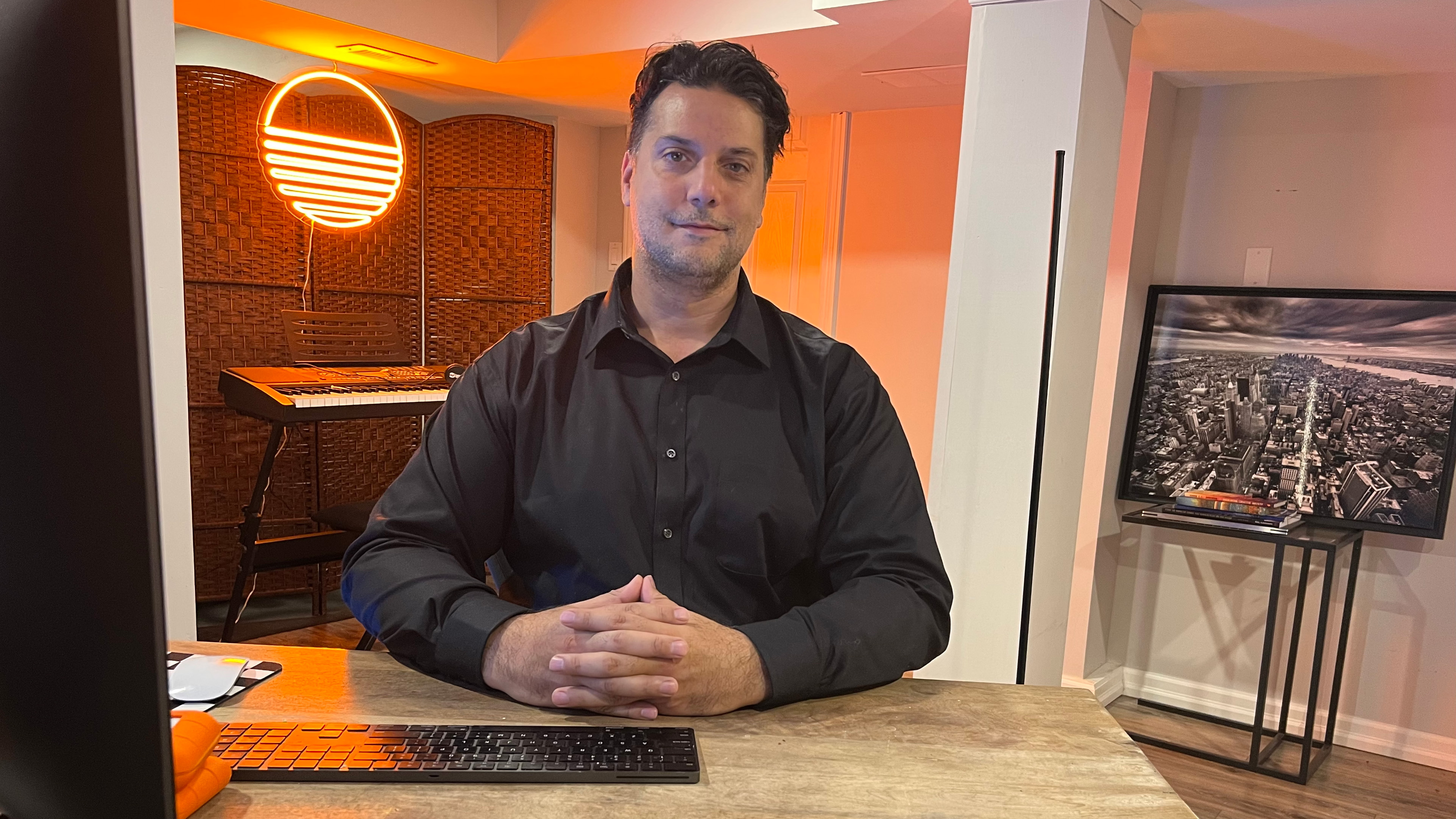 Where are you from and how did you get your start in the industry?
I grew up in Toronto, Canada. In high school, I first wanted to be an actor but never got accepted to the schools I tried out for.
I ended up having a number of "filler years" where I studied film studies and sociology at university. Eventually, in 3rd year, I stumbled on a visual arts course focusing on production and editing. I started learning Media 100 and instantly fell in love with the craft. It was the one thing that I did where time flew by because I liked it so much.
This opened the floodgates. For my final year in university, I did an independent study that focused on producing a mini-documentary and then won a one-year stipend with the CFTPA (Canadian Film and Television Production Association) to work with a production company called Clearwater Films in Vancouver for one year. 
You recently joined Boris FX as director of product marketing for Continuum? What does that entail and what are you most looking forward to?
The job will be a hybrid between content creation and expanding the message and reach of Continuum to modern-day content creators — be it social media or broadcast. I'll be doing this by working alongside Boris, Peter McAuley, the marketing team, and the incredible engineers who make Continuum what it is by helping them expand the current toolset available as well as helping develop new tools.
One thing I love about the company is that it is smaller so there's a certain amount of room to run with a project and make it your own. I consider myself a very passionate idea generator and with that, there are several projects already in the works that I can't wait to share with our audience but I've only officially been 3 full days in the role so bear with me!
What are some of your favorite Continuum effects/tools/features — and why?
Continuum is soooooo vast! I know this because I'm currently going through EVERY preset there is. To give you an idea of the wealth BCC+Film Stocks has 300+ presets and with Title Studio, alone, there are over 500 presets. 
Personally, though, I like some of the new color correction effects such as BCC+Looks. They're GPU accelerated, provide you with several presets, and expand the capabilities of your NLE (grain and gobos) while also allowing you cross-platform workflow extensions. I like some of the easy-to-use transitions too like BCC Cross Zoom.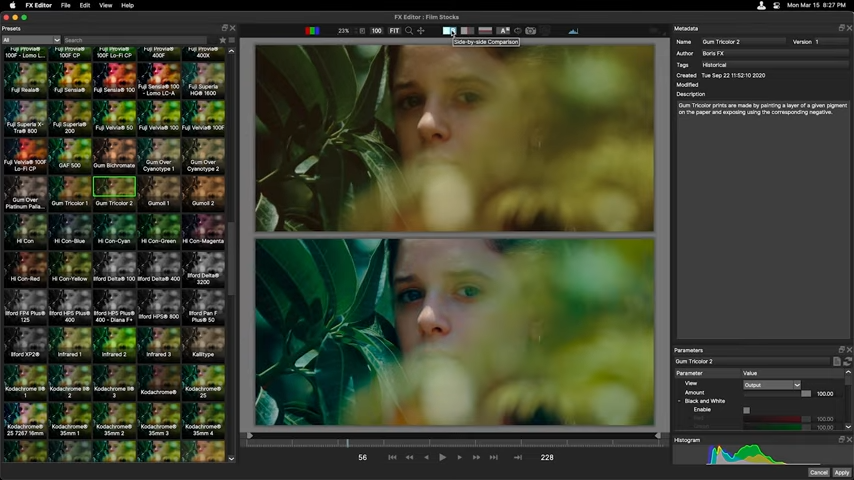 What project are you most proud of and why?
Earlier this year, I started writing a book and creating a Linkedin course called "Finding Creativity in Uncertain Times." It was an idea I wrote down on a piece of paper several years ago, forgot about it, and it resurfaced during the pandemic where I was going through a rough patch finding creative flow. I was depressed with yet another lockdown imminent in Ontario and needed a new form of expression to break up my computer time.
A few weeks ago, I submitted the course for review and I'm really happy with the content. The book is 80% done and the website is up. It brings me joy to see this project come to life. While it stems from tips and techniques that are from personal experience, there are several ideas/snippets expressed in there that can be helpful to creators just starting out or at a turning point in their career. It's a really great feeling. 
For Boris FX, I'm excited to be able to focus some of my efforts on producing a podcast where I talk with other industry professionals about a given topic/themes related to the production and post industries.
How do you prep before a big project?
These days, I look at the overall scope of what the project entails, break it up into executable chunks, and then account for what an actual workweek looks like with unexpected and regular distractions.
It is my experience that sitting down to work on a big project at the last minute is a recipe for failure. Giving yourself time, spread over weeks/months allows ideas to breathe and projects to have a stronger evolution. 
Break your project up into a few hours each day and keep pushing it forward. It's not just about the destination, don't forget the journey!
I usually add a time tax onto my original estimate for a long project. In the past, I used to be extremely optimistic about what I could get done in a day. Long-form projects need to find flow — moments free from zoom meetings, pings, and emails.  If you plan your long-form projects not taking this into account it's not realistic. In my Linkedin course, I call this "Perfect Scenario Thinking."
You plan a long-form project without thinking about all the elements that might derail your schedule. Hollywood films are known for contingency budgets. With long-form projects, make sure you set up your own contingencies for when things take away from your flow. Ping…. ping…ping!
What's a keyboard shortcut you can't live without?
W-o-w, there are so many! 
On a Mac Cmd+Tab is the best to flip between the multitude of apps/windows I have open at once.
You can't go wrong with J, K, L + I, and O. If you're like me and flip between multiple NLE applications, it's great to draw the similarities between all of them such as this handy keyboard shortcut collection which is the gateway to previewing clips and making edit decisions. If you're not using this, it will make you a better editor. 
How do you keep yourself fueled/your favorite snack when you're in an epic session? 
Oooooooooh, I can't get by without some coffee in the morning. Snackwise, I'm a dill pickle chips guy.
I find my epic sessions are always in the morning so I try to allot working hours towards this as much as possible because that's where I work best.  
Where do you turn for artistic inspiration? 
Great films and TV shows are a huge influence. There are a few books on my shelf, I love to randomly turn to a page and read a short section from. One is "Let the Elephants Run" by David Usher and the other is "The War of Art" by Steven Pressfield. 
Also, it's amazing how much inspiration comes from stepping away from the computer. Whether it's taking a walk to grab a coffee downtown or going on a trip to experience something new. Most recently, I did a last-minute venture out to the east coast where I got to drive around the Cabot Trail (pictured below). Just breathtaking.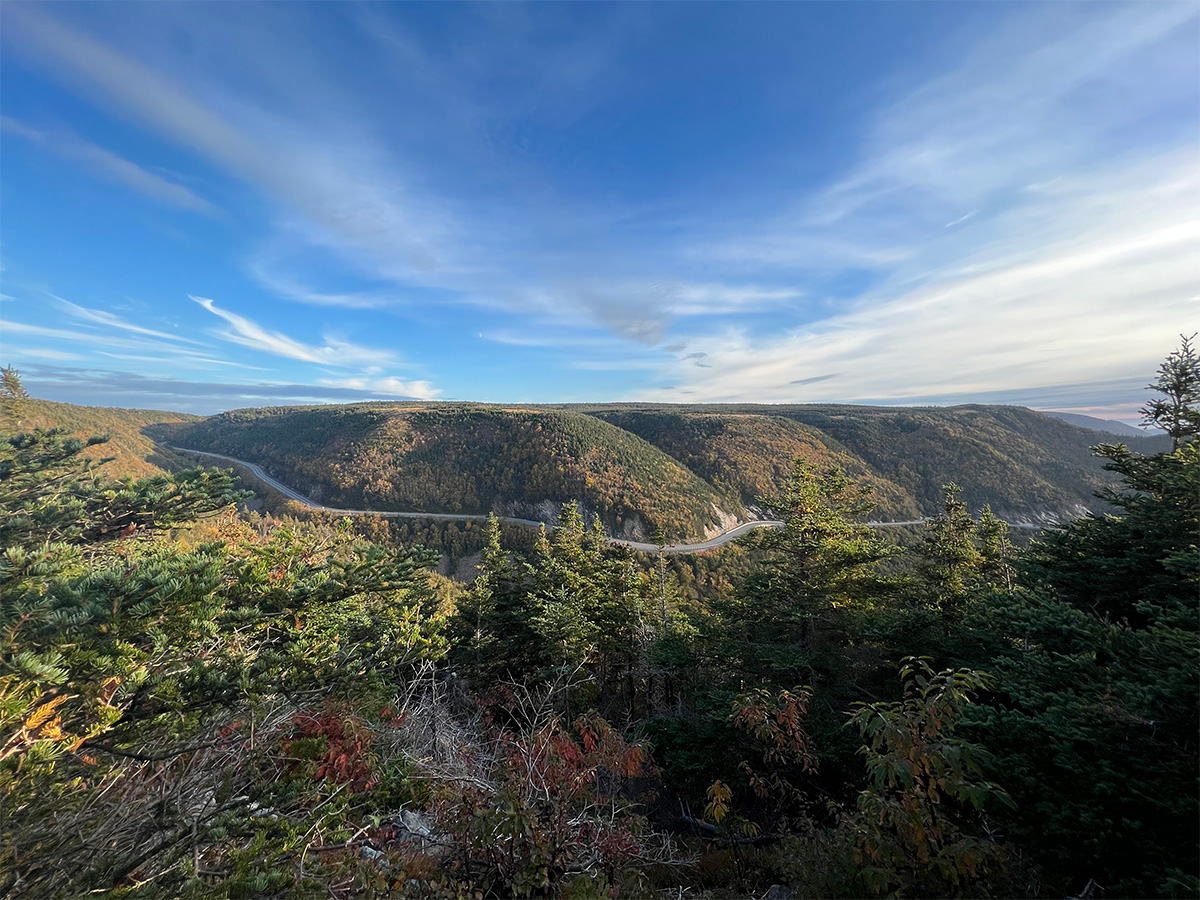 What do you do when you start feeling creative burnout? 
Counter to what I should do, I usually lean into it and burn myself out even more :-). I find that when I'm stressed or anxious with work, it can be hard to do what has worked for me in the past, which is…STOP. Stop and think about what is causing this burnout and if what's on my creative plate is achievable. 
Maybe it's difficult because it's counterintuitive. In a world of go go go, please give me more content, more videos, just more. We are driven to produce. However, how much and the quality of what you produce is driven by a number of factors outside the time you spend working on them — your health, sleep, diet, and lifestyle can all contribute and add to avoiding creative burnout or contributing to it.
Slowing down is a huge part of successful content creation and production. Going back to an earlier idea expressed with longer-form projects, stopping and dividing creative projects gives your projects time to breathe. Stopping, taking breaks, and focusing on your lifestyle allows your mind to rest and separate itself from work. 
What's your favorite film and/or TV series? 
I'm gonna keep it to this year so I don't stare at this question all day.
Dune in the theatre was b-r-e-a-t-h-t-a-k-i-n-g.
While several of the Marvel shows were great, I have to say The Queen's Gambit wins it. 
If you could collaborate with any director/producer/editor/artist (living or dead), who would it be and why? 
Hands down Dennis Villeneuve. 
What career and/or life advice would you give your younger self? 
Make sure to take a one-year trip to New Zealand in Jan 2020 :)
Ok, so I have two things on top of that.  
"You are not your client's feedback." As someone who has dealt with his fair share of imposter syndrome as well as just being a passionate creator, when you have 50 opinions on a project, emotions can easily take over. It's best to walk away from the feedback, come back to it the next day, and look at it with fresh eyes. Separate yourself from it.
On days where you're finding trouble starting work because of procrastination or if you're just stuck in a Tik Tok thread, apply the 10 min rule. Dedicate 10 minutes to a project even though you were supposed to spend more. It's my experience that once you start, you usually get more than 10 minutes done and it's more than having done nothing at all.