Paul Sanni is a Senior Post Production Editor on the American Experience at GBH in Boston. The American Experience is historical documentary series broadcast nationally on PBS. He has been an editor of short-form content such as trailers, promos, and reels for 20 years at GBH. He relies on Avid Media Composer (editing), Adobe After Effects (mograph/VFX), and Pro Tools (audio mixing). He uses Continuum extensively in both Avid and After Effects.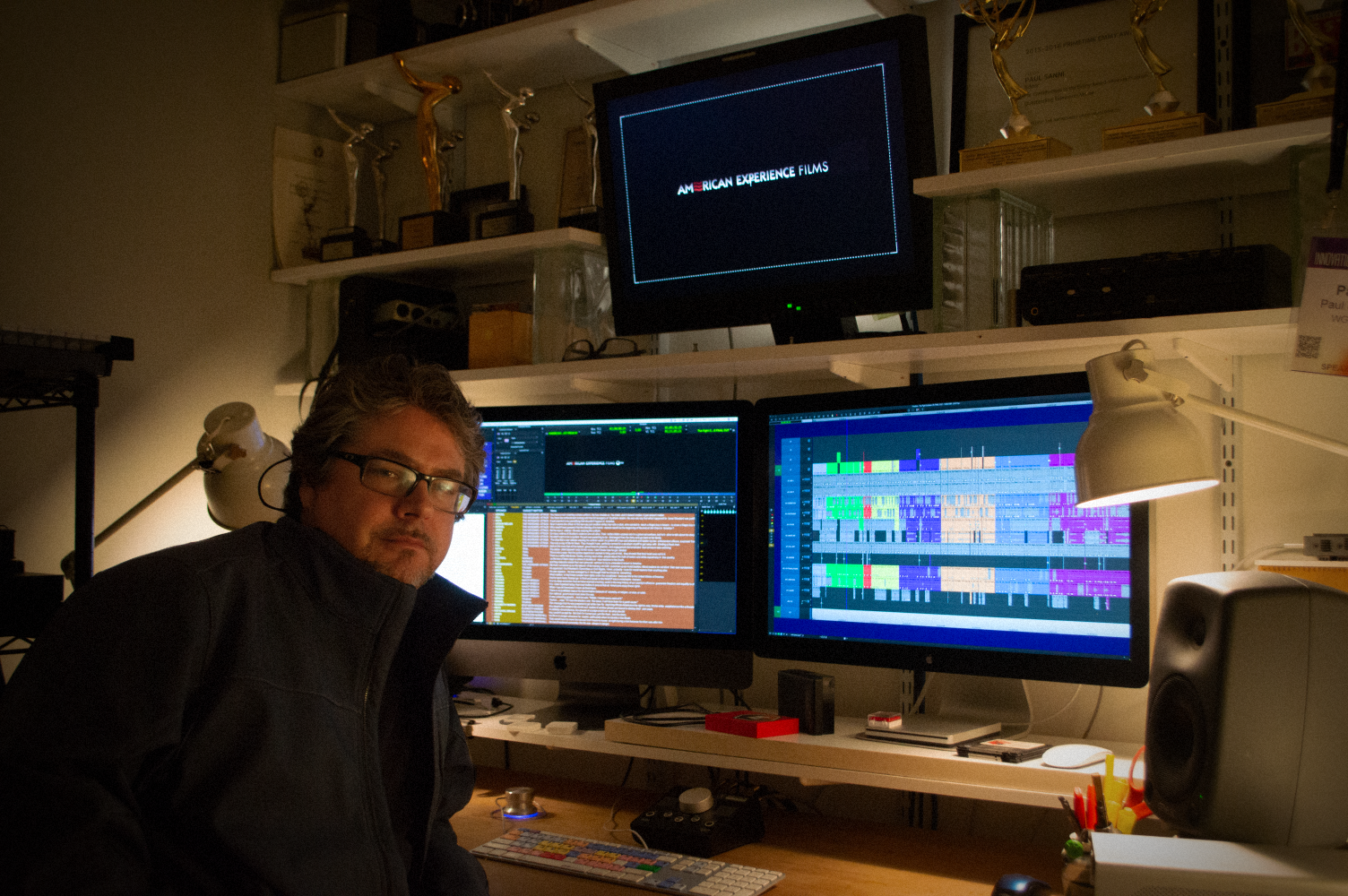 Where are you from and how did you get your start in the industry? I grew up in the suburbs of Boston and from high school onwards was drawn to creative pursuits like painting and creative writing. I also had a love of music and technology and came into the industry by way of music recording/mixing in the '90s. A little while later, I got my introduction to nonlinear video/audio by working for AVID Technology, and for the last 20 years have been editing broadcast television at GBH in Boston.
What project are you most proud of and why? This is hard to say as I've done so many things over the years that I'm proud of and I'm always trying to improve on my work with each successive piece. If I had to pick one piece, however, it would probably be the trailer I did for the documentary: Oklahoma City.
How do you prep before a big project? I screen all of the source material thoroughly and create pulls from it of sound bites and visuals. I also pull a large amount of music and sound effects and label everything as to its potential use to the piece I'm producing. Depending on how developed my idea for the piece is, I may create graphics and animation ahead of time and put those elements in a bin as well. In addition to this, I have FX presets on hand to draw from whenever I begin an edit. I like to think that at this stage of a project I'm like a chef getting all of his/her ingredients together before cooking a dish.
What's a keyboard shortcut you can't live without? It's so simple and all NLE/ FX/Audio software has it in some form: the timeline zoom in/out. I use it all day, every day, and could not live with this fundamental function.
How do you keep yourself fueled/your favorite snack when you're in an epic session? As I have always throughout my career…a steady stream of coffee.
Where do you turn for creative inspiration? I watch a lot of movies and episodic tv. There is so much fabulous work happening right now that there's never any shortage of something good to watch. Also, on the technology side, I watch a lot of product demos and industry insider interviews as well as read a lot of tech articles whenever I can. This kind of info is extremely important to me and also gets me inspired to generate new creative approaches. I've always been a bit of a hardware gearhead from my days in music production.
What do you do when you start feeling creative burnout? I read a lot. It provides a mental escape from the world of work. I also like to do physical work projects around the house. I live in an old stone house and have taken up building/repairing all of its stone walls.
What's your favorite film and/or TV series? There are too many to choose just one. In terms of TV as of late, I've been impressed with The Crown (Netflix) and the miniseries Chernobyl (HBO). I like a wide range of films, old as well as contemporary from blockbusters like The Revenant to foreign films like Tampopo and documentaries like American Movie.
If you could collaborate with any director/producer/editor living or dead, who would it be and why? I love the Coen Brothers films and would love to learn from them if they had an editor on their films. The fact that they write, direct, produce, and edit their own films could make them some of the most interesting people to learn from. I also love their sense of visual style and the rhythm of the storytelling in their films.
What career and/or life advice would you give your younger self? Make sure to develop a thick skin regarding criticism/collaboration. It's a necessary component in the film/television industry and you can't succeed without recognizing its value to projects. Learning that early in your career is important.
What are your go-to Boris FX tools and which effect/features do you rely on most? I use Continuum in Avid and After Effects every day. On American Experience, which is a history documentary series and incorporates a lot of old footage and photos, I've been using the Magic Sharp and Film Grain effects quite a lot to clean up low-quality footage and/or photos.
I also make use of the Light Leaks plugins (both Continuum and Sapphire) to give overall stylized looks to shots or whole promo sections. The other big go-to to use on Media Composer (which I believe would be lost as an online tool without the Continuum package) is the Composite plugin, which adds the use of apply-modes to the Avid. I can't do without that plugin in Avid.
There are so many others I've used over the years and periodically return to Glows, Blurs, Scanline, TV Damage, and Vignette. Additionally, the overall integration of the Pixel Chooser/Mocha mask/matte tools built into most of these plugins make Continuum, Sapphire, and Mocha Pro indispensable when creating effects or treating footage and graphics.