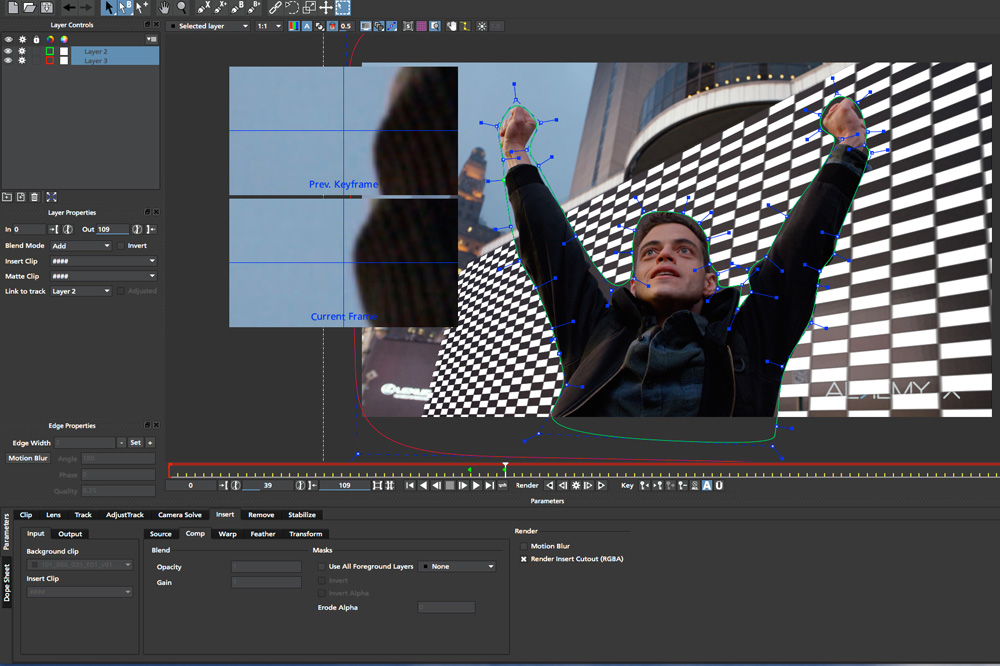 By Brady Betzel
A common theme among editors and colorists these days is where to draw the line when asked to do more than their job description. Some editors want to stick to cutting, while others find it exciting to push their creative boundaries. Personally, the more options I have in my toolkit, the more employable I become.
If you are one of those editors who doesn't want to learn how to better track or roto, you might want to rethink your stance. If you need proof, hop on over to YouTube and search for tracking and rotoscoping tutorials. I bet you will find someone younger and hungrier than you doing things beyond your imagination. In the end, tools like Boris FX/Imagineer System's Mocha Pro are life-altering tools for an editor that will directly affect how much time you can save and how much money you can make.
Whether you are obscuring a face with a blur or painting out an errant drone from the sky, Mocha Pro will turn hours of work into minutes. Mocha Pro 5, the latest update to the Mocha family, is a 2D planar tracker that tracks surfaces and planes instead of points. In simple terms, think of Mocha as being able to track objects with flat (or flat-ish) faces, like a billboard or the hood of a car, as opposed to a single point much like the tracker in Avid Media Composer.
Mocha Pro can be used as a standalone tool for $1,495 or as a standalone app plus multi-host plug-ins for $1,995. It can also be purchased as a plug-in only for Avid for $695, Adobe for $695, OFX (Nuke and Fusion at the moment) for $695 or multi-host for $995. There are also upgrade pricing options if you are coming from Mocha Pro 4. For software and hardware specs click here.
While Mocha Pro 5 isn't cheap, there are many new features that justify the price of admission. One of the best improvements is the GPU acceleration. If you have a somewhat modern OpenCL-compatible graphics card (any of the current offerings from Nvidia, AMD and Intel, for example) then you will see a big increase in tracking speed.
In Mocha Pro 5 you can select GPU for rendering in the Mocha Preferences Menu > GPU tab. Mocha can either automatically select what it thinks is the best OpenCL device, you can identify it yourself or you can select none and go raw processor only.
The Plug-In Option
The new Mocha Pro 5 plug-in option is the other heavy hitter in this update. The plug-in option allows the editor or VFX artist to work natively in their favorite host app, such Adobe After Effects or Avid Media Composer. So they launch Mocha Pro, work with the native file formats supported in the host app and render within that apps' world, all while still having access to the power of the Mocha Pro toolset.
While this is game-changing for anyone, it's especially game-changing for Media Composer editors who are tired of trying to get the point tracker to work or who don't have access to Boris FX BCC 10 — or maybe they want to go beyond what the Mocha tracker does through BCC 10.
You can now use your layer-based timeline, apply Mocha Pro to the clip in question and fully composite your roto, track or removal work within the Avid timeline. You can also export the data for heavier compositing in apps like Nuke or After Effects, even if you are working through Media Composer. Really incredible!
I have seen my productivity increase by hours using Mocha Pro. Instead of fiddling with the Paint Tool in Media Composer combined with the Point Tracker, I can get a rock-solid track in Mocha and an even cleaner matte than I would have if I stayed within Media Composer.
When working on freelance projects, I often get asked to do what some might consider VFX work — this typically doesn't mean much more money. Because of tools like Mocha Pro 5, I don't have turn down jobs because of time constraints.
Many clients appreciate my ability to tackle mild visual effects problems and become return clients because they can have one person do the work instead of many. And, let's be honest, who wants to deal with coordinating projects and files between multiple people? I know I don't if I can avoid it.
The Mocha Pro 5 features I tested for this review were the Lens Correction, Stabilize, Insert and Remove Modules using the Mocha Pro 5 plug-in for Media Composer
While I have the utmost respect for awesome rotoscope artists, I don't have a desire to be one. I will leave that for you to check out on your own. There are some great tutorials on the topics I'm not covering, such rotoscoping and 3D camera solves here.
Real-World Tests
First off is Lens Correction. To test Mocha Pro 5's lens correction ability I found some old GoPro footage, which is notorious for having a huge fish-eye effect because of its wide angle. (As a side note, Boris FX's Continuum Complete has an easy Lens Correction fix built into its BCC v10 plug-in suite under Image Restoration.) But what if you want to keep the lens distortion, composite something into your scene and add the lens distortion to your insert shot? This is where Mocha Pro 5 comes into play.
After you apply the Mocha Pro 5 plug-in to your video layer in Media Composer, you can launch the app from the Effects Panel. From inside of Mocha you can jump to the Lens tab, click locate lines, locate and select lines in your scene that should be straight, select the type of distortion you have (for simple scenes, probably the 1-Parameter setting), hit calibrate and distort or un-distort. If you are applying the distortion to an insert shot, you will track the section of the shot you want to insert a shot onto, use the Surface Align tool to identify the surface, import the shot you want to insert, go back to Insert Menu on the original clip you want to composite on and identify the imported clip. Boom! Magic! Next, quit out and save from Mocha Pro 5, check off the Render box in the Effects Panel and select Insert: Composite from the drop down. After that long-winded explanation, you should have a shot properly tracked with the lens distortion applied.
As a side note, when working in Media Composer, any effect that you apply to your clip underneath the Mocha Pro 5 plug-in will come through when working in Mocha Pro. Using a ProRes HQ QuickTime I had filmed that was flat in color, I color balanced and corrected the QuickTime in Media Composer and then wanted to do some work in Mocha Pro 5. It was a welcome surprise that the color came through; it really made tracking easier.
Up next I wanted to test out the stabilization inside of Mocha Pro 5. Media Composer's Fluid Stabilizer is pretty good when it works, so naturally I wanted to see how the Mocha Pro Stabilize held up. While you can Stabilize or Region Stabilize within Media Composer (fairly well, I might add), there are limitations that Mocha Pro 5 really helps with. Once I dove into stabilizing inside of Mocha Pro 5 for Avid, I really began to like the process and methodology.
Simply, once inside of Mocha Pro you will track the ground plane, align your surface and grid and tell it what type of motion to stabilize for. You can even center, zoom and crop your footage to fill the frame. It's pretty incredible. With a little time, you can turn a bumpy shot that you filmed out of the side of your car window into one that feels like it was filmed using a professional crane, or at least something close to that.
Finally, I wanted to touch on the Mocha Remove Module, and it is straight-up voodoo. Even after using it multiple times, I am still blown away at how well this works. Without going into too much detail, you define what is the background, foreground and what object you want to remove by drawing shapes and tracking them individually. One very important point that I often forget in Mocha is that layer order matters and will make a gigantic difference in your tracking success.
Mocha will read your layers from Top to Bottom. Top being closest to camera and Bottom being the furthest from camera, meaning the background should be your bottom layer. To achieve a successful remove, you need to track the background area that the object you want removed lies on top of and make sure that your garbage matte surrounding your removal object covers the entire object. Also, make sure the matte covering your background covers the entire area that your removal object goes through.
Then you need to track the object you want to remove… the entire object. Typically, your garbage mattes don't need to be ultra-tight — just enough to cover the entire object you want removed. Without going too deep into clean plate techniques, if you find that your object doesn't move enough for Mocha Pro to remove your object, you might need to export a frame of your video from Mocha Pro. Simply, click Create Clean Plate and paint out the object in an app like Photoshop. Once painted out, you can import the plate back into Mocha Pro and be able to see your results easily. I tried my hand at removing a shoe from a scene, and while I was able to remove the shoe I had a few crashes along the way. But, in the end, I was able to achieve a successful remove. Check out my Object Removal using Mocha Pro 5 for Media Composer, which I filmed using the DJI Phantom 4 (my review will be coming out soon).
Summing Up
While Mocha Pro 5 is fast for the magic it helps you create, it does need some time to render. My 2-3 second clip needed a few minutes to process the removal. For those wondering if my system was up to par I was running Avid Media Composer and Mocha Pro 5 on an HP Z1G3 workstation loaded with Intel Xeon E3 processors and an Nvidia Quadro M2000M graphics card, so the system is awesome (you will see a review of that in the future also).
In the end, if you need to track, rotoscope, remove or insert footage, Mocha Pro 5 is worth every penny. Imagineer's Mocha Pro is one of those apps you must have in your post toolbox if you do any kind of tracking, object removal or inserts. It will shave hours off of your workload and directly increasing your productivity )and hopefully your paycheck).
If you are tired of using Media Composer's built-in point tracker and still need to accomplish tracking, object removal, stabilization and more, Mocha Pro 5 is your savior.
Something I really love about the direct integration of Mocha Pro 5 inside of tools like Media Composer is the continued ability to export your tracking data to pass between apps. Say you are an overzealous offline editor who rules at Mocha Pro tracking in Media Composer but also wants to pass along that shape data to the Nuke or After Effects for some heavy compositing and/or further refinement — you can still export all of the data necessary. Awesome!
It will take a few tries to understand just how a planar tracker like Mocha Pro 5 works, but with the awesome Mocha tutorials from Mary Poplin, Martin Brennand and many others, you should be up and running in a matter of hours.
---
Brady Betzel is an online editor at Margarita Mix in Hollywood, working on Life Below Zero and Cutthroat Kitchen.