These days there are only a few one-size fits all plug-in packages worth the price of admission, and unfortunately when working on a new project it's pretty hard to convince the line producer that you need more than one package.
Usually when an editor asks for Boris Continuum Complete (BCC), GenArt's Sapphire, or even the lower-priced Red Giant Universe, the line producer will laugh a little when they see the price tags (multiplied by the amount of systems it would have to go on). Then, if you are lucky, they may even say, "Ok, choose one."
So in this review I chose one: I will take a look at a couple of the latest updates to Boris Continuum Complete V.9's plug-in library as well as give insights into whether BCC is right for your situation. I will be referring to both the Adobe After Effects/Premiere plug-in as well as the Avid Media Composer AVX plug-in.

The BCC9 Adobe After Effects and Premiere plug-in costs $995 while the Avid Media Composer/NewsCutter/Symphony plug-in costs a hefty $1,995 from the Boris FX online store. Without getting too deep into pricing structures, the somewhat comparable GenArt's Sapphire plug-ins range from $1,699 for Adobe and $2,800 for Avid, while Red Giant's Universe costs $399. Now I know that these packages vary wildly with their offerings and prices, but these are what I see in broadcast productions a lot of the time, and with Red Giant throwing their hat in the ring recently I figured I should throw them in for comparison. To put it into perspective how plug-in packages are sometimes chosen on projects, I've seen shows go with Sapphire solely because of their glows (which I do happen to think are superior, but more on that later) and I've seen BCC because the line producer has heard of it before. The decision making process is not always practical.
A Closer Look
So what does Boris Continuum Complete 9 actually offer? BCC V.9 is a gigantic library of effects and transitions made for multiple NLE and effects platforms. The host list includes Adobe After Effects and Premiere, Media Composer/NewsCutter/Symphony and Sony Vegas Pro. Soon-to-be released are offerings for Apple's Final Cut Pro X, Motion and Blackmagic's DaVinci Resolve.

The plug-in for different groups of software must be purchased separately (sorry this isn't a one install for all deal). Boris FX ( @borisfx ) has been referring to BCC9 this way: "The Swiss army knife of visual effects," and while I agree that in general it is useful in many different situations, it doesn't always hit a home run.
I find it falls a little short in a few departments (mostly because of some shortcomings that involve Avid Media Composer), which I will go through first. So before I sing the software's praises (which I will) you should know what the drawbacks are.
At first I wasn't convinced that BCC's glows were up to par with others like GenArt's Sapphire S_Glow or Red Giant Universe's Chromatic Glow, but after talking with Boris FX senior product manager Peter McAuley I was convinced. Peter sent me a preset for the BCC Film Glow that is very reminiscent of Sapphire's S_Glow. I then asked him why this wasn't a preset, first he said he made it this morning then and he said he will ask the engineers to add it in to the next BCC9 update. So look for a very similar glow to S_Glow in a future update — now that is customer service!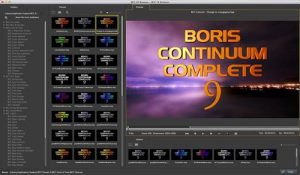 Inside of the Avid Media Composer plug-ins the use of effects on user-generated titles can get a little tricky. If you edit in an offline/online environment where you first edit at low resolution then "up-rez" to a broadcast quality resolution you will know that all titles need to be recreated at the target resolution. A cornerstone for the BCC package (and even GenArts Sapphire) is the ability to add effects to titles such as glows or particles (such as one of BCC Rays plug-ins). Unfortunately the way to do this is to replace the title effect with a BCC effect. Technically what this does is remove a matte key effect from the title and uses the matte and fill layer to its own advantage. In the process it kills the ability for Avid to recognize the matte and fill layer as an Avid title, thus removing the ability to "Up-rez" it in an automatic way by clicking "Recreate Title Media," leaving it to the online editor (or more likely the assistant online editors) to re-build the title from scratch — not a great solution.
[ Editor's Note: We reached put to Boris FX and this was their response — When our effect uses Apply To Title it is replacing the Avid title effect and it is a destructive process. Even if you just wanted to go and change the text or font of the title you would need to go back to the original title in the Avid bin to do that. And so yes it is true that the Avid "Recreate Title Media" function will not restore the title media from those effects. The fact that this doesn't work tells me that the Avid software somehow needs the original title effect to maintain its link to the title media.]
In the future I hope they can rectify this problem, but for now a work around is really to switch your Avid project format over to the HD setting, build the title at your output specs (i.e. DNxHD 220), then switch back to the offline settings for your project when you are satisfied with your BCC effect. Personally I skip using any title effects with BCC inside of Media Composer, jump over to After Effects and use any BCC plug-ins there.
[ Editor's Note : Boris FX's suggestion: "One other possible solution, which would at least be better than rebuilding the titles from scratch, would be to save the BCC effects to a bin called, for example, "BCC title effects" so they could be reapplied from the bin in the online session. So you would deliver the online person a copy of the sequence that uses the unaffected Avid titles and also a bin full of appropriately labeled BCC effects – naming the effects in the bin or adding comments to them indicating to which title the effect is to be applied etc.) The effects saved to the bin would only require drag and drop and no further adjustment. This is still not as nice as just having the title media recreated as desired, and potentially more work than the workaround suggested below by the reviewer of doing titles at the output resolution from the start.]
Another caveat to using BCC plug-ins with Avid titles is that in networked editing environments, assistant editors are told to delete renders. If they delete the created title media and you have replaced the title effect with a BCC effect, there is no way to "Recreate" titles the traditional way in Media Composer, you must rebuild from scratch. To be fair to BCC, the real solution lies with Avid but I'm not sure that is going to change.
But It's Worth The Price of Admission!
Now that I have probably scared you a little bit, I want to tell you why BCC9 is worth every penny: BCC Vignette, BCC Lens Correction, BCC Misalignment, BCC Tritone, BCC Chroma Key Studio, BCC Make Alpha Key and BCC Corner Pin in combination with Mocha Pro 4.
One of my top new features in BCC9 for Avid is the BCC Vignette filed under the Film Style category. While this effect is available in all platforms it is particularly useful in Avid Media Composer because there is no easy way to build a vignette. Usually I will use a paint effect, add a black circle, invert, then feather — it's very rudimentary. Luckily, in BCC9 they have added the Vignette plug-in that allows you to quickly add a vignette color, blur and the ability to even change the composite mode. Some people may think this is trivial but it really is a great addition.
Second up is BCC Lens Correction, another simple-yet-vital addition. It has been inspired by the wave of GoPro footage entering post-production workflows. It includes pre-sets that correct lens distortion for video shot with a GoPro camera, correcting any fish eye type effects.

Third up is BCC Chroma Key Studio. While testing BCC9 for this review Adobe released the Adobe CC 2014 update, which included the new Key Cleaner and Advanced Spill Suppressor. I personally like Adobe's new preset Keylight + Key Cleaner + Advanced Spill Suppressor more than the BCC Chroma Key Studio, but that is only inside of Adobe After Effects CC 2014.
Typically, inside of Avid Media Composer I will usually bounce around between Spectramatte and BCC Keying products if I have them. In the past, the drawback to using the BCC keying solutions has been the cumbersome task of having to stack the filters each time I had to pull a key, and on projects with hundreds of different greenscreens this is very time consuming. The latest version of BCC9 has combined all of their keying products into one tightly built Chroma Key Studio plug-in, a new one-stop-shop to pull great keys fast. If you pull a lot of keys in Avid Media Composer then BCC Chroma Key Studio will save you tons of time (and hair pulling).
Some other tools in my editing toolbox are the BCC Misalignment, BCC Tritone, BCC Make Alpha Key and BCC Corner Pin in combination with Mocha's planar tracking software. If you don't know about the power in Imagineer System's Mocha planar tracking software you need to follow @imagineersystem and find their tutorial videos. If you've tracked objects solely with Avid's tracker you will be greatly impressed by what you can do with Mocha's tracking data being imported into BCC Corner Pin plug-in.
Beyond the plug-ins themselves, Boris FX have made it even easier to preview effects in their new FX browser that can be used in the host application or in a standalone app (which may or may not be a good thing depending on if your producer likes to pick the exact effects they want you to use). One warning with FX browser is that you cannot create pre-sets in the standalone app and use them in Media Composer or After Effects; this may be an interesting addition in the future but it's not there yet.
Another great addition when using BCC inside of Media Composer is the ability to adjust easing and the point of transition directly in the Record monitor when in effects. It really helps minimize the editor having to mess with Avid's obnoxious keyframing.

I've left out a few updates such as BCC Grunge and BCC Laser Beam, if those sound interesting to you, click on www.borisfx.com to find out more.
Summing Up
In the end, I think Boris Continuum Complete V.9 is definitely a worthy upgrade if you come from V.8, and a worthwhile purchase if you are new to the Boris FX family. If nothing else the new BCC Chroma Key Studio is impressive if you don't want to jump into After Effects CC 2014 to pull your keys.
Boris FX is great at gathering tutorials for using their products inside of many different host apps. You can subscribe to their vast library of tutorials on YouTube and watch motion graphics and editing masters like Kevin P. McAuliffe ( @KPMcAuliffe ) and John Dickinson ( @Motionworks ) show you how to create broadcast quality graphics in hours not days using BCC9.
If you need a good set of plug-ins that can do many jobs fast and easy while harnessing the power of your GPU, get yourself Boris Continuum Complete 9 and see how much time you can save. And don't forget these highlights: A newly added BCC Vignette plug-in; All your favorite keying plug-ins combined into one BCC Chroma Key Studio; New FX Browser and on-screen overlays for quick adjustments and easing.
Brady Betzel is an editor at Bunim Murray Productions, a reality television production company. He is one of the editors on Bad Girls Club. His typical tools at work are Avid Symphony, Adobe After Effects CC, and Adobe Photoshop CC. You can email Brady at bradybetzel@gmail.com, and follow him on Twitter, @allbetzroff.