by Mark Colegrove, November 1, 2010
Boris Continuum Complete 7 AE is the latest update of over 200 plug-in effects for Adobe Premiere and After Effects, and features some great new effects that previous Boris users will appreciate, and a treasure trove of effects for those (like me) who are new to it. It should also be noted that while this review is for Boris Continuum Complete AE, Boris has also released other upgraded versions for Final Cut/Motion, as well as Avid and Autodesk.
In addition to exploiting all of the screaming 64 bit speed that accompanies CS5, there are several great new effects that Boris is touting in this new release. Among the effects now included are a Noise Reduction filter, which significantly reduces grain and artifacts in old cruddy video, and a "Beat Reactor" (already built in to many of the BCC7 effects) which will automatically place keyframes set to the beat of music into your video when you overlay an audio track.
Also new, are some pretty amazing lens blurs and transitions, 3D particle arrays (think 3D versions of your standard CC Particle World), and the ability to morph both still images and video a la the Michael Jackson "Black & White" video.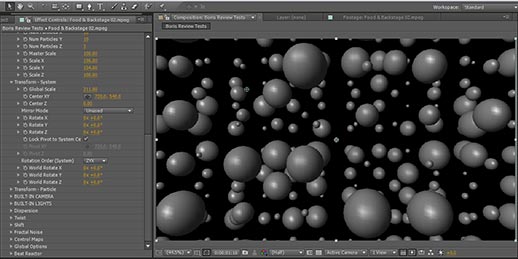 Manipulate 3D particles through space.
Highlights of the BCC 7 bundle, already present in previous versions, include 3D Extruded Text (with incredibly realistic lighting effects as the text moves through space), swish pans and some other very flashy transitions, SD to HD UpRez, great light and glow effects, and that's just the tip of the iceberg.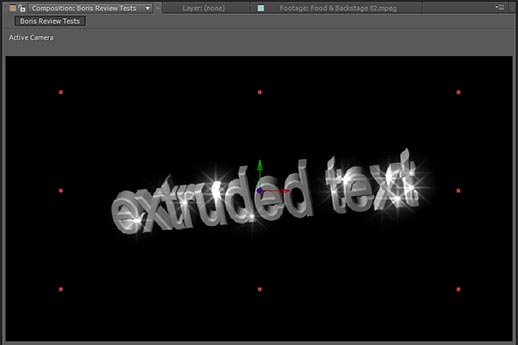 I've always wanted to be able to do this in After Effects!
Ease of Use
Install was a breeze, and as soon as you open up After Effects or Premere you'll see all the Boris FX lined up in your effects bin in covenant bundles with the preface "BCC." All the BCC effects integrate perfectly with everything that's already here, including other third-party plug-ins, and I had no issues combining any one effect with another.
Since all the effects are executed right inside of After Effects, everything is controlled in a very similar fashion to the built in effects: via sliders, wheels, keyframes, and even the ability, on certain effects, like "BCC Corner Pin," to drag points on your monitor. Many of the text effects also automatically open up Boris' text editor.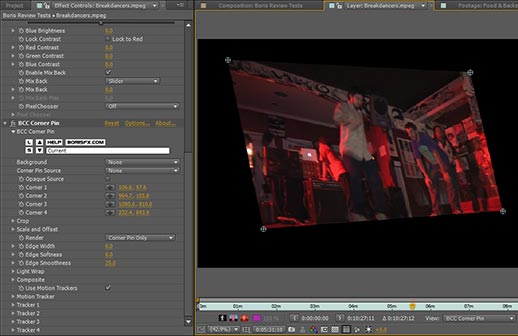 Why mess with all those sliders when you can just drag a few point on your monitor with "Corner Pin?"
How quickly one might be able to begin successfully tweaking each effect may require a bit more of a learning curve, however, as there is a seemingly limitless amount of control to each effect, extending well beyond the status quo. For most, this should be considered a welcome inclusion, and with a little bit of time spent playing around, a reasonably experienced After Effects user will be integrating the BCC effects into their program with ease, while it'd be easy for a new user to feel overwhelmed with the plethora of options available.
Depth of Options
With the BCC package you're getting over 200 effects at the end of the day, and there is a lot to play around with here. You'll find everything from the basics of color correction and professional quality keying, to lighting, transitions and various effect generators such as rain and snow. Some effects are more useful than others, unless you're doing post for The Tim & Eric Awesome Show, in which case pretty much all of these might come into play.
As mentioned before, there is a high level of detail-oriented user control for all the filters in the Boris bundle, and it allows a more experienced user the opportunity to really go beyond the basics for some seriously impressive fine-tuned effects. This product seems intended for those who have already exhausted the limits of what they can do with the built-in effects Adobe's provided, and are looking to go beyond that. If you've ever said "I wish I could…" chances are you probably can with Boris Continuum Complete.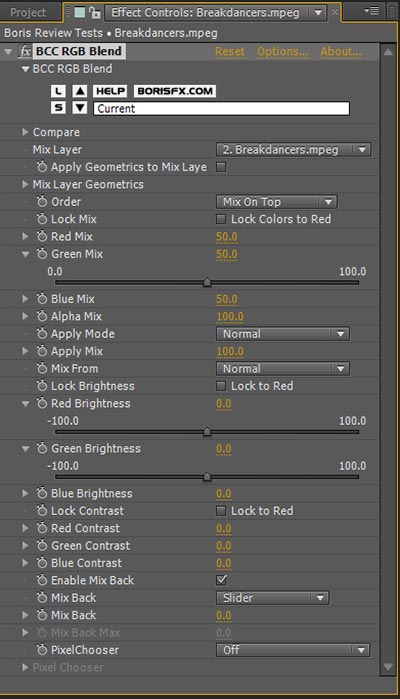 Can a Color Correction effect really have too many options?
Performance
I was very impressed with the speed on display here. Many of the simpler BCC effects play back in the preview monitor in close to real-time. Partially, this can be attributed to the 64-bit processing power on display already in CS5, but when we compare Magic Bullet's "Deep Scratch" filter to the similar "Film Damage" filter in BCC, you'll notice that the BCC filter is MUCH faster to render.
While most effects look amazing, some effects, like the "BCC Film Burn," for example, look like they haven't really been updated since a few versions ago, and if you're trying to create a realistic film-burn effect, you might as well create your own. This is only a minor gripe though (maybe I got a bit excited when I thought I was going to be able to do a realistic film burn with ease) however 95% of the filters I toyed with are pretty incredible!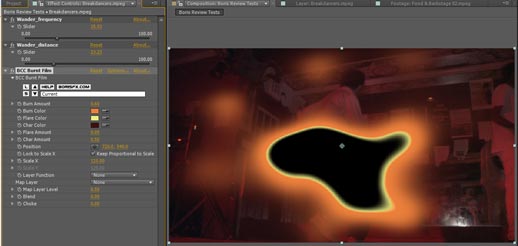 Well maybe this "Film Burn" could be used for something else, but it's one of the weaker elements in BCC7.
Value
Boris Continuum Complete is a serious investment if you're typically working on low to no-budget. At $995 for the full version it's already more than half the cost of CS5 Production Premium, the software you're actually enhancing. Comparatively, though, this is only a little bit more than other big plug-in effects bundles, and you're getting A LOT more bang for your buck. The price will be more than made up for by what you'll be able to achieve with the sheer volume of cool tricks you'll now have up your sleeve.
Some of the 3D text and EPS capabilities are almost worth the price of admission alone, and allow you to do things that you'd otherwise have to go outside of After Effects to perform. And while there are a good many redundancies with filters that are already available to you in After Effects, Boris gives you more than just the standard set of controls within them.
While BCC should be primarily considered a great tool for creating high-end motion graphics, a big plus here is that BCC also adds a lot of value to Premiere as well. Many of the BCC filters found in After Effects are also available in Premiere and eliminate the need to go out to After Effects for a simple glow effect, for instance.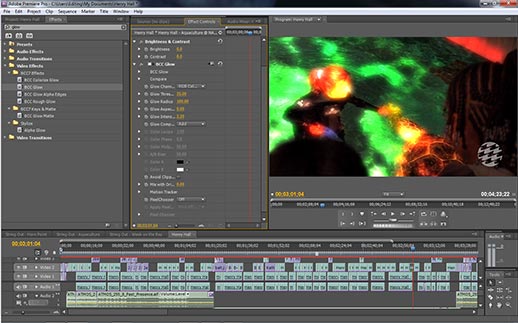 A great glow effect done right inside Premiere for a change.
Final Comments
Animators and After Effects aficionados will truly find a lot to love with Boris Continuum Complete 7, and it is truly the most extensive collection of plug-in FX I have seen. If you had to choose just one set of plug-ins, this is it. On the other hand, editors who don't perform a lot of animation will probably be content to work with what they already have at their disposal.
While it's impossible to fully explore every single filter during the writing of a review, I am really grateful for certain effects I will be using over and over again. Personal favorites include the BCC UpRez filter (which upsamples SD footage to HD in a more intelligent manner than simply using your built in "Motion" setting) as well as the 3D text, and 3D EPS filters (which is basically the same sort of 3D controls you get with the text effects, but can be used an any image file once it's been converted to EPS format.)
If you consider yourself an animator, you'll want to pick this up asap.