by Jeremiah Hall, June 3, 2014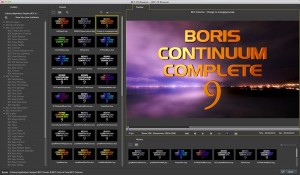 As most longtime readers will know, I'm a serious fan of Boris FX . Getting a new copy of any Boris product feels a little like a birthday – new toys. I've never met a video/film pro who didn't like to play with new toys. Boris FX has released Boris Continuum Complete 9. Let's unwrap it and see what's new.
The biggest thing in this release is the new FX Browser. This let's you preview the track you're working on with any Boris filter in BCC9, including the presets for each individual filter. I like the way it works. BCC 9 slips this one in under the Effects menu by inserting a new effect group – BCC Browser – at the beginning of the Boris listings. So the list in my Effects menu goes "3D Channel, Audio, BCC Browser, BCC9 3D Objects, BCC9 Art Looks," etc. Hovering BCC Browser in the menu brings up a single choice: BCC FX Browser. Click it, and this is what you will see in your Effects Control pane:
One thing important to notice here is the little background selection menu under the big button. You can choose a video track for your background in the FX browser, to get a better idea of what transitions will look like, by choosing it here before clicking to open the FX Browser.
Clicking the button to launch brings up a separate browser menu, with your current track already loaded. To the side you will have every BCC9 filter and preset at your disposal, so you can preview each one without having to add them into your composition in After Effects – and having to delete it from your track in After Effects if you decide you don't want it.
The controls in the Preview pane are basic. You have rewind; back on frame; play; forward one frame; preview resolution; background – black, checkerboard, or the background video track chosen before opening the FX Browser; and the Compare Mode. Compare mode let's you do a side-by-side comparison of the original piece of video and what it would look like with a particular effect. Right above the timeline in the preview are sliding in and out-points, so you can focus on the portion of the track you want to experiment with and not have to do the whole track. The FX Browser also keeps a history of what you've tried. Want to go back to the preset that looked good four presets before, but can't remember what it's called? There it is, in the history. The history also has a choice between a list view and thumbnail views. Thumbnail views are handy, because it is a thumbnail with the effect applied to it.
Overall, this may end up being my favorite new feature. Being able to see how each filter's preset would look when used on a given shot enhances creativity while cutting down on wasted render times. I also find it a springboard for other ideas, as in, "That's nice, but if I tweak it THIS way. . . ."
No new release of BCC is complete without new filters. Let me give you a quick rundown of what's new. BCC Chromakey Studio helps editors pull that ever-elusive perfect key. Boris FX has taken BCC Chroma Key and added additional tools and settings to it – including such controls as color correction, matte cleanup, a matte choker, inside and outside masks. No fear, the BCC Chroma Key that we all know is still there too, should you not need those extra controls.
BCC Two Strip Color is for making video look like the old Technicolor two-strip process – think early Hollywood color movies. BCC Laser Beam makes beams of light, using After Effect's camera and light systems, and includes built-in fog and smoke to make it feel more real. BCC Lens Correction can help you un-squeeze barrel distortion from certain lenses – think GoPro cameras. This is by no means an exhaustive list. I haven't touched on BCC Magic Sharp or BCC Grunge, BCC Vignette or BCC Edge Grunge. Interested in the Ken Burns effect? Then take a look at the improvements to the BCC Pan and Zoom filter with this release.
Another fun thing about new versions of BCC are new transitions. All are customizable. Boris FX says Premiere Pro CC users can now use Boris transitions as drag-and-drop onto a single track. Here's a list of the new transitions: Blobs Wipe; Lens Distortion Wipe; Blur Dissolve; Checker Wipe; Composite Dissolve; Damaged TV Dissolve; Film Glow Dissolve; Flutter Cut; Grid Wipe; Lens Flare Dissolve; Lens Flare Round; Lens Flare Spiked; Lens Flash; Light Wipe; Rays Dissolve; Ribbon Wipe; Rings Wipe; Ripple Dissolve; Tile Wipe; Tritone Dissolve; Twister; Vector Blur Dissolve; Vignette Wipe; and Water Waves Dissolve.
BCC 9 is available for Adobe After Effects and Premiere Pro; Avid Media Composer, Symphony and Newscutter; Sony Vegas Pro ; Apple Final Cut X , and Motion 5; and will soon be available for Black Magic DaVinci Resolve. Pricing is platform dependent. Apple, Black Magic, and Sony are $695.00 new. Adobe is $995.00 new. Avid is $1995.00 new. Upgrade pricing is also platform dependent. Apple and Sony are $195 – DaVinci is new this time around, so there isn't an upgrade path in place for it with this release. I'm sure there will be for BCC 10. BCC 9 upgrades for Adobe are $295.00. Upgrades for Avid are $599.00.
Do you need it? If you don't already have Boris Continuum Complete in your effects arsenal, take a good look at it. This is one of the best plug-in packages available. If you already have a previous version, take a look at the improvements in BCC9. I think the FX Browser alone makes the upgrade price worth it. For more info, or to download a free trial, go to their website here .
Happy cutting.