Mocha VR is optimized for 360° video tasks: tracking, stabilization and object removal
Guildford, UK – April 17, 2017 – Imagineer Systems, a division of Boris FX will showcase Mocha VR, a groundbreaking new 360°/VR post-production plug-in at NAB 2017 (Booth SL6824) in Las Vegas, NV, April 24-27. Based on Imagineer's Academy Award-winning planar tracking technology, Mocha VR is the first plug-in to bring native 360° optimized planar tracking, masking, object removal, and horizon stabilization tools to Adobe® Premiere Pro® CC and Adobe After Effects® CC, both part of Adobe Creative Cloud®.
"The availability of 360° enabled cameras and browser based spherical video makes the 360/VR workflow a reality for today's content creators. However, the equirectangular video format introduces challenges for editorial and post-production," says Ross Shain, Chief Product Officer, Imagineer Systems. "Mocha VR creates a time-saving, post-stitch workflow for editors, compositors, and finishing artists using Adobe Premiere Pro CC and After Effects CC, making quick work of common obstacles, such as removing camera rigs or stabilizing aerial 360° footage. With Mocha VR, Adobe Premiere Pro editors and After Effects artists can work in native 360° view without worrying about distorted pixels, edge seams or loss of quality."
Professional 360° video specialists have reaped benefits by adding the Mocha VR plug-in to their Adobe Creative Cloud toolkit:
"Before Mocha VR, we were using Mocha AE to rotoscope for rig removal in 360° video projects. With Mocha VR, it is so much easier to do this work!" says Daniel Rojas Roa, 3GO Video Time. "Saving time is a priority, so we are most excited about the horizon stabilization and object removal tools."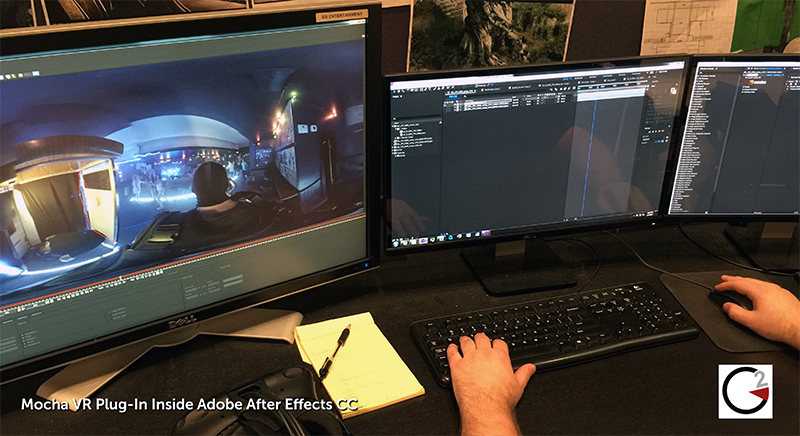 "Mocha VR makes it easy to track and roto in equirectangular space inside both After Effects and Adobe Premiere Pro," says Erick Geisler, Founder and Creative Director, G2 Immersive Studios. "We don't have to convert to cubic mapping which saves time and preserves image quality."
"We use Mocha VR and After Effects on every project. We always have moving shots crossing seam lines that need to be fixed," states Judith Samper, VR Post Production Specialist, Koncept VR. "There is no better way to do it." Koncept VR uses Mocha VR to complement their Adobe Creative Cloud workflows.
"Editors and artists using Adobe Premiere Pro and After Effects can enrich and extend their 360/VR toolset with Mocha VR," says Sue Skidmore, head of partner relations for professional video at Adobe. "The tight integration of Mocha VR streamlines the production workflow and adds creative options to help VR content creators to deliver compelling immersive experiences for their audiences."
To make a press appointment at NAB, or to schedule interview with any of the artists quoted above, contact Jessie Electa Petrov, Director of Marketing, jessiep@borisfx.com. Attendees visiting NAB will have the opportunity to see Mocha VR at the Boris FX booth #SL6824 located in South Hall.
NAB visitors can also attend a special Mocha VR Post Production World training presentation on Tuesday, April 25 at 11am and see Mocha VR in the VR Zone on Monday-Weds, April 25-27th at 2pm at Jolly Good's Booth #N1317VR.
For more information, visit borisfx.com.
Adobe at NAB
At NAB 2017, a sweeping update in Adobe Creative Cloud for video will be available to help filmmakers and video producers collaborate and streamline video workflows. The Creative Cloud release delivers new features for graphics and titling, animation, polishing audio and sharing assets; support for the latest video formats, such as HDR, VR, and 4K; new integrations with Adobe Stock; and advanced artificial intelligence capabilities powered by Adobe Sensei. Announced at Adobe Summit 2017, Adobe Experience Cloud also allows brands to deliver connected video experiences across any screen at massive scale, while analyzing performance and monetizing ads. Attendees at this year's NAB can get a closer look at the newly available features at the Adobe booth (#SL4010, South Hall in the Las Vegas Convention Center). For more information, visit www.adobe.com.
About Boris FX
Founded in 1995, Boris FX is a leading developer of VFX, compositing, titling, video editing, and workflow tools for broadcast, post-production, and film professionals. Boris FX products have grown to serve over a million artists worldwide. The company's success lies in its ability to tightly integrate and leverage technologies through strong partnerships with Adobe, Apple, Avid, Grass Valley, Nexidia, Sony, Quantel, and other leading developers of video editing software. In 2014, Boris FX acquired Imagineer Systems, the Academy Award-winning developer of mocha planar tracking software. In 2016, Boris FX acquired GenArts, the developer of Sapphire, the gold standard plug-in package for high-end visual effects creation.
About Imagineer Systems
UK-based Imagineer Systems is the Academy Award-winning developer of Mocha: Planar Tracking based visual effects solutions for film and video post production. Imagineer has made its mark on major feature films including: Star Wars: Episode VII, The Hobbit, and the Harry Potter series. In 2015, Imagineer Systems was acquired by Boris FX, a leading developer of effects, titling, and workflow plug-ins for broadcast, post-production, and film professionals
Media Contact
Jessie Electa Petrov, Director of Marketing
617.451.9900