New creative VFX options and workflows for time-strapped editors, artists, and motion graphics designers
Boston, Massachusetts, U.S.A. — March 27, 2019 — Boris FX's award-winning 2019 product line (Sapphire, Continuum, and Mocha Pro) adds significant creative visual effects tools with its upcoming releases (2019.5). Technology demos will debut at the National Association of Broadcasters (NAB), April 8-11, 2019 in Las Vegas, Nevada, Booth SL7620.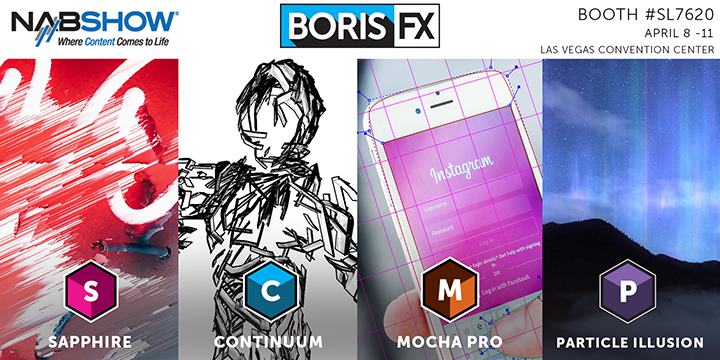 "Since the 2019 releases last fall, our development team has been busy readying new Sapphire, Continuum, and Mocha Pro features as part of our continued commitment to providing users with added benefits throughout the release cycle," says Boris Yamnitsky, Founder and President, Boris FX. "We can't wait to preview tech demos at NAB. Boris FX Continuum's Title Studio will feature new integration with Maxon Cinema 4D's premier C4D model import and superior rendering — available in all supported host plug-ins. Particle Illusion will soon be available as a standalone render application, further cementing the new product as the most versatile real-time particles generator on the market. Plus, we've added a new Particle Illusion Dissolve to Continuum's Transitions that allows users to instantly create stunning transitions based on any particle emitter."
"Sapphire continues to have its pulse on top VFX trends with the addition of the ParallaxStrips effect, and two new transitions based on popular effects, PixelSort and DigitalDamage," continues Yamnitsky. "And Mocha Pro continues to advance its unparalleled planar tracking engine with new host support and time-saving tools for rotoscoping and removing objects with even less manual keyframes."
NAB 2019 Technology Previews
Sapphire 2019.5
Sapphire's renowned VFX suite adds slick new creative options including a ParallaxStrips effect, PixelSort transition, and DigitalDamage transition. The Sapphire Builder, Preset Browser, and Flare Designer can now access clips directly from a composition or timeline, and each features an updated modern GUI designed for Hi DPI and Retina-enabled monitors. The Builder and Flare Designer continue to improve with new core features such as Broadcast Monitor Support (AJA and Blackmagic).
Continuum 2019.5
Continuum adds Cinema 4D integration to Title Studio, bringing a brand new 3D model render engine to applications such as Adobe Premiere, Adobe After Effects, Avid, Blackmagic DaVinci Resolve, and OFX hosts. Title Studio's enhanced C4D support delivers the best rendering result out of all 3D model rendering plug-ins on any compositing or NLE platform. Title Studio's custom UI now also supports 4K monitors and adds new material shaders.
Particle Illusion adds a Forces feature that includes on-screen UI control for deflectors and attractors and a new customizable sprites feature. Primatte Studio's Academy Award-nominated keying tech adds a customizable spill control option along with new edge smooth options for heavily compressed source shots. The Transition Unit adds Particle Illusion Dissolve, a brand new self-animating, fully-customizable transition. Users can choose any particle emitter to create a transition or pick from dozens of preset particle animations.
Particle Illusion 2019.5
Particle Illusion, new to Continuum 2019 and the Particles Unit, will be available as a standalone render application. The new 64-bit real-time technology renders particle effects with unrivaled speed. The custom interface allows editors, artists, and game developers to select movie type, codec, frame rate, frame size, and more. The new standalone option paired with the multi-host plug-in options for Adobe, Avid and OFX applications makes Particle Illusion the most versatile, user-friendly particle and motion graphics generator on the market.
Mocha Pro 2019.5
Mocha Pro advances its Academy Award-winning planar tracking engine with GPU accelerated tools to simplify complex effects and post tasks. Updates will include performance increases, new features, and long-awaited host support for Blackmagic's DaVinci Resolve. Mocha's magnetic spline tools add edge-snapping features to deliver accurate masking with fewer keyframes, and new GPU matte optimization makes complex Mocha projects more interactive with significantly faster renders.
Technology previews feature a new Area Brush paint tool that defines planar tracking regions with Wacom tablet sensitivity, and a new object removal render option, Mega Clean Plates, builds larger-than-raster panoramas from moving clips for VFX set extensions, clean plates, and 3D materials.
NAB Guest Presenters
A special guest demo artist line-up includes Nick Harauz, Apple, Adobe, and Avid certified instructor, co-founder of Creative 111; Ben Brownlee, Digital Media Specialist, Curious Turtle Pro Video; Alejandro Brubaker, Co-Founder, Sugar Skull Creative; Ben Eshagpoor, Creative Director, BeMotion Design; Damien LeVeck, Writer/Director and Owner of Skubalon Creative; and product managers and specialists from Boris FX. Artists will demo at the Boris FX Booth, Booth SL7620.
Boris FX products support professional video applications including Adobe, Avid, Apple, Blackmagic Design, Autodesk, Foundry, Magix, FXHome, Grass Valley, Corel, and more.
To schedule a press appointment at NAB, please contact Jessie Electa Petrov, Director of Marketing, jessiep@borisfx.com.
About Boris FX: Founded in 1995, Boris FX is a leading developer of VFX, compositing, titling, video editing, and workflow tools for broadcast, post-production, and film professionals. Boris FX products have grown to serve over a million artists worldwide. The company's success lies in its ability to tightly integrate and leverage technologies through strong partnerships with Adobe, Apple, Avid, Blackmagic Design, Autodesk, FilmLight, Grass Valley, Magix, SGO, and other leading developers of video editing software. In 2014, Boris FX acquired Imagineer Systems, the Academy Award-winning developer of Mocha planar tracking software. In 2016, Boris FX acquired GenArts, the developer of Sapphire, the gold standard plug-in package for high-end visual effects.
###
Media Contact: Jessie Electa Petrov, Director of Marketing
jessiep@borisfx.com
617.451.9900