Previewing 360° stereoscopic workflow and new versions of flagship plug-ins Sapphire & Continuum
Boston, Massachusetts – July 13, 2017 – Boris FX™, the leading developer of visual effects plug-ins for film and post-production, will showcase the newest versions of flagship products Mocha VR, Continuum, and Sapphire at SIGGRAPH on August 1-3, 2017 at the Los Angeles Convention Center in booth 1011.
"SIGGRAPH is a great opportunity for us to connect with visual effects artists and preview the newest problem-solving tools for the growing 360° filmmaking community," says Ross Shain, Chief Product Officer of Boris FX and Imagineer Systems. "Mocha VR now has stereoscopic features, enabling an advanced stereo 360° plug-in workflow inside host applications Adobe Creative Cloud®, Avid Media Composer, and The Foundry's NUKE. We will also preview the upcoming Continuum 360/VR Unit, designed for 360/VR editorial tasks and Sapphire 11, the newest version of flagship VFX plug-ins used in feature films and creative video."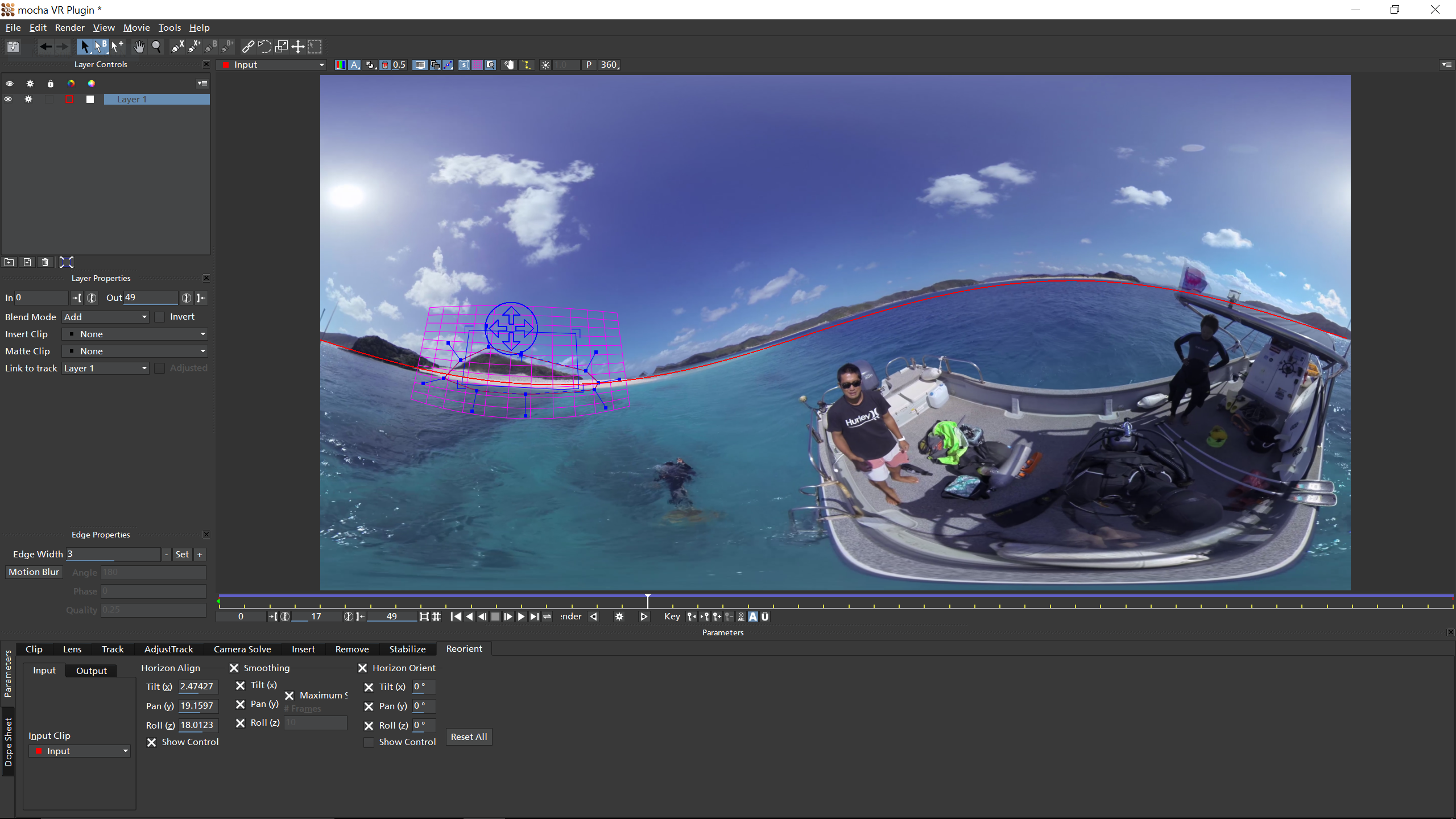 Mocha VR's horizon stabilize toolset
Attendees visiting Boris FX at SIGGRAPH will have the opportunity to preview the following new products and technology demos:
Mocha VR
Mocha VR is the first plug-in to bring native 360° optimized tracking, masking, object removal, and horizon stabilization tools to host applications such as Adobe® Premiere Pro CC, Adobe® After Effects CC, Avid Media Composer, The Foundry's NUKE, and Blackmagic Design Fusion. Mocha VR is built on the Academy Award-winning planar tracking engine developed by Boris FX division Imagineer Systems.
Boris Continuum
Continuum 11 will feature a new VR Unit with multiple VR enabled plug-ins designed for editing tasks. Highlights include optimized blurs and sharpening filters bringing 360/VR workflow support to a variety of host editing systems. Continuum 11 will also feature a new Primatte® chroma keying plug-in with technology licensed from Photron.
Sapphire
Sapphire 11 will integrate Mocha's tracking and masking tools directly into all its filters bringing new creative, problem-solving workflows to Sapphire's high-end artists and editors.
Visit Us at Booth 1011
Product specialists will demonstrate how editors and artists can use Boris FX tools to accomplish high-end visual effects, graphics, and finishing on feature films and television projects.
To make a press appointment at SIGGRAPH, contact Jessie Electa Petrov, Director of Marketing, jessiep@borisfx.com.
About Boris FX
Founded in 1995, Boris FX is a leading developer of VFX, compositing, titling, video editing, and workflow tools for broadcast, post-production, and film professionals. Boris FX products have grown to serve over a million artists worldwide. The company's success lies in its ability to tightly integrate and leverage technologies through strong partnerships with Adobe, Apple, Avid, Grass Valley, Nexidia, Sony, Quantel, and other leading developers of video editing software. In 2014, Boris FX acquired Imagineer Systems, the Academy Award-winning developer of Mocha planar tracking software. In 2016, Boris FX acquired GenArts, the developer of Sapphire, the gold standard plug-in package for high-end visual effects creation.