Sapphire 2019.5 delivers new creative effects, streamlined Builder UI, and Flame 2020 OFX plug-in support
Boston, Massachusetts, U.S.A — June 19, 2019 — Boris FX Sapphire, the high-end visual effects suite favored by top editors and artists, gives its loyal user base four major new effects and transitions to add to their Adobe, Avid, and OFX-based workflows. The strong mid-year release (2019.5) is available free to current Sapphire upgrade & support and annual subscription plan members as part of Boris FX's continued commitment to providing its post-production community with the newest and innovative plug-ins throughout the year.
S_ParallaxStrips is a brand new Sapphire 2019.5 effect and is featured in the popular Distort Unit category, home to many sought-after effects including S_Shake and S_WarpChroma. S_ParallaxStrips is also available as a transition, joining two new dissolves, S_DissolvePixelSort and S_DissolveDigitalDamage, both of which are based on Sapphire's trendy effects of the same name.
In addition to creative effects, Sapphire 2019.5 includes many time-saving workflow updates. The Effect and Transition Builder, Preset Browser, and Flare Designer now support video clips and feature a new modern streamlined user interface designed for HDPI monitors. Integrated Mocha tracking adds edge-snapping splines to make masking and rotoscoping inside Sapphire faster. The 2019.5 release also adds OFX plug-in support for Autodesk Flame, Flare, and Flame Assist 2020, allowing artists to complete VFX work without leaving Flame.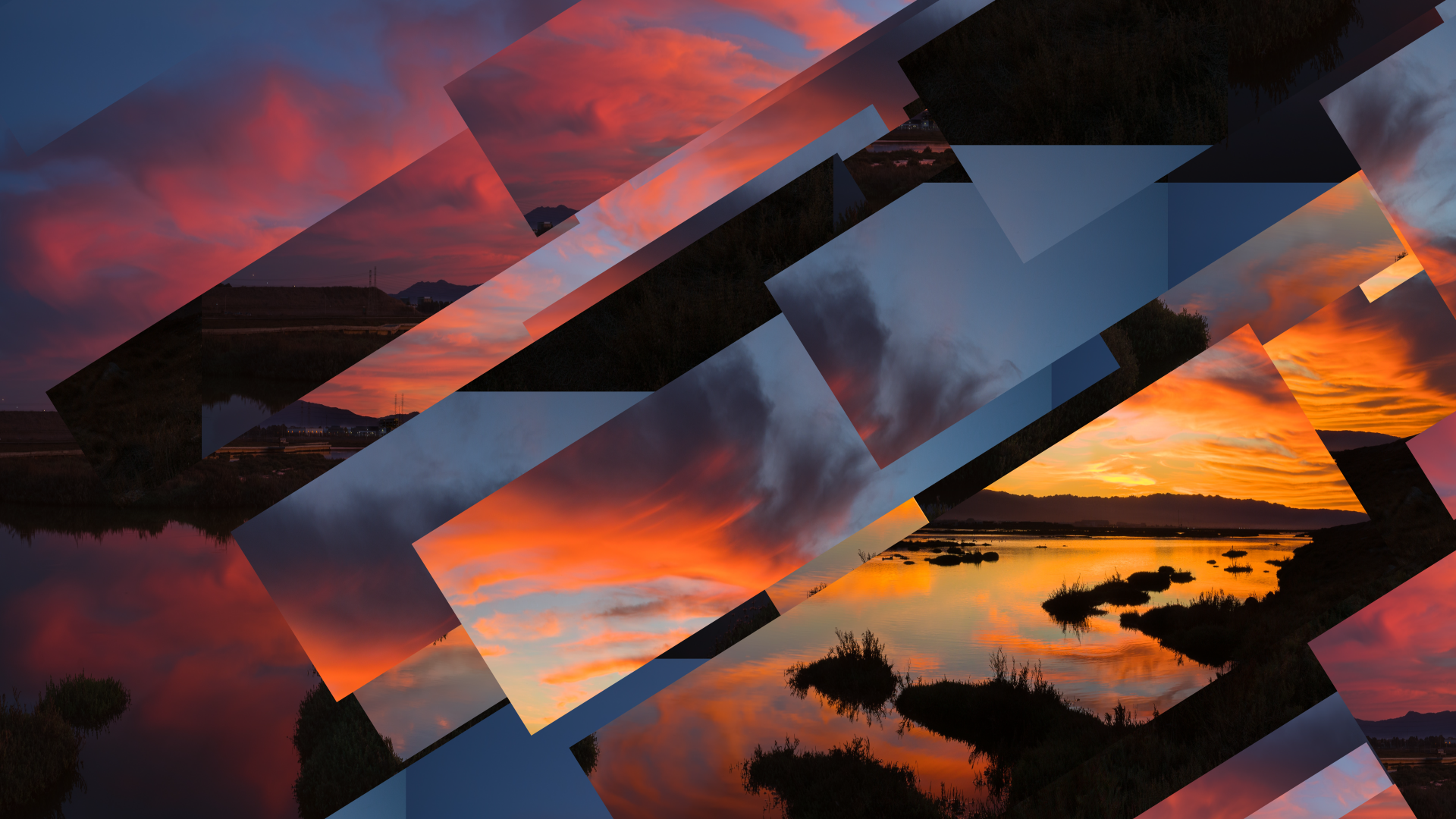 Sapphire 2019.5 S_ParallaxStrips effect (Download the image)
"We're delivering substantial value to our Sapphire customers on the Upgrade & Support plan with the 2019.5 update," says Brian Fox, Director of Product Marketing, Boris FX. "Adding in new effects and transitions like S_ParallaxStrips, redesigning and updating the Effect and Transition Builder, Preset Browser, and Flare Designer, and enhancing the integrated Mocha tracking and masking are the types of improvements that will really be noticeable to artists and editors."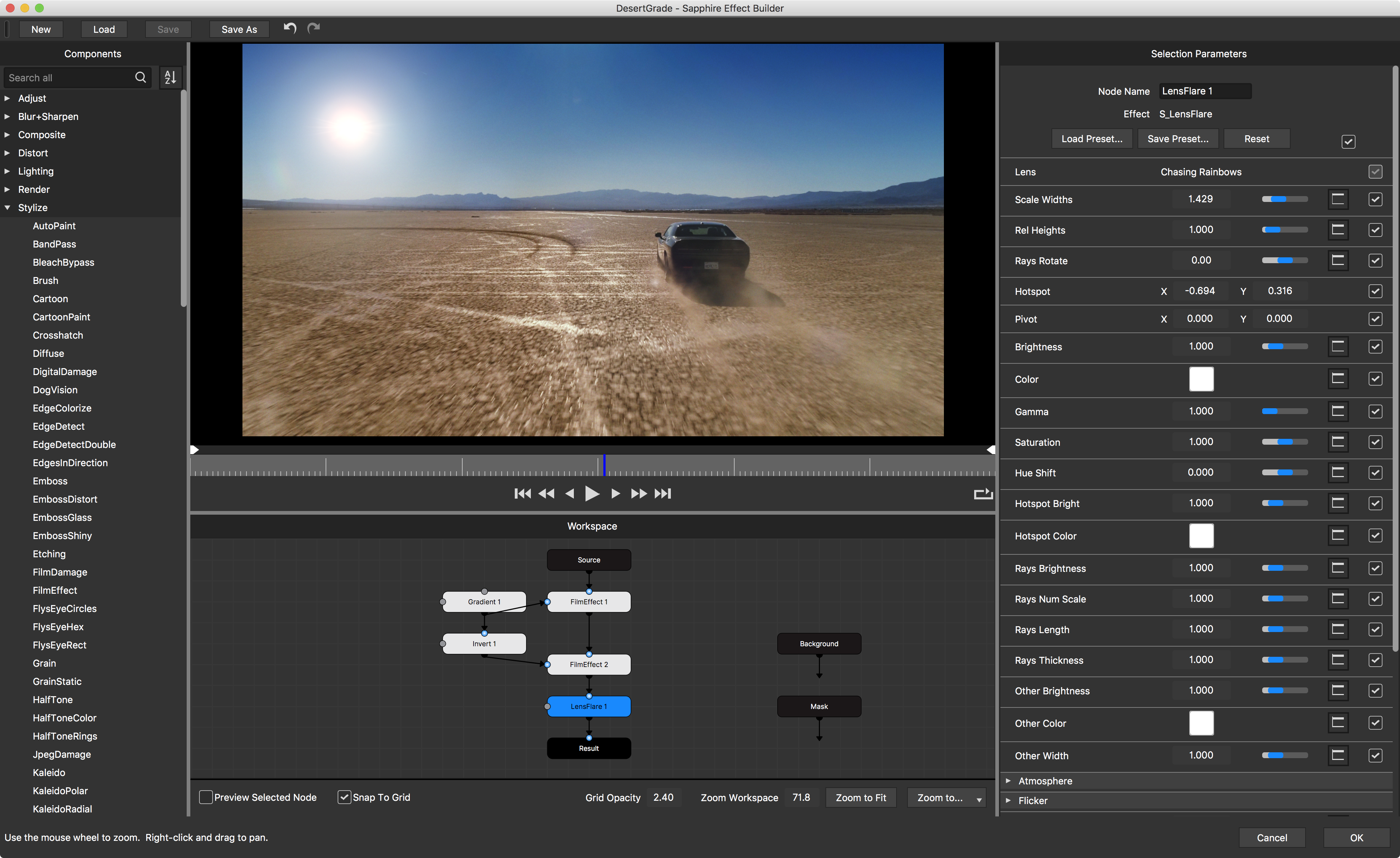 Sapphire 2019.5 Streamlined Builder UI (Download the image)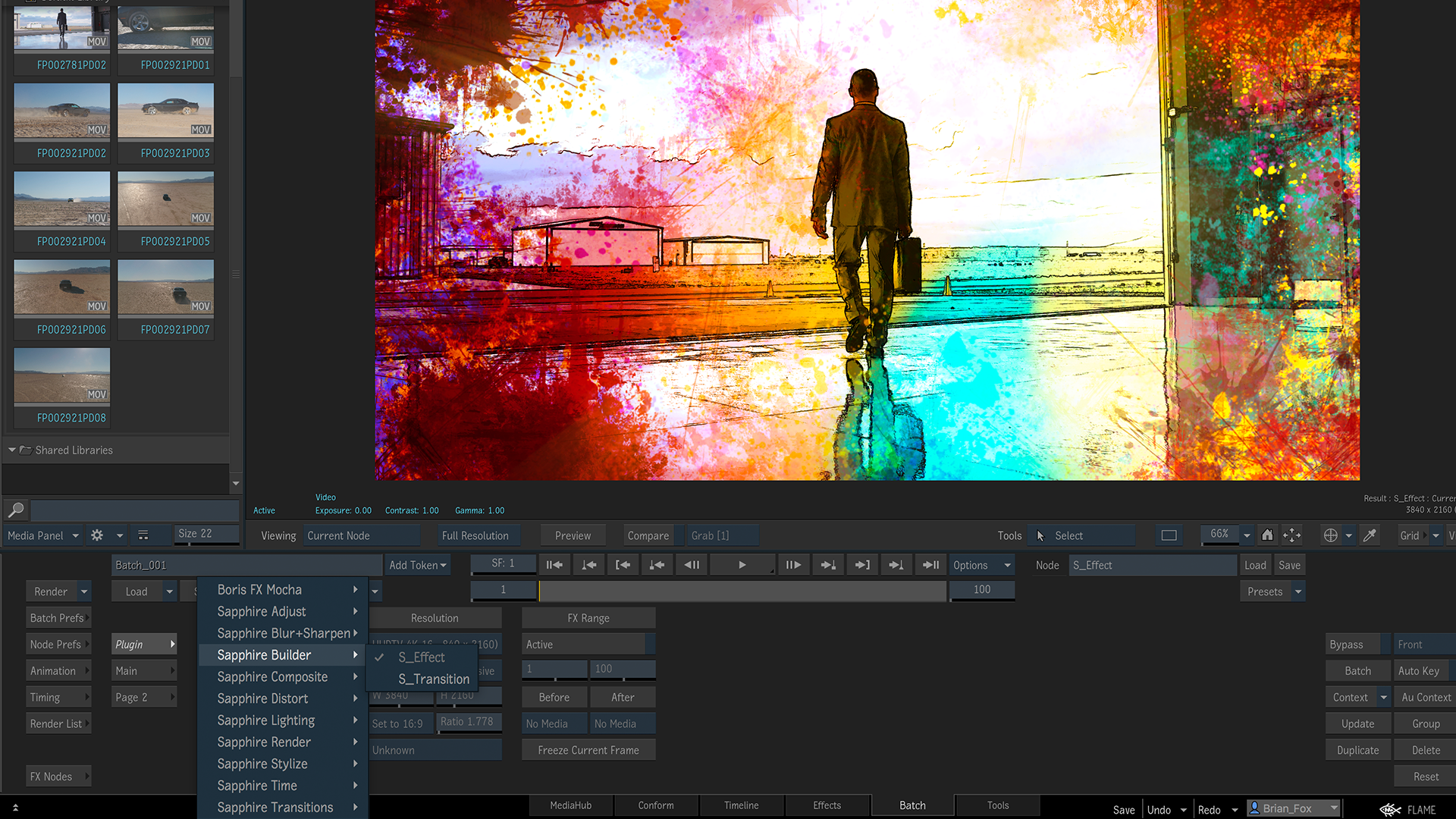 Sapphire 2019.5 Flame 2020 OFX Plug-In Support (Download the image)
"As an editor who works on a lot of promos, I'm constantly on the lookout for fun new transition options to make cuts more interesting," remarks Jon Anderson, Clio award-winning editor. "I already love S_DigitalDamage and S_PixelSort as effects. I can't wait to start using them as transitions! The addition of these two transitions, plus the S_ParallaxStrips effect and transition, give me four new slick creative options to incorporate into my projects."
New in Sapphire 2019.5
S_ParallaxStrips Effect: The ParallaxStrips effect takes any image and divides it into strips separated apart in z space. The floating strips can seamlessly strip apart or form a complete image. Angle, size, speed, z-depth, and many more parameters can be adjusted for custom looks.
S_ParallaxStrips Transition: The ParallaxStrips transition is based on the effect of the same name. Easily manipulate strips separated in z-space to create unique custom transitions.
S_DissolvePixelSort Transition: The DissolvePixelSort transition uses the same algorithm as the PixelSort effect and can be used to create modern and popular glitchy transitions.
S_DissolveDigitalDamage Transition: The DissolveDigitalDamage transition is based on one of Sapphire's most popular effects. The transition includes the same presets and parameters as the original effect.
Clip Access for Builder, Flare Designer, and the Preset Browser: External applications can now live preview any resolution clip.
Updated Look and Feel: Builder, Flare Designer, and the Preset Browser features have been improved with a modern Ul that has been optimized for 4K HDPI monitors.
Broadcast Monitor Support: External applications (Effect and Transition Builder, Flare Designer) now support output to a third-party broadcast monitor via Blackmagic or AJA cards.
Flame 2020 OFX Plug-in Support: Sapphire 2019.5 supports Autodesk Flame, Flame Assist, and Flare v2020 or higher. The new OFX plug-in also gives Flame artists access to the powerful Sapphire Effect and Transition Builder workflow for the first time.
Mocha Edge-Snapping Splines: Integrated Mocha tracking and masking gets a boost from an additional edge-snapping feature that makes isolating Sapphire effects even simpler than before.
Pricing & Availability
Sapphire 2019.5 is available as a plug-in for Adobe After Effects and Premiere Pro, Avid Media Composer, and OFX hosts Autodesk Flame 2020, Blackmagic DaVinci Resolve, The Foundry Nuke, VEGAS Pro, and more.
Multi-Host Option #1 (includes all supported host plug-ins: Adobe, Avid, OFX)
Upgrades start at $895
Annual subscription: $895
Permanent license: $2795
Multi-Host Option #2 (includes host plug-ins: Adobe, OFX)
Upgrades start at $495
Annual subscription: $495
Permanent license: $1695
Individual Plug-in Host
Avid
Upgrades start at $495
Annual subscription: $495
Permanent license: $1695
OFX
Upgrades start at $495
Annual subscription: $495
Permanent license: $1695
To learn more, visit the Sapphire product page.
About Boris FX
Founded in 1995, Boris FX is a leading developer of VFX, compositing, titling, video editing, and workflow tools for broadcast, post-production, and film professionals. Boris FX products have grown to serve over a million artists worldwide. The company's success lies in its ability to tightly integrate and leverage technologies through strong partnerships with Adobe, Apple, Avid, Blackmagic Design, Autodesk, FilmLight, Grass Valley, Magix, SGO, and other leading developers of video editing software. In 2014, Boris FX acquired Imagineer Systems, the Academy Award-winning developer of Mocha planar tracking software. In 2016, Boris FX acquired GenArts, the developer of Sapphire, the gold standard plug-in package for high-end visual effects.
###
Media Contact
Jessie Electa Petrov
Director of Marketing, Boris FX
617.451.9900