Major new Mocha release features improved planar tracking interface, magnetic splines, GPU-accelerated object removal, and stereoscopic 360/VR support for visual effects and post-production
Boston, Massachusetts, U.S.A — October 3, 2018 — The Academy Award-winning team behind Mocha planar tracking is once again changing how post-production teams create visual effects with its new release, Mocha Pro 2019. Mocha Pro 2019 from Boris FX, the industry's leading plug-in developer, builds on its mission to reduce the time-consuming pain points and manual work generally associated with high-end visual effects.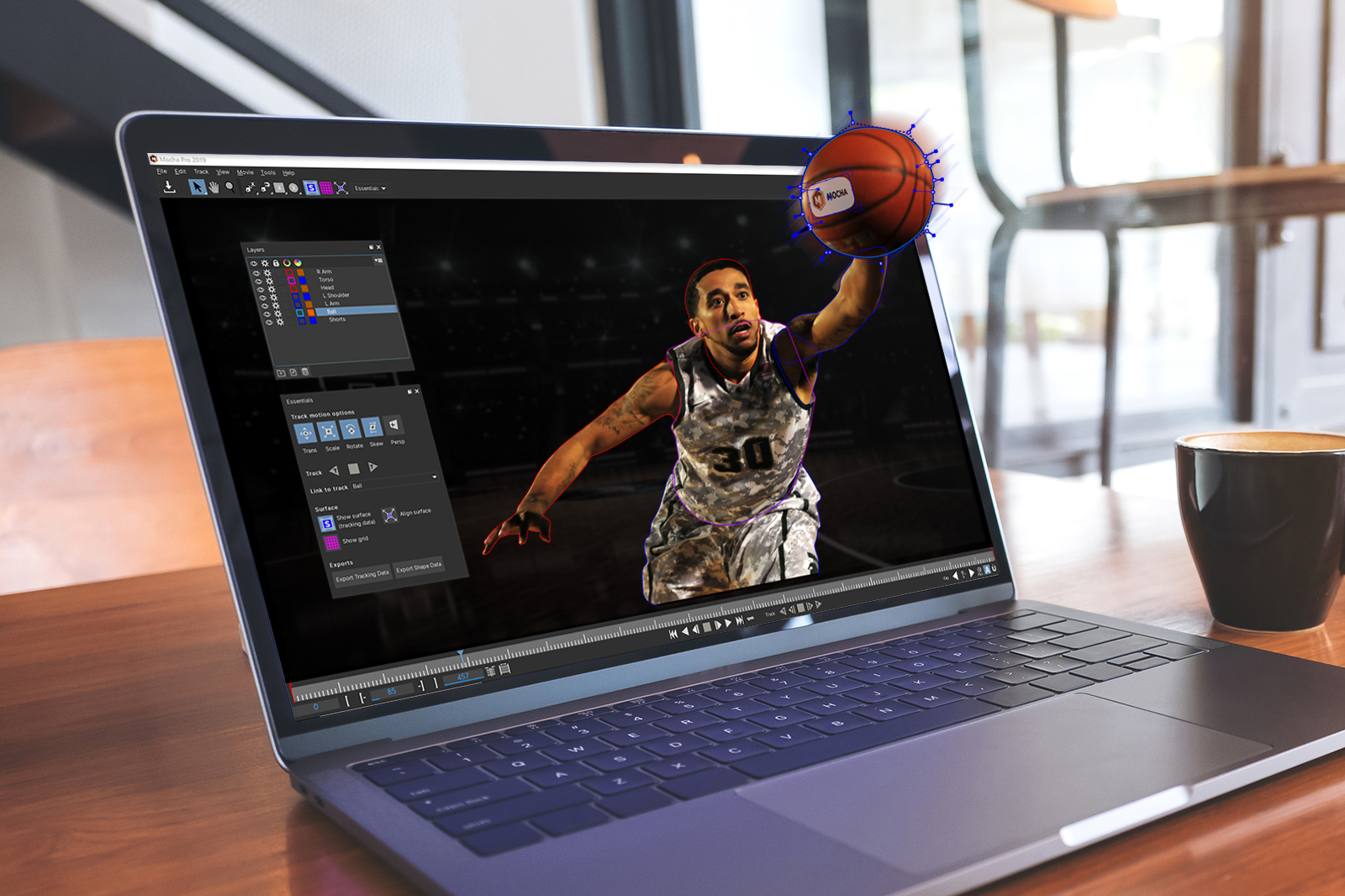 Mocha Pro 2019 - New Release (Download Image)
Designed for all levels of users, Mocha Pro 2019 features a new, simplified Mocha Essentials workspace and powerful edge-snapping spline creation tools to improve masking and roto tasks. Object Removal processing now runs on GPU, delivering dramatic improvements in rendering performance, and the user interface crisply supports Retina/High DPI monitor resolutions. Additionally, Mocha Pro 2019 now combines the previous Mocha Pro and Mocha VR features into one product, adding best-in-class tools for stereoscopic 360/VR video. Mocha Pro 2019 is now available with affordable pricing and subscription options: plug-ins for Adobe After Effects® CC and Adobe® Premiere Pro® CC, Avid Media Composer, and OFX hosts including The Foundry Nuke, Blackmagic Design Fusion, Magix VEGAS Pro, and HitFilm (or as a standalone application).
The new release offers VFX artists, editors, and 360 filmmakers even greater time-savings on advanced VFX tasks including screen replacements, removing unwanted objects, image stabilization, rotoscoping, and masking. "For over 10 years, Mocha has been one of the film industry's go-to tools for difficult motion tracking and effect shots," states Ross Shain, Chief Product Officer, Boris FX. "The newly designed Mocha Essentials interface makes the software markedly easier for new users to learn and the faster object removal rendering is a game-changer." Shain continues, "Adding 2019 to the product name signifies big news for our growing user base. Not only have we added new tools and improvements. Mocha also now provides annual updates and point releases to customers on the Boris FX support plan."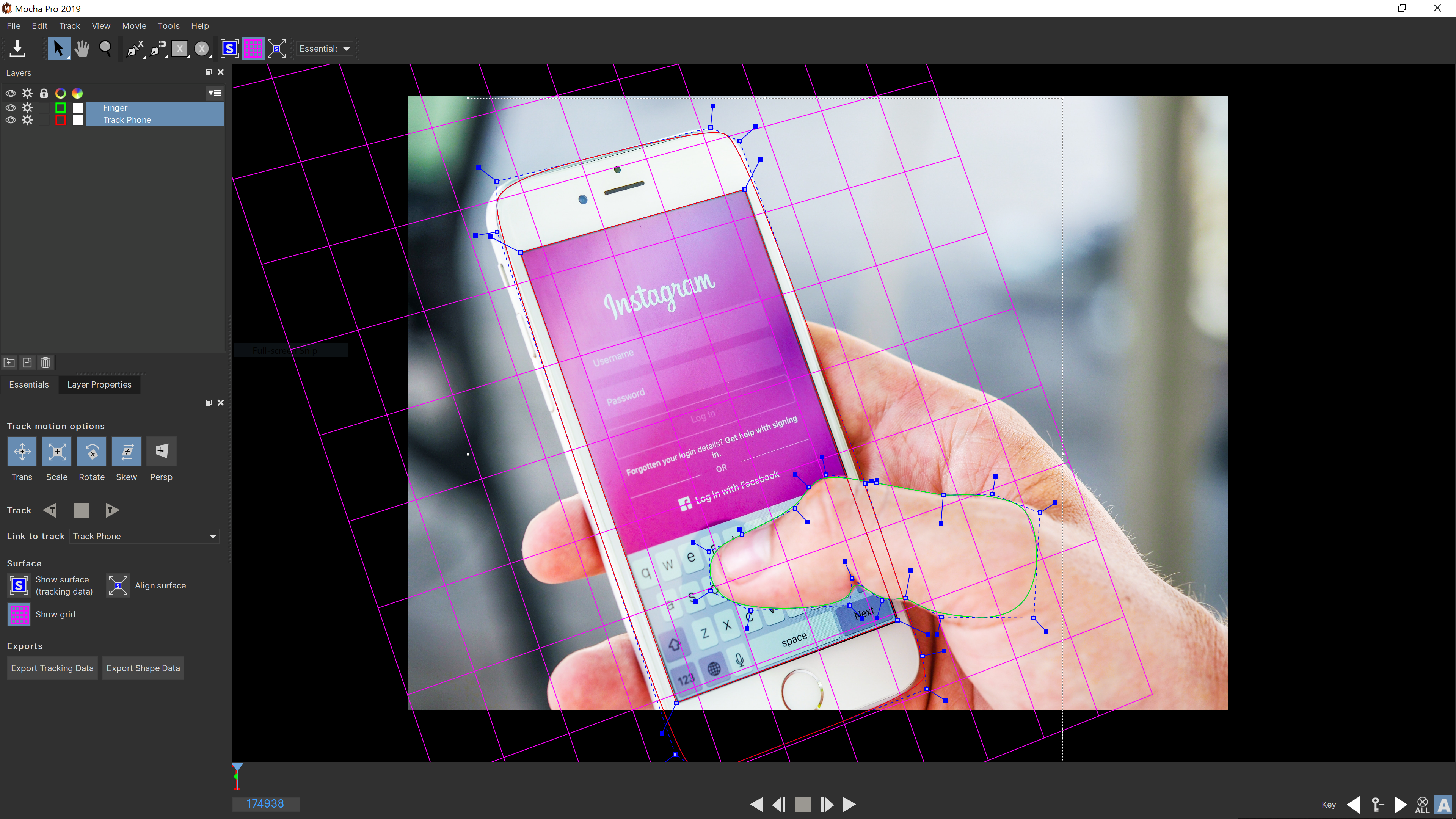 Mocha Pro 2019 - New Mocha Essentials Interface (Download Image)
VFX artists are already praising Mocha Pro 2019. "The new magnetic spline and freehand drawing tools are fantastic!" says Robert Kjettrup, Founding Partner, Troika Films. "Mocha Pro 2019 speeds up my tracking and rotoscoping workflow."
"I've used Mocha time and time again to see if seemly impossible tasks are possible…the new 2019 release improves on the core functionality and speed which translates into VFX artists getting home earlier!" remarks Jake Morrison, VFX Supervisor, Thor: Ragnarok and Ant-Man.
New in Mocha Pro 2019:
Mocha Essentials workspace with streamlined user interface: Makes planar tracking easier to learn and master than ever before
GPU-accelerated object removal: Delivers dramatic rendering speed increases on the most challenging object removals and clean plating shots
Accelerated masking & roto with new spline creation tools: Adds magnetic spline with edge snapping, freehand spline tool, ellipse, and rectangle tools
Retina/High DPI monitor resolution support
Mocha Pro and Mocha VR features are now combined into one product
Mocha Pro is now officially part of the Boris FX U&S (Upgrade & Support) plan and moving to a yearly release cycle
Pricing & Availability
Mocha Pro 2019 is available as both a standalone application and as a plug-in for Adobe After Effects and Premiere Pro, Avid Media Composer, and OFX hosts, including Blackmagic Fusion, The Foundry Nuke, Magix VEGAS Pro, HitFilm, and more.
Multi-host option (includes all supported host plug-ins: Adobe, Avid, OFX)
Single license: $995
Upgrades start at $395
Annual subscription: $395
Individual host option (choose one supported host plug-in: Adobe, Avid, OFX)
Single license: $695
Upgrades start at $295
Annual subscription: $295
Multi-host option + Standalone application
Single license: $1495
Upgrades start at $595
Annual subscription: $595
To learn more, visit Mocha.
Media Assets:
<a href="http://cdn.borisfx.com/borisfx/press/mocha-pro-2019-boris-fx.zip" target=_"blank"> Download Mocha Pro 2019 imagery
Click links below to embed videos:
Mocha Pro 2019: Promo
Mocha Pro 2019: What's New
Mocha Pro 2019: Mocha Essentials Interface
Mocha Pro 2019: New Spline Tools
Mocha Pro 2019: GPU-Accelerated Object Removal
Mocha Pro 2019: New 360/VR Tools
About Boris FX
Founded in 1995, Boris FX is a leading developer of VFX, compositing, titling, video editing, and workflow tools for broadcast, post-production, and film professionals. Boris FX products have grown to serve over a million artists worldwide. The company's success lies in its ability to tightly integrate and leverage technologies through strong partnerships with Adobe, Apple, Avid, Blackmagic Design, Autodesk, Grass Valley, Magix, Sony, Quantel, and other leading developers of video editing software. In 2014, Boris FX acquired Imagineer Systems, the Academy Award-winning developer of Mocha planar tracking software. In 2016, Boris FX acquired GenArts, the developer of Sapphire, the gold standard plug-in package for high-end visual effects.
Media Contact
Jessie Electa Petrov
Director of Marketing, Boris FX
jessiep@borisfx.com
617.451.9900