Academy and Emmy Award-winning software developer delivers the definitive plugin toolkit for Adobe Photoshop and Adobe Lightroom
Boston, Massachusetts, U.S.A — July 21, 2020 — The creative team behind Emmy Award-winning visual effects plugins is changing how digital photographers, designers, and bloggers edit photos. Boris FX Optics is now available as a plugin for Adobe Photoshop, Adobe Lightroom, and as a standalone application for macOS and Windows. The Optics toolkit features over 150 filters and thousands of presets designed by VFX industry veterans to correct, enhance, and stylize images with an easy-to-use interface. The affordably-priced plugin can be purchased for only $9/month or $99/year.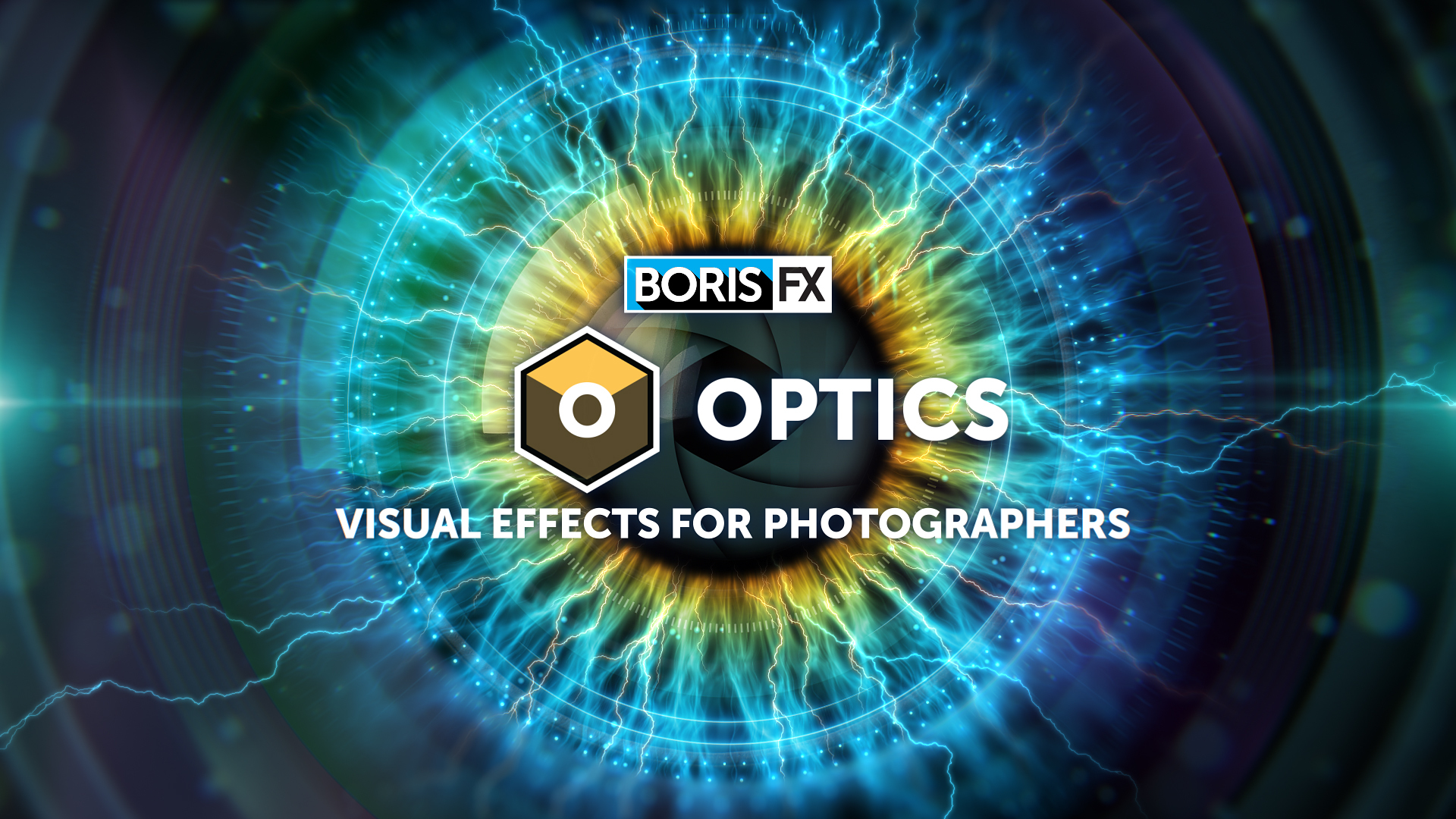 Boris FX Optics (Download the image)
"Optics marks the first collaboration between our DFT (Digital Film Tools) and Sapphire product teams — delivering powerful digital photography tools for creative pros," says Boris Yamnitsky, Boris FX, Founder and CEO. "In addition to the staggering amount of lens filters, film looks, color, and masking tools, we're thrilled to feature 75 handpicked filters from Sapphire's high-end VFX suite. Photographers now have access to the same lens flares, glows, and lighting effects used on Hollywood blockbusters, TV shows, and music videos. The inclusion of Sapphire's popular effects inside Photoshop provides a missing bridge between video and print design."
"Optics is the only Photoshop plugin that specifically simulates optical camera filters with presets based on real-world diffusion filters as well as realistic simulations of film stocks and motion picture lab processes," notes Marco Paolini, Boris FX, Optics Product Designer. "The interface makes it quick and easy to make creative decisions and GPU acceleration produces responsive results at high resolutions. We're excited to see the images our customers create using one of the most complete photographic and visual effects software suites available."
The new toolkit is already grabbing the attention of professional digital photographers. "Boris FX Optics takes digital filters and effects to an exciting new level. It's simple, seamless, and fun. Open an image and apply almost any filter, net, effect, light, lab, or lens parameter," states Jon Fauer, ASC. "It's an excellent standalone or plugin application for pre-vis and post, establishing a look, and experimenting with styles."
Boris FX Optics Features:
160 total filters that simulate optical glass cameras, specialized lenses, film stocks, lens flares, optical lab processes, grain, exacting color correction, natural light, and photographic effects
75 Boris FX Sapphire filters included: Create stunning organic looks with superior image quality and creative control. Filters include lens flares, light leaks, glow, night sky, clouds, luna (moon), zap (lightning), free lens, rack defocus, digital damage, and more.
Thousands of customizable presets
294 color and black & white still photography film stocks, motion picture film stocks, and historical photography processes
89 color grading presets from Academy Award-nominated movies including 2001: A Space Odyssey, Apocalypse Now, Blade Runner, Back to the Future, Frankenstein, Gone with the Wind, King Kong, Saving Private Ryan, and Titanic
Gobo library includes 751 gobo lighting effects categorized into abstract, doors, elements, foliage, snowflakes, textures, and windows groups
Paint using black & white, blur, clone, color, eraser, mosaic, red-eye, repair, and scatter brushes
Layering system to apply multiple filters and sophisticated masking tools to isolate effects
Non-destructive crop, rotate, and scale (standalone only)
Batch processing (standalone only)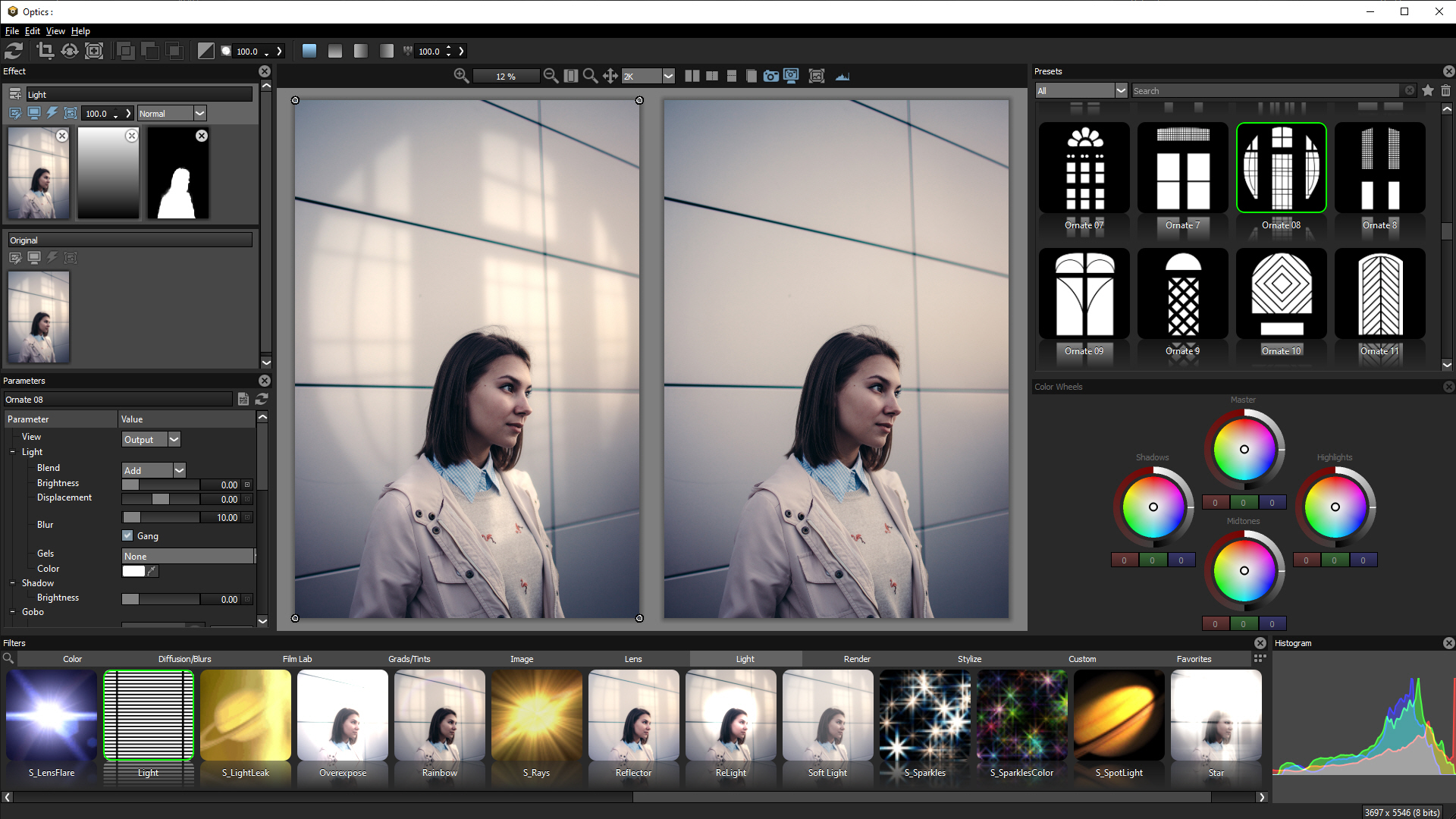 Boris FX Optics: Interface (Download the image)
Watch Now: Boris FX Optics Overview
Pricing & Availability
Boris FX Optics is available as a plugin for Adobe Photoshop and Adobe Lightroom as well as a standalone application for macOS and Windows operating systems. Purchase options include a permanent license, annual subscription, and monthly subscription. Customers who purchase Boris FX Optics receive both the plugin and standalone application.
New license (includes 1-year upgrade & support plan): $149
Annual subscription: $99
Monthly subscription: $9
Special introductory offer: Customers save 25% off regular prices from now until August 4, 2020. See full details.
Learn more about Boris FX Optics
Media Assets
Download Boris FX Optics imagery
About Boris FX
Founded in 1995, Boris FX is a leading developer of VFX, compositing, titling, video editing, and workflow tools for broadcast, post-production, and film professionals. Boris FX products have grown to serve over a million artists worldwide. The company's success lies in its ability to tightly integrate and leverage technologies through strong partnerships with Adobe, Apple, Avid, Blackmagic Design, Autodesk, Grass Valley, Magix, and other leading developers of video editing software. In 2014, Boris FX acquired Imagineer Systems, the Academy Award-winning developer of Mocha planar tracking software. In 2016, Boris FX acquired GenArts, the developer of Sapphire, the gold standard plug-in package for high-end visual effects. In 2019, Boris FX acquired Academy Award-winning SilhouetteFX and Digital Film Tools for advanced feature film rotoscoping, painting, and effects.
Media Contact
Jessie Electa Petrov
Director of Marketing, Boris FX
jessiep@borisfx.com
617.451.9900