New Mocha Pro features Mega Plate module, Area Brush tool, and OpenColorIO support to speed up and streamline visual effects and post-production workflows
Boston, Massachusetts, U.S.A — October 7, 2019 — The latest release of the Academy Award-winning planar tracking toolset, Boris FX Mocha Pro 2020, delivers major time-saving benefits to visual effects artists tasked with the often complicated set extensions, clean-ups, and object removals needed to bring Hollywood's biggest blockbusters to life. Mocha Pro 2020 is now available as both a standalone application and as a plug-in for the post-production industry's most popular host applications including Adobe After Effects and Premiere Pro, Avid Media Composer, Autodesk Flame, Foundry Nuke, and many more.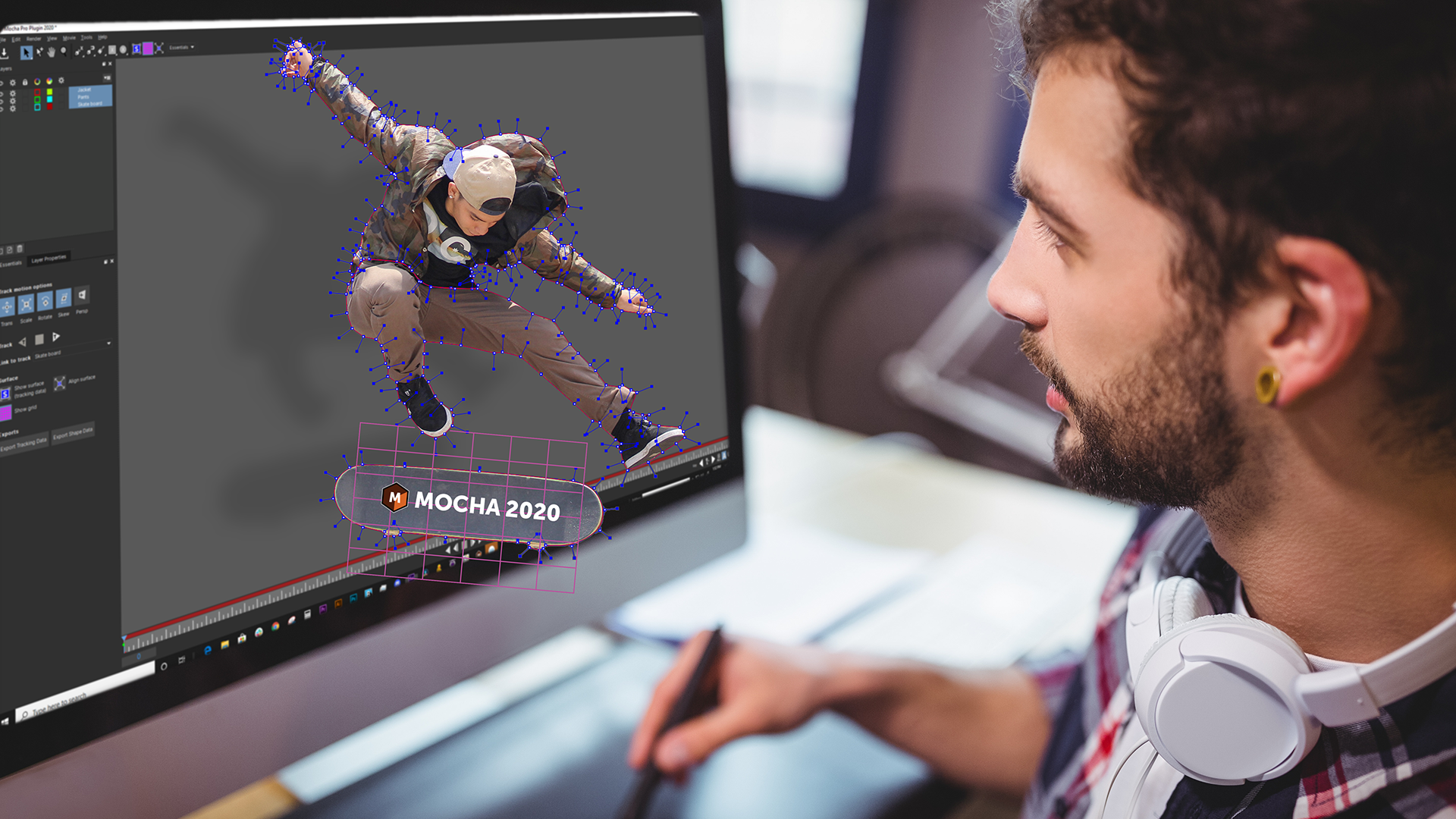 New Boris FX Mocha Pro 2020 (Download the image)
Mocha Pro 2020 not only helps VFX artists deliver high-end results in less time, but it also offers video editors and colorists simple new workflows for everyday VFX tasks such as isolating effects and replacing screens. "The Mega Plate feature is an evolution of our planar tracking engine, now developed to generate a stitched panorama effects plate from a moving shot," says Ross Shain, Chief Product Officer, Boris FX. "This opens up a powerful and unique new workflow for artists to generate a larger-than-raster extended canvas for retouching, set extensions, matte painting, sky replacements, and object removal."
"Editors and finishing artists working on tight deadlines will love the new Area Brush paint tool for its speed and ease of use," continues Shain. "And advanced effects artists will appreciate how Mocha's new pressure-sensitive paint and stroke-to-spline conversion is combined with edge-snapping for greater roto and masking flexibility. And finally, the addition of OpenColorIO support ensures a proper color-managed workflow for consistent display across feature film and television post-production pipelines."
Mocha's tracking and effects tools have long been acknowledged by professionals in the film and broadcast industry for their quality, speed, and impact. The Mocha development team, first recognized by the Academy of Motion Pictures in 2013 with a Scientific and Engineering Academy Award, will be honored next with an Engineering Emmy Award from the Television Academy on October 23, 2019.
Mocha Pro 2020 Highlights:
New! Mega Plate extracts a seamless larger-than-raster image from moving camera footage to complete advanced VFX tasks including set extensions, clean-ups, removing unwanted objects, and repositioning footage. The unique module builds upon Mocha's most powerful core technologies — planar track and temporal frame analysis — to create a stitched extended frame.
New! Area Brush with Quick Mask mode brings paint-like functionality to Mocha, allowing users to define large tracking search areas with a simple quick gestural stroke. Added and subtracted paint strokes convert to vector splines to speed up tracking and masking tasks.
New! OpenColorIO (OCIO) support gives Mocha users consistent and predictable color displays across industry workflows. Compatible with the Academy Color Encoding Specification (ACES) and enables improved color-managed workflows with high-end post-production and VFX applications such as Boris FX Silhouette, Foundry's NUKE, Autodesk Flame, Avid Media Composer, and more.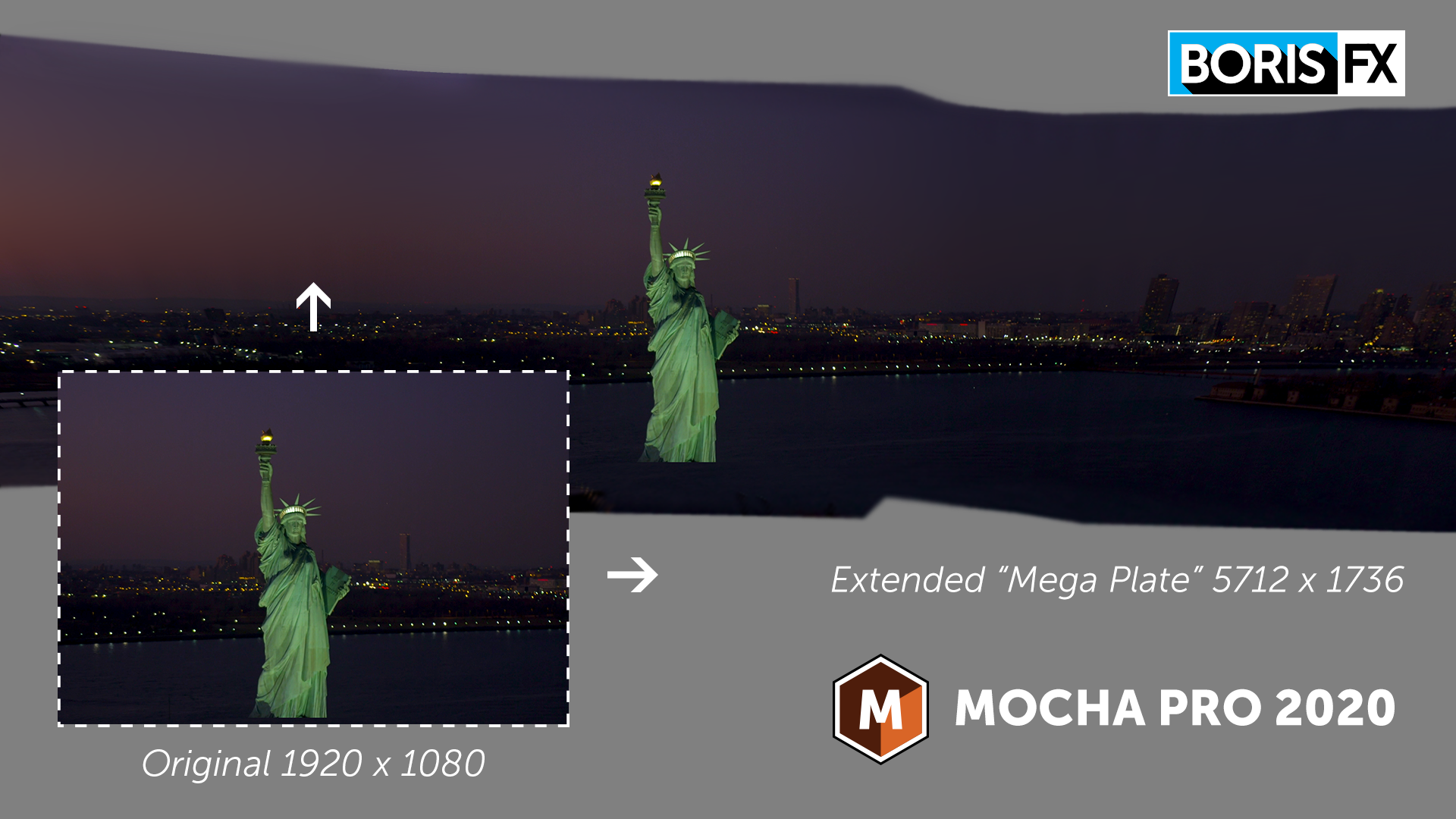 New Mega Plate module produces larger-than-raster extended plates for VFX tasks — Mocha Pro 2020 (Download the image)
Watch Now: What's New in Mocha Pro 2020
Pricing & Availability
Mocha Pro 2020 is available with affordable pricing and subscription options: plug-ins for Adobe After Effects and Premiere Pro, Avid Media Composer, and OFX hosts, including Blackmagic Fusion, Foundry Nuke, VEGAS Pro, and HitFilm (or as a standalone application).
Multi-host option (includes all supported host plug-ins: Adobe, Avid, OFX)

Single license: $995
Upgrades start at $395
Annual subscription: $395

Individual host option (choose one supported host plug-in: Adobe, Avid, OFX)

Single license: $695
Upgrades start at $295
Annual subscription: $295

Multi-host option + standalone application

Single license: $1495
Upgrades start at $595
Annual subscription: $595
Learn more about Mocha Pro 2020
Download Mocha Pro 2020 imagery
About Boris FX: Founded in 1995, Boris FX is a leading developer of VFX, compositing, titling, video editing, and workflow tools for broadcast, post-production, and film professionals. Boris FX products have grown to serve over a million artists worldwide. The company's success lies in its ability to tightly integrate and leverage technologies through strong partnerships with Adobe, Apple, Avid, Blackmagic Design, Autodesk, Grass Valley, Magix, and other leading developers of video editing software. In 2014, Boris FX acquired Imagineer Systems, the Academy Award-winning developer of Mocha planar tracking software. In 2016, Boris FX acquired GenArts, the developer of Sapphire, the gold standard plug-in package for high-end visual effects. In 2019, Boris FX acquired Academy Award-winning SilhouetteFX and Digital Film Tools for advanced feature film rotoscoping, painting, and effects.
Media Contact: Jessie Electa Petrov, Director of Marketing, Boris FX

jessiep@borisfx.com ● 617.451.9900