Premium VFX Plug-in Sapphire Now Available as Task Specific and Lower Cost Sapphire 10 Units for Adobe, Avid, & OFX
Boston, Massachusetts, USA – March 21, 2017 – Boris FX™, the leading plug-in developer of professional post-production tools, announces Sapphire 10 Units. For the first time in Sapphire's history, the high-end VFX plug-in collection is offered as eight separate categories with a lower price point aimed at individual artists, editors, and compositors. Sapphire 10 Units support Adobe After Effects CC & Premiere Pro CC, Avid Media Composer, Blackmagic Design's DaVinci Resolve, The Foundry's NUKE, and other supported OFX hosts.
"We're excited to offer Sapphire's award-winning effects and features as individual Sapphire 10 Units," states Boris Yamnitsky, president and founder of Boris FX. "Sapphire artists and editors have asked for a more affordable solution — we're delivering. Aimed at individual VFX artists, Sapphire 10 Units are the perfect add-on for post and VFX professionals who want to stay competitive in the high-end film and TV job market, but only need access to a few select tools from the entire collection."
"As a freelance editor, having access to my favorite Sapphire Transitions as an individual Unit is huge!" says Jacob Benjamin, Editor & Animator, jaketotheb.com. "The 50+ drag-and-drop transitions give me endless creative options to both keep my clients happy and work on a wide variety of projects."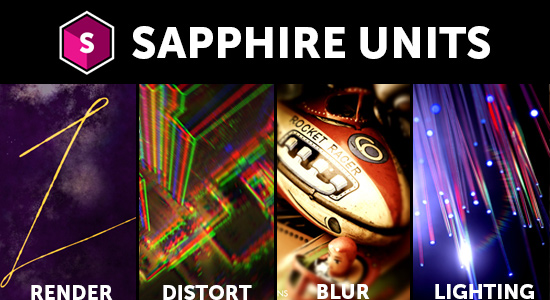 Sapphire 10 Available Units:
Adjust - All the basic tools needed for advanced color correction.

Blur - Create fast and realistic in-camera blurs and defocus along with host of tools for sharpening images.

Distort - Create powerful lens distortion effects, in-camera shake effects & chromatic aberrations.

Lighting - Flawlessly simulate natural and synthetic lights.

Render - Enhance projects with textures, gradients, cloud, sky, and lightning effects.

Stylize - Build color grades, damage looks, and other high-quality video treatments.

Time - Slow down or speed up time with the Sapphire Optical Flow Retimer and more time-based effects.

Transitions - The industry's best transitions with countless presets.
Sapphire 10 Units: Pricing & Availability
Full node-locked license ($195-595)
Sapphire 10 Units are available as a multi-host license compatible with Adobe After Effects, Adobe Premiere Pro, Avid Media Composer, The Foundry's NUKE, Blackmagic DaVinci Resolve, and other supported OFX hosts. Units are available with node-locked license only and require access to internet. Learn more.
About Boris FX
Founded in 1995, Boris FX is a leading developer of VFX, compositing, titling, video editing, and workflow tools for broadcast, post-production, and film professionals. Boris FX products have grown to serve over a million artists worldwide. The company's success lies in its ability to tightly integrate and leverage technologies through strong partnerships with Adobe, Apple, Avid, Grass Valley, Nexidia, Sony, Quantel, and other leading developers of video editing software. In 2014, Boris FX acquired Imagineer Systems, the Academy Award-winning developer of Mocha planar tracking software. In 2016, Boris FX acquired GenArts, the developer of Sapphire, the gold standard plug-in package for high-end visual effects.
Media Contact
Jessie Electa Petrov, Director of Marketing
jessiep@borisfx.com or 617.451.9900