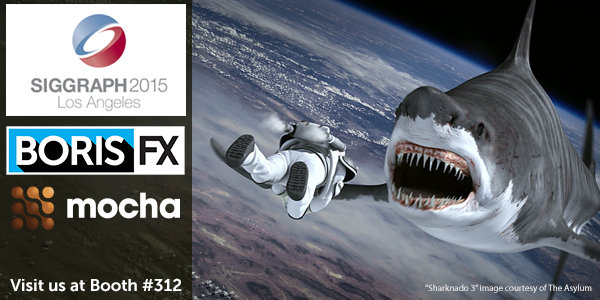 Special guest artists to demo Boris Continuum Complete 10 and mocha Pro 5
Los Angeles, California – August 6, 2015 - Boris FX™, the leading developer in VFX and workflow solutions for film and video, and Imagineer Systems, the Academy Award-winning developer of mocha ® Planar Tracking tools, will showcase the newest versions of flagship products Boris Continuum Complete (BCC) and mocha Pro at SIGGRAPH on August 11-13, 2015 at the Los Angeles Convention Center in booth 312.
"Following the recent merger, there has been great enthusiasm from our user-base to have mocha 's powerful tracking and masking technology available directly within BCC plug-ins and to have BCC effects integrated inside mocha Pro ",   explains Ross Shain, Chief Marketing Officer of Boris FX / Imagineer Systems. "At SIGGRAPH we will preview the work of our combined development teams who are now sharing these technologies to introduce new workflows for visual effects, image restoration, and digital beauty work." Continues Shain , "We are especially excited by this year's lineup of guest presenters in our booth. SIGGRAPH is the ideal place to see professional VFX artists and animators present examples of their work from feature films and television and to learn from the pros."
To view the special guest presenter lineup, visit: https://borisfx.com/events/siggraph-2015-los-angeles/
Attendees visiting Boris FX / Imagineer Systems at SIGGRAPH will have the opportunity to preview the following new products:
Boris Continuum Complete 10 (BCC)
Boris Continuum Complete gives editors, motion graphic designers, and finishing artists the most comprehensive VFX plug-in suite ever created. The expansive 200+ filter collection includes 3D titling; image restoration tools; lens flares, glows, and lights; keys and mattes; warp and perspective effects; and cinematic effects.
The upcoming BCC 10 release offers integrated mocha tracking and masking technology, new 3D titling and animation tools, import of Maxon Cinema 4D models, new image restoration filters, new transitions, and added host support.
mocha Pro 5
mocha is the award-winning planar tracking and roto-masking software developed by Imagineer Systems. The upcoming mocha Pro 5 release will add a new effects panel for integrated keying, grain, sharpening, and skin smoothing; new Python scripting support, and the ability to launch mocha Pro as a plug-in from host applications such as Avid Media Composer, Adobe After Effects, and more.
Visit Boris FX / Imagineer Systems at SIGGRAPH and register to win software prizes in the daily giveaway. August 11-13, Los Angeles Convention Center, Booth 312.
To make a press appointment at SIGGRAPH, contact Jessie Electa Petrov, Director of Marketing, jessiep@borisfx.com .
# # #
About Boris FX
Boris FX is a leading developer of VFX, compositing, titling, video editing, and workflow tools for broadcast, post-production, and film professionals. Boris FX products have grown to serve over a million artists worldwide. The company's success lies in its ability to tightly integrate and leverage technologies through strong partnerships with Adobe, Apple, Autodesk, Avid, Blackmagic DaVinci Resolve, Grass Valley, Nexidia, Sony, and other leading developers of video editing software. Boris FX was founded in 1995 and is headquartered in Boston, MA, USA.
About Imagineer Systems
Imagineer Systems Ltd is the Academy Award-winning developer of visual effects solutions for film, video and broadcast post-production markets. Imagineer Systems has made its mark on countless Hollywood blockbuster films including:  "The Hobbit," "Birdman" and the "Harry Potter" series. Imagineer's desktop product line consists of mocha Pro™ - roto, planar tracking, compositing, and removal utility; mocha Plus™ - a planar tracking and roto utility designed for After Effects, Premiere and Final Cut Pro users. Imagineer Systems was founded in 2000 and is headquartered in Guildford, United Kingdom. In January 2015, Imagineer Systems was acquired by Boris FX.
Media Contact :                  Jessie Electa PetrovDirector of MarketingBoris FX & Imagineer Systems jessiep@borisfx.com 617-451-9900
All trademarks used herein, whether recognized or not, are the properties of their respective companies.