New point release provides even greater time-saving benefits for busy editors and VFX artists and new support for Apple's FCP X and Motion 5 on macOS Mojave
Boston, Massachusetts, U.S.A — February 20, 2019 — The most comprehensive plug-in collection on the market keeps getting better. Continuum 2019 (12.0.1) is a significant update to the award-winning product line from Boris FX. Editors and VFX artists already praising the addition of Continuum 2019's new Particle Illusion real-time motion graphics generator can now produce high-end animations with far speedier results and design flexibility.
Continuum 2019 (12.0.1) is a free update for Adobe, Avid, and OFX users who previously purchased the 2019 version. The update also includes new host support for Apple's FCP X and Motion 5 on macOS Mojave with new licenses, upgrades, and annual subscription options starting at only $195.
"We're constantly looking for ways to improve our products to provide the post-production community with the fastest, most powerful plug-ins that help get the job done — and well," says Boris Yamnitsky, President & Founder, Boris FX. "The new Continuum 2019 (12.0.1) release includes a huge Particle Illusion performance boost especially on long clips and new emitter editing capabilities that give users more control and creative freedom when designing motion graphics."
Yamnitsky continues, "We've also added Apple FCP X and Motion 5 support to Continuum 2019 as part of our unwavering commitment to delivering the most comprehensive video application support on the market. FCP X editors will enjoy faster render speeds and over 35 new easy-to-use titling and transition templates."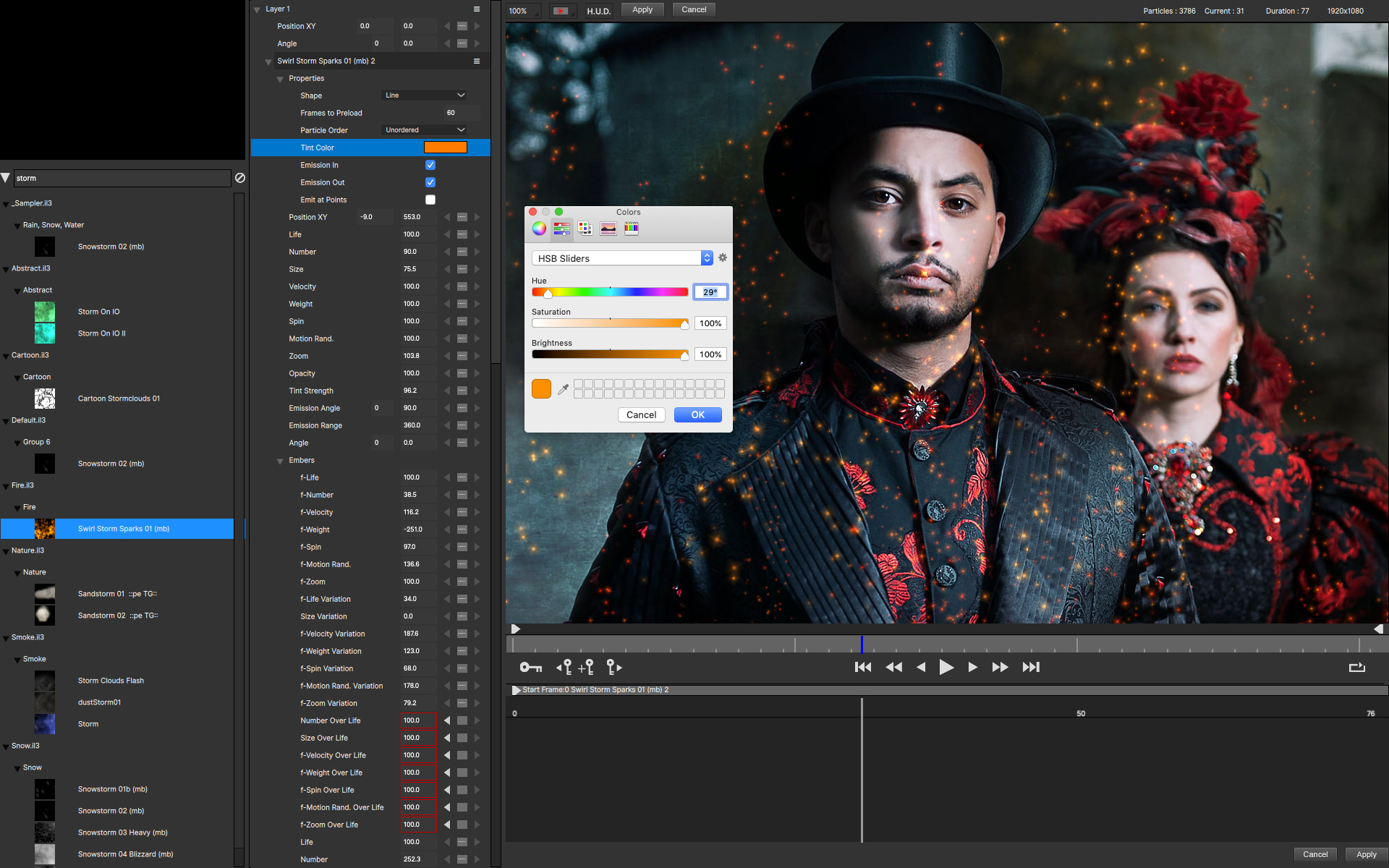 Continuum 2019: Particle Illusion's new editing functionality (<a href="https://bit.ly/2SddJTk" target=_"blank">Download the image)
"I'm so excited about the rebirth of Particle Illusion. With hundreds of high-quality presets that ship with the plug-in, it's so easy to be up and running and adding particle systems to your projects," states Benjamin Eshagpoor, Creative Director, beMOTION.dESIGN. "And if that wasn't enough, it's CPU and GPU agnostic which is a fancy way of saying that it's blazing fast no matter what graphics card or computer you're using. I can now composite particle systems into 4K footage on a 2012 MacBook Pro and render out within minutes…it's remarkably fast!"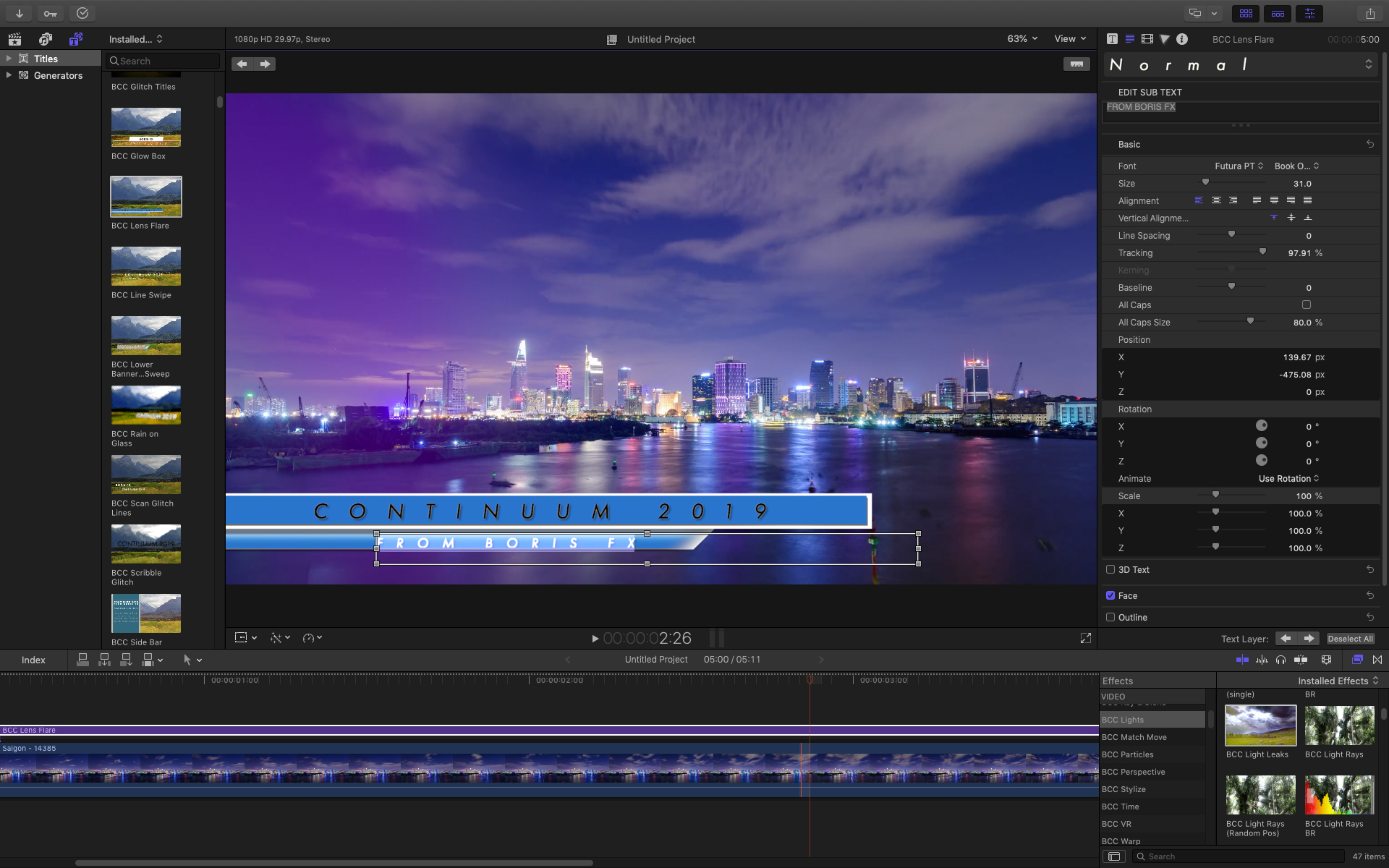 Continuum 2019: Now with FCP X and Motion 5 support (<a href="https://bit.ly/2Il2Yi5" target=_"blank">Download the image)
New in Continuum 2019 (12.0.1):
Particle Illusion: Adds major performance improvements both in rendering and within the interface itself; new properties group allows users to edit nearly all applied emitter settings including color, color gradient, alpha gradient, etc; adds tool tips and particle count to stage view; new preference option allows user to decide whether or not clicking on stage automatically adds an emitter. (Particle Illusion is available in both Continuum 2019 and the Particle Unit.)
16 New Particle Emitter 3D Presets including photorealistic drifting dust and snow
Apple FCP X and Motion 5 Support: Includes 20 new title templates, 19 new transition templates, and rendering performance improvements. Compatible with macOS Mojave.
Title Studio Improvements: Adds center cut title safe and action safe zones, improved C4D support, improved render quality and interactivity in Material Panel.
Enhanced External Broadcast Monitor Support: The FX Browser and Title Studio include support for external/client/broadcast monitor previews (Blackmagic Design and AJA) from a custom UI window.
Pricing & Availability
Continuum 2019 supports popular video host applications including Adobe After Effects CC and Adobe Premiere Pro CC, Apple FCP X and Motion 5, Avid Media Composer, and OFX hosts such as Blackmagic Design DaVinci Resolve and Magix VEGAS Pro. Full license, upgrade, and subscription options can be purchased through www.borisfx.com.
Multi-Host Option #1 (includes all supported host plug-ins: Adobe, Avid, Apple, OFX)
Upgrades start at $695
Annual subscription: $695
Permanent license: $1995
Multi-Host Option #2 (includes all supported host plug-ins: Adobe, Apple, OFX)
Upgrades start at $395
Annual subscription: $395
Permanent license: $1295
Individual Plug-in Host
Adobe
Upgrades start at $295
Annual subscription: $295
Permanent license: $995
Avid
Upgrades start at $495
Annual subscription: $495
Permanent license: $1695
Apple/OFX*
Upgrades start at $195
Annual subscription: $195
Permanent license: $695
* Continuum 2019 for Apple hosts does not currently support Particle Illusion
Continuum 2019 is also available as seventeen individual effect category units. New licenses start at $199. Upgrades from previous versions start at $49.95.
Media Assets:
<a href="https://bit.ly/2K3Hq6R" target=_"blank">Download Continuum 2019 imagery
About Boris FX
Founded in 1995, Boris FX is a leading developer of VFX, compositing, titling, video editing, and workflow tools for broadcast, post-production, and film professionals. Boris FX products have grown to serve over a million artists worldwide. The company's success lies in its ability to tightly integrate and leverage technologies through strong partnerships with Adobe, Apple, Avid, Blackmagic Design, Autodesk, Grass Valley, Magix, Sony, Quantel, and other leading developers of video editing software. In 2014, Boris FX acquired Imagineer Systems, the Academy Award-winning developer of Mocha planar tracking software. In 2016, Boris FX acquired GenArts, the developer of Sapphire, the gold standard plug-in package for high-end visual effects.
Media Contact
Jessie Electa Petrov
Director of Marketing, Boris FX
jessiep@borisfx.com
617.451.9900