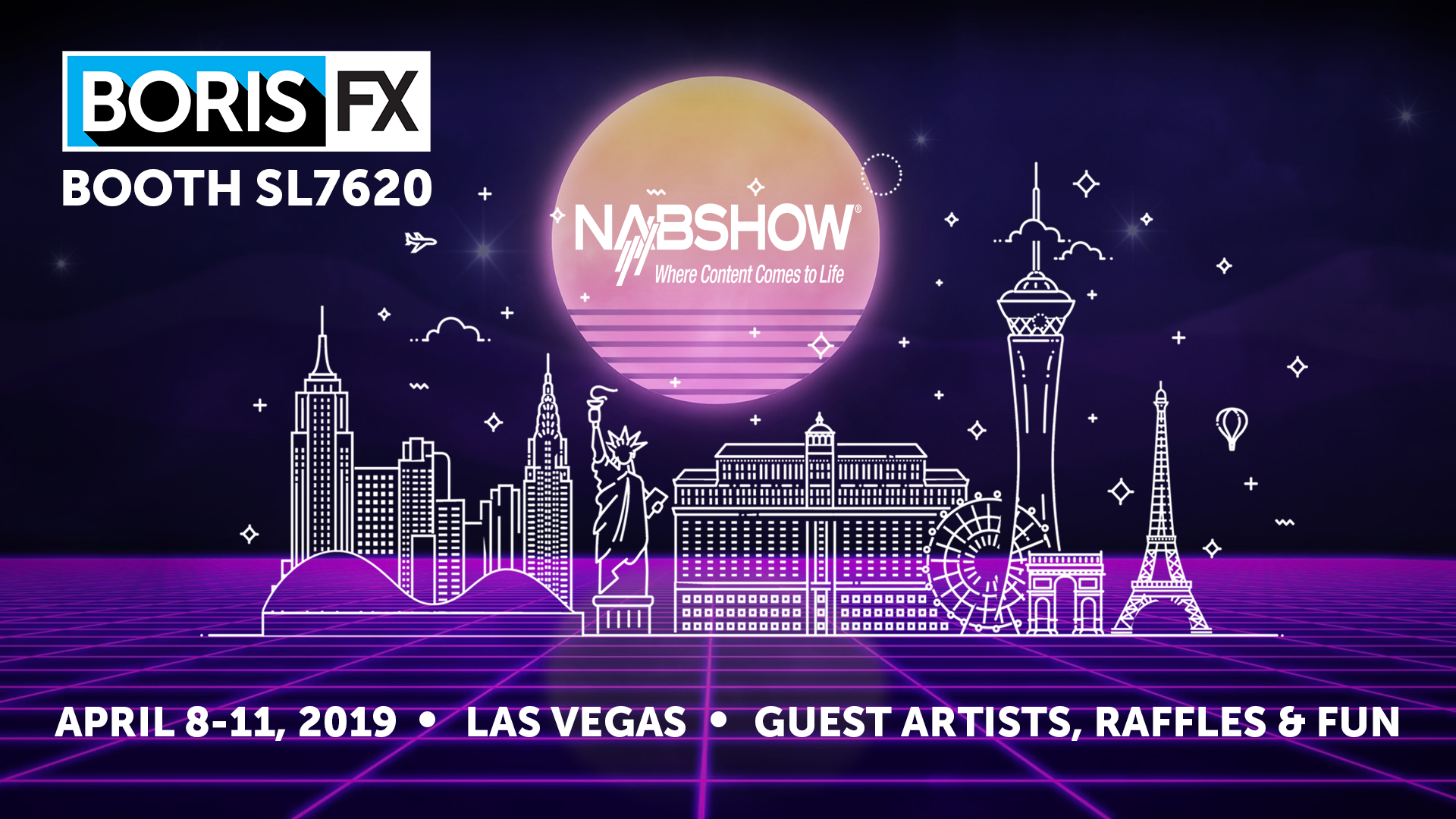 We can't wait to see you at NAB (April 8-11, Las Vegas, NV) in less than a week! Our special guest artists are putting last minute touches on their Sapphire, Continuum & Mocha Pro demos. Swing by the booth to learn some new tips & tricks on how to use your favorite plug-ins! And make sure to get your badge scanned to automatically be entered into our daily giveaways with over $75K of prizes!
Visit Us in Booth SL7620 (View on Exhibit Hall map)
Exhibit Hall Hours:
Monday, April 8 | 10 am — 6 pm
Tuesday, April 9 | 9 am — 6 pm
Wednesday, April 10 | 9 am — 6 pm
Thursday, April 11 | 9 am — 2 pm
Featured Presentations & Artists
Get ready to see how real-world artists like you use Sapphire, Continuum, and Mocha in their daily editing and VFX workflows. Each day is packed with must-see demos to inspire you — and help you work more efficiently. Download the full demo schedule

Artists include Ben Brownlee, Digital Media Specialist, Curious Turtle Pro Video; Alejandro Brubaker, Co-Founder, Sugar Skull Creative; Ben Eshagpoor, Creative Director, BeMotion Design; Nick Harauz, Apple, Adobe, and Avid certified instructor, co-founder of Creative 111; Damien LeVeck, Writer/Director and Owner of Skubalon Creative; and the Boris FX team including Mary Poplin, product specialist; Vin Morreale, product specialist; and more.
Special Events
VFX in After Effects: An Artists Panel – Tuesday, April 9 at 5pm, Adobe Booth SL5610 – Mary Poplin will be joining Andrew, founder, Video Copilot; and Jayse Hansen, VFX artist.
Avid Connect – April 6-7th – Boris FX team will be demoing at Dell's pod in the exhibitor zone on Saturday & Sunday. ARIA Resort & Casino. 3730 S Las Vegas Blvd.
Daily Demo Schedule
| Time | Monday, April 8th | Presenter |
| --- | --- | --- |
| 10:00 AM | Mocha Pro 2019 for Adobe: Deep Dive | Mary Poplin |
| 10:30 AM | Continuum 2019 for Avid: Exploring Title Studio & New Features | Vin Morreale |
| 11:00 AM | Sapphire 2019: Creating Lens Flares That Dance | Ben Brownlee |
| 11:30 AM | Mocha Pro 2019 for Avid: Deep Dive | Mary Poplin |
| 12:00 PM | Sapphire 2019: New Features for Adobe Editors and Artists | Nick Harauz |
| 12:30 PM | Particle Illusion for Resolve Colorists and Premiere Editors | Ben Brownlee |
| 1:00 PM | Mocha Pro 2019 for Adobe: Deep Dive | Mary Poplin |
| 1:30 PM | Mocha Pro & Sapphire: Feature Film VFX Post-Production on THE CLEANSING HOUR | Damien LeVeck |
| 2:00 PM | Continuum 2019 for Adobe: Exploring Particle Illusion & New Features | Vin Morreale |
| 2:30 PM | Boris FX Suite: Bringing a Still Image to Life | Neal Berkowitz |
| 3:00 PM | Sapphire 2019: Creating Custom VFX with Builder | Ben Brownlee |
| 3:30 PM | Particle Illusion: Spicing Up Your Premiere Pro Timeline | Benjamin Eshagpoor |
| 4:00 PM | Mocha Pro 2019: Get It Done Fast | Ben Brownlee |
| 4:30 PM | Sapphire 2019: Creating Broadcast Promo Magic | Alejandro Brubaker |
| 5:00 PM | Boris FX Suite: Amping Up Your Editorial VFX Game | Neal Berkowitz |
| 5:30 PM | Mocha Pro 2019 for Adobe: Deep Dive | Mary Poplin |
| Time | Tuesday, April 9th | Presenter |
| 9:00 AM | Mocha Pro 2019 for Adobe: Deep Dive | Mary Poplin |
| 9:30 AM | Continuum 2019 for Adobe: Exploring Particle Illusion & New Features | Vin Morreale |
| 10:00 AM | Sapphire 2019: Creating Lens Flares That Dance | Ben Brownlee |
| 10:30 AM | Boris FX Suite: Amping Up Your Editorial VFX Game | Neal Berkowitz |
| 11:00 AM | Sapphire 2019: Creating Broadcast Promo Magic | Alejandro Brubaker |
| 11:30 AM | Particle Illusion: Spicing Up Your Premiere Pro Timeline | Benjamin Eshagpoor |
| 12:00 PM | Mocha Pro 2019 for Avid: Deep Dive | Mary Poplin |
| 12:30 PM | Sapphire 2019 for Adobe: New Features | Nick Harauz |
| 1:00 PM | Continuum 2019 for Avid: Exploring Particle Illusion & New Features | Vin Morreale |
| 1:30 PM | Boris FX Suite: Bringing a Still Image to Life | Neal Berkowitz |
| 2:00 PM | Mocha Pro & Sapphire: Feature Film VFX Post-Production on THE CLEANSING HOUR | Damien LeVeck |
| 2:30 PM | Continuum 2019 for Avid: Exploring Title Studio & New Features | Vin Morreale |
| 3:00 PM | Mocha Pro 2019 for Adobe: Deep Dive | Mary Poplin |
| 3:30 PM | Sapphire 2019: Throwing Pixels with PixelSort and WhipLash | Ben Brownlee |
| 4:00 PM | Boris FX Suite: Breaking Down Broadcast Promo VFX | Neal Berkowitz |
| 4:30 PM | Mocha Pro 2019: Get It Done Fast | Ben Brownlee |
| 5:00 PM | Continuum 2019 for Adobe: Exploring Particle Illusion & New Features | Vin Morreale |
| 5:30 PM | Boris FX Suite: Bringing a Still Image to Life | Neal Berkowitz |
| Time | Wednesday, April 10th | Presenter |
| 9:00 AM | Mocha Pro 2019 for Adobe: Deep Dive | Mary Poplin |
| 9:30 AM | Continuum 2019 for Avid: Exploring Title Studio & New Features | Vin Morreale |
| 10:00 AM | Boris FX Suite: Bringing a Still Image to Life | Neal Berkowitz |
| 10:30 AM | Particle Illusion: Spicing Up Your Premiere Pro Timeline | Benjamin Eshagpoor |
| 11:00 AM | Sapphire 2019: Introduction to the New Features | Brian Fox |
| 11:30 AM | Continuum 2019 for Adobe: Exploring Particle Illusion and New Features | Vin Morreale |
| 12:00 PM | Mocha Pro 2019 for Adobe: Deep Dive | Mary Poplin |
| 12:30 PM | Sapphire 2019: Creating Lens Flares That Dance | Ben Brownlee |
| 1:00 PM | Continuum 2019 for Avid: Exploring Title Studio & New Features | Vin Morreale |
| 1:30 PM | Boris FX Suite: Amping Up Your Editorial VFX Game | Neal Berkowitz |
| 2:00 PM | Sapphire 2019: Throwing Pixels with PixelSort and WhipLash | Ben Brownlee |
| 2:30 PM | Continuum 2019 for Adobe: Exploring Particle Illusion & New Features | Vin Morreale |
| 3:00 PM | Mocha Pro 2019 for Adobe: Deep Dive | Mary Poplin |
| 3:30 PM | Sapphire 2019: Creating a Custom Effect with Builder | Ben Brownlee |
| 4:00 PM | Boris FX Suite: Breaking Down Broadcast Promo VFX | Neal Berkowitz |
| 4:30 PM | Mocha Pro 2019 for Adobe: Deep Dive | Mary Poplin |
| 5:00 PM | Sapphire 2019: Creating Lens Flares That Dance | Ben Brownlee |
| 5:30 PM | Continuum 2019 for Avid: Exploring Title Studio & New Features | Vin Morreale |
| Time | Thursday, April 11th | Presenter |
| 9:00 AM | Continuum 2019 for Adobe: Exploring Particle Illusion & New Features | Vin Morreale |
| 9:30 AM | Mocha Pro 2019 for Adobe: Deep Dive | Mary Poplin |
| 10:00 AM | Boris FX Suite: Bringing a Still Image to Life | Neal Berkowitz |
| 10:30 AM | Sapphire 2019: Introduction to the New Features | Brian Fox |
| 11:00 AM | Continuum 2019 for Avid: Exploring Title Studio & New Features | Vin Morreale |
| 11:30 AM | Boris FX Suite: Amping Up Your Editorial VFX Game | Neal Berkowitz |
| 12:00 PM | Mocha Pro 2019 for Adobe: Deep Dive | Mary Poplin |
| 12:30 PM | Sapphire 2019: Introduction to the New Features | Brian Fox |
| 1:00 PM | Continuum 2019 for Adobe: Exploring Particle Illusion & New Features | Vin Morreale |
| 1:30 PM | Mocha Pro 2019 for Adobe: Deep Dive | Mary Poplin |