Dianshuo Zhang (you can call her Sam) is an NYC-based compositor who has worked at Molecule VFX since 2017. Her credits include feature films such as Stillwater, Five Feet Apart, Bliss (Amazon Original), and TV/streaming shows like Dickinson (Apple TV+), Only Murders in the Building (Hulu), The Equalizer (CBS), Betty (HBO), Modern Love (Netflix), and Dr. Death (Peacock). 
Discover why she can't live without Mocha Pro inside her Nuke workflow.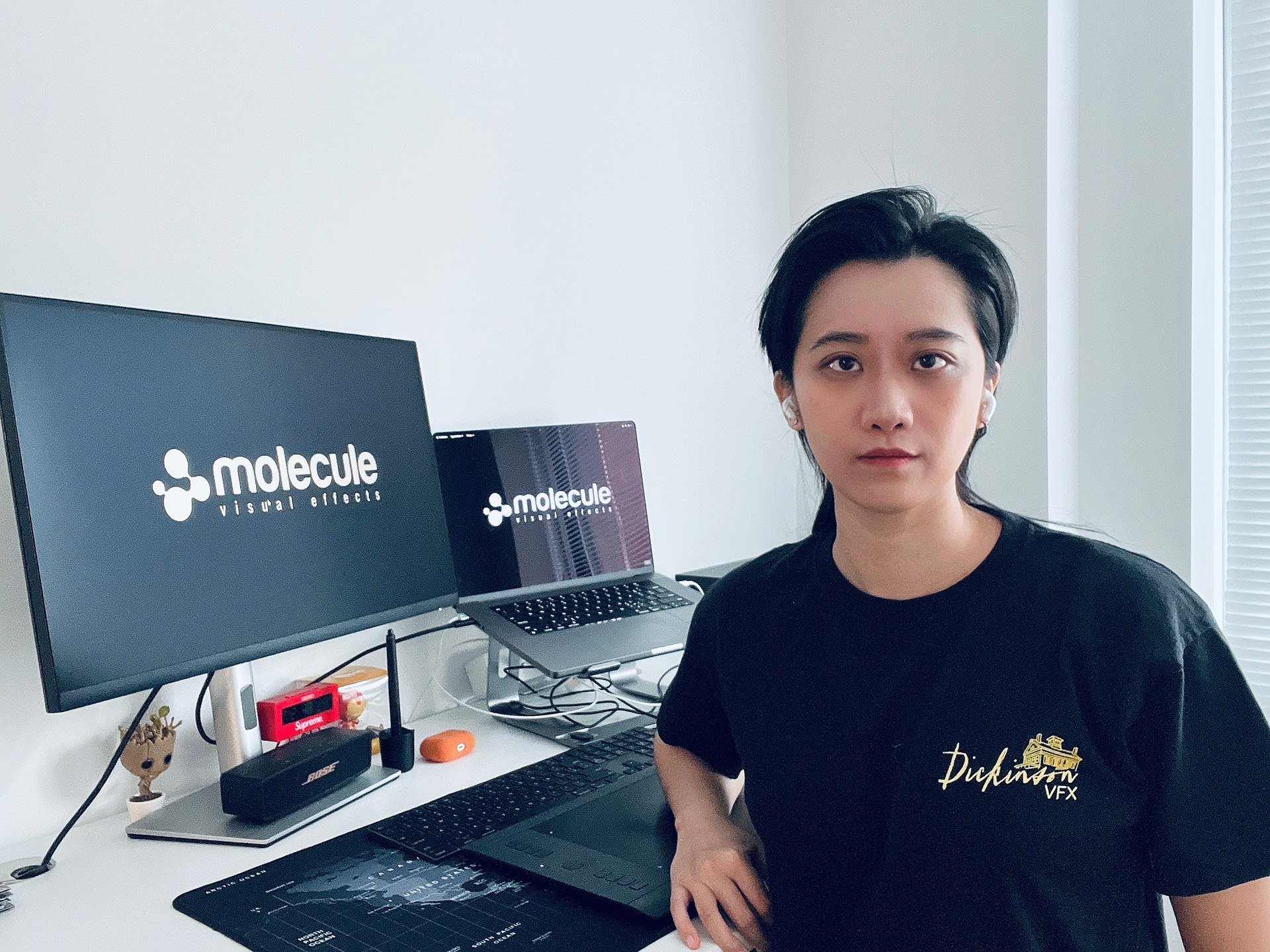 What type of VFX tasks do you typically tackle as a compositor?
I work on all types of shots like clean-ups, green screen compositing, screen burn-ins, CG integration, driving comps, and sometimes I set up hero shots as a lead compositor. 
How did you first discover Mocha Pro and how long have you been using it?
It was back in school when I was studying at the Academy of Art University in 2016. My Nuke instructor introduced Mocha Pro to us and it was great to learn such a powerful and convenient tool. I used After Effects at my first job and Mocha was my go-to software to do the tracking and rotoscoping.
How has having access to Mocha Pro in your Nuke pipeline changed the way you work?
Mocha has been a great work tool. It makes tracking so much easier and much more efficient. 
Especially when I work on a screen burn-in shot, I don't need to go to NukeX to do a Planar track. I can just open Mocha and get things done faster and nicer. And Mocha makes rotoscoping easier too.
What Mocha feature do you use most — and why? 
I think planar motion tracking is the feature that I use most. I work on a lot of screen burn-ins, and I use Mocha to help me get the tracking done. I worked on a show called Betty last year. I did some screen burn-in shots in this show and a really fun scene in Season 2 (episode 2) that I needed to put an animated camel drawing on to the chalkboard.
What is the most difficult shot you've ever tracked with Mocha Pro? 
The most difficult shot I've ever tracked was for the TV show called Shades of Blue. I had a shot
that detective Harlee Santos (played by Jennifer Lopez) is sitting in the car and talking to her
colleague Carlos Espada (played by Dayo Okeniyi). There was a boom mic shadow across Harlee's face on the car's window and I needed to remove it. You can't cover the big star's face with unwanted elements. This shot was such a pain in the ass.
People might think it is easy to remove an unwanted shadow from a shot. It is not as easy as it looks, and sometimes it can be even harder than other VFX shots. I created a clean plate for the car window with reflection and Harlee's face and hair. I perfectly tracked Harlee's face by using Mocha. This shot was definitely a challenge for me as a junior artist at that time. It pushed me to learn more skills in Nuke and Mocha.
What are your top 3 reasons why a compositor like yourself should incorporate Mocha Pro into their pipeline?
It makes our job so much easier and more efficient. You can get things done faster, better, and more accurately.
What's your best pro tip to artists new to Mocha Pro?
Never be afraid to ask questions if you don't know how to do it. I remember when I just graduated from school and joined Molecule as a junior compositor. I was not that good at using Mocha Pro. I asked the senior artists a lot of questions and they were all willing to teach me. That makes me a better artist now.
Practice makes perfect. It sounds a bit cliché. Haha! After you learn how to use the tool, you need to practice to get more comfortable with it and then use it to make your work easier.
Have you tried out the PowerMesh feature in Mocha Pro?
I have not, but I have watched the intro video of PowerMesh. I was blown away by how powerful and useful this tool is. I really hope I can work on a shot that needs this feature. It would have been so much easier to remove that shadow across Jennifer Lopez's face if I could have used PowerMesh back in 2018.
Do you have any feature requests for the Boris FX product designers?
Since I am a Nuke artist, it would be great to have Mocha Pro roto shapes imported into the Nuke roto node with the "exact amount" of control points.
What's your favorite project you've ever worked on — and why?
I really liked working on the Apple TV+ show, Dickinson. I did some comping and I tried digital matte painting for the first time. The CG hot air balloon scene in Season 1 and the time travel sequence in Season 3 were really fun to work on. And, of course, the ghost horses. It is a really creative and fun project to work on and a great show to watch.
Learn more about Mocha Pro and download a free trial