Hi guys,
Mary here again. We are all excited to have had the opportunity to get out there and meet some of you wonderful users! Thank you for continuing to support our wonderful planar tracker, Mocha, and for creating beautiful work. We always love to hear from you.
Collider!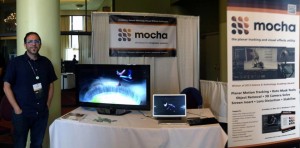 Ross Shain, CMO, at Collider Conference NYC
I hope you were able to come see Ross Shain and Darrell Lee at the Collider event this past week! It was three days, 40 speakers and panelists, a Job Fair, Master Classes, and much more. It was a busy event and we think it was a great time. Ross and Darrell really enjoyed meeting our users and we hope to see you at Siggraph!
The Manhattan Edit Workshop!
Did you see Ross Shain, Jeff Wozniak, Chris Healer, and Yuval Levy at the Manhattan Edit Workshop? It was a full day event hosted by Manhattan Edit Workshop.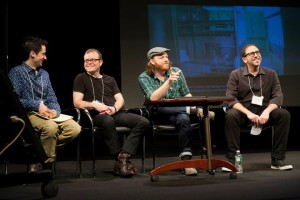 Jeff Wozniak, Chris Healer, Yuval Levy and Ross Shain at FIAF.
Featuring panels and networking party. Ross Shain, Imagineer Systems CMO, moderated a Visual Effects Panel with industry experts from Gravity World and The Molecule.
Solidarity.
I also hope you made it out to the VFX Town Hall, it was a historic live event and help broaden and amplify the ongoing conversation surrounding the VFX crisis. If you didn't catch it in person, we hope you caught it streaming. We proudly support VFX artists all over the world and want to see the business improve for everyone, from individual workers to studios and production houses. It's up to both artists and studios to improve our industry.
Thanks Mexico City!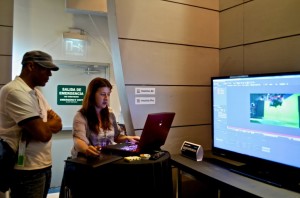 Mary Poplin troubleshoots shots at the AMTEC Booth.
Mexico City was an experience! Thanks for being so welcoming, and I hope to see you again next year! Thank you to AMTEC for hosting us!
The Webinar is Imminent!
When: Weds, June 26th at 10am PDT (Los Angeles Time)
In this live webinar, I will cover the core concepts of Mocha AE and mocha Pro with a focus on face tracking and object removal for retouching and beauty.
Topics Include:
Planar Tracking for Beauty Work
Blemish Removal & skin smoothing
Object Remove Module and clean plates
Insert Module with Gridwarp
Blending Clean-Plates with Original Plates
Time saving techniques
One lucky attendee will win a node locked license of Mocha Pro. A $1495 value!
Please check time zone converter: http://www.timeanddate.com/worldclock/converter.html
Where: online from any computer
Register here for the webinar!
Here's a taste of the kind of beauty work you can do in mocha Pro!

Facial Reshaping VFX – Liposuction In Post Production from rousselos Aravantinos on Vimeo.
The Great Gatsby!
The creative folks at Iloura used Mocha on an incredible visual spectacle, The Great Gatsby!
"In director Baz Luhrmann's The Great Gatsby, one of the more dramatic locations is the Valley of Ashes, a bleak, depressing rubbish dump that the characters pass through on their way between Manhattan and Long Island. Nearly everything there was created by Iloura, an Australian VFX company. Iloura Visual Effects Supervisor Julian Dimsey and Compositor Matt Omond speak with Creative COW about the work they did to create the Valley of Ashes."-Via Creative Cow.
More on SliceX
Pro Video Coalition reviews SliceX! A great SliceX powered by Mocha review by Scott Simmons. If you know anyone using Final Cut X, please share! We think this will help speed up everyone's workflow in FCX.
Rampant Design Reviews mocha!
Would you like some Mocha with that? We thought this was a great Mocha blog post on Rampant Design's site. If you're new to Mocha, or even if you're a veteran user, this is a great opinion piece you can use to tell other users about Mocha.
Some recent mocha videos you might want to check out!
This is a great Mocha breakdown from Lurival Jones!

Congonhas – VFX Breakdown from Lurival Jones on Vimeo.
Mocha user Steve McLeod posted his new reel. Lots of before/after shots from shows Smallville, Battlestar Gallactica and more. I am nerding out over here.

BlueShift / Steve J McLeod Visual Effects BreakDown Demo Reel 2013 from Steve J McLeod on Vimeo.
This is what Mathias Möhl's dog thinks of the new CC news.

What my dog thinks about Creative Cloud from Mathias Möhl on Vimeo.
And this is a look behind the scenes. Warning: Contains adorable shots of man's best friend.

Behind The Scenes: What my Dog Thinks About Creative Cloud from Mathias Möhl on Vimeo.
A really well crafted title sequence from studiobreeder.com. Uses lots of Mocha tracking!

ADBNE 2013 – Opening Titles from BREEDER on Vimeo.