I meant to post about SXSW and the rest of our news two weeks ago, but I was completely overwhelmed by the enormity of SXSW and the recovery from it.
SXSW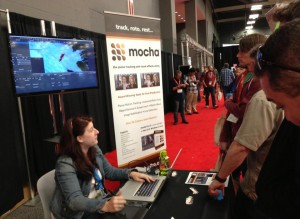 Me, showing off mocha's planar tracking at SXSW
South by Southwest was an experience.
We had a booth for a week there, and it was insanity. Austin is a beautiful and wild city. Also, the food trucks are amazing. Is it weird that my takeaway from the show is that the food is great? SXSW is a sprawling convention for music, technology, interactive platforms, and a whole lot of other fascinating odds and ends. I think if we were to go back, it would be best to go as attendees. It's the kind of show where waiting at a booth for people to come by isn't as useful as throwing yourself into the melee and seeing who you meet.
If you got to come by and say hi, we were happy to see you. If you were unable to come by, maybe next time?
NAB is almost here!
NAB is just around the corner! Come visit us at the NAB 2013 Trade Show, in Las Vegas, Nevada. Visit the team from Imagineer Systems and give us your feedback, or ask your Mocha questions in person. Come meet May Poplin (that's me), Ross Shain, JP Smith, and the rest of our crew. This year we will be featuring product demos, training sessions and special guest presenters at the Las Vegas Convention Center, Booth #SL3329.
We will be there from April 8th until the 11th, 2013
Get a free exhibit pass! Go to: www.nabshow.com and use passcode: LV5678
VFX Solidarity
Imagineer Systems stands with the VFX Solidarity movement to support both VFX artists and the VFX houses struggling to survive in this tough industry. Imagineer Systems has always been deeply a part of this industry, and we have always tried to make tedious artist jobs less tedious. In light of that, we think following the VFX Solidarity page is something worthwhile to do. If you're not following them already, check them out and see what is going on with your fellow artists.
mocha Pro's Clip Clinic, March 21, 2013
I sat in front of my computer today and did a huge webinar on workflow and working with mocha. If you made it out, thanks for coming! If you weren't able to make it, we have a recording for you!

This free, live training seminar showed the secrets of Mocha, a leading visual effects software. The webinar has been recorded here for your convenience, in case you missed it. Presented by Imagineer Systems Product Specialist, Mary Poplin, this live training covered:
Advanced Planar Tracking Techniques.
Rotoscoping Skills.
Object Removal and Clean Plating
This webcast did not use pre-optimized demos, but was an in-depth breakdown of how to think about your shots in Mocha based on what you need from them. Discover the nuances that helped Mocha and planar tracking recently get honored with a 2013 Academy Award! Submit your own problem footage for future demos and Mary will choose a few clips to solve and answer questions while you watch. If you would like to submit your own footage, please contact: maryp@imagineersystems.com.
Until next time!
Thanks for tuning in and we'll see you online or at NAB!
Cheers,
Mary