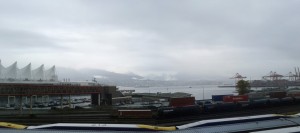 A View of Vancouver


I have been traveling! In the past several month our team has been really pushing to get out and get feedback from you, our users. In the past several weeks I have been to Vancouver, Burbank, and the greater Atlanta area. What I really love about traveling to see you guys is getting to share tips and tricks that you might not know about the software and seeing your faces light up when we talk about how much tedious work Mocha products can save you. The time I can help save by showing you how roto work can be cut in half, for instance, means you get to go home and have dinner with the people that matter to you. That really makes my day. Let me tell you a little bit about what I've been up to with Imagineer Systems.


A few weeks ago our CEO, John Paul Smith, and our VP of Sales, Bryan Milne joined me out here in Los Angeles for a whirlwind studio tour that included visiting clients in Burbank, Hollywood, the Greater Los Angeles Area, and San Diego. We had a booth at Creatasphere for a few days as well and we met tons of new users, including editors and one-man shops who were blown away to learn that our Mocha AE ships with After Effects CS4, CS5, and CS5.5. I am always shocked at how many people don't know that they have our tracker already, for free, installed on their machines at home or in their office. Or that they can upgrade to Mocha Pro at a significantly reduced rate because of it. I like getting to be the bearer of good news!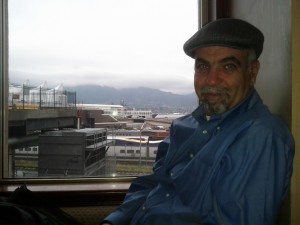 A view of our Sales VP Bryan Milne
Creatashpere exposed up to a brand new market of people who may not have known about us before. Editors are having to increasingly do a lot of their own minor effects like boom mic removal, object removal, screen replacements, and roto for color corrections. We recently added an export option to Boris FX which enables support for edit systems: Avid Media Composer, Final Cut Pro, Sony Vegas; Adobe Premiere – so we are seeing an increased amount of interest from that sector of film, television, and commercials. It's a really exciting time! Owners of Mocha AE and Boris can get this feature by upgrading to mocha AE v2.6.


From Creatasphere, me and Bryan Milne traveled up to Vancouver to visit studios and increase our presence there. We met with some wonderful and talented artists and were able to show them how Mocha Pro could speed up their roto and clean-plate work on their own shots. I always love working on studio shots with compositors and paint artists because my laptop demos make everything look easier than most people think it should be. With studio shots I can really get into the nitty gritty of showing artists exactly how to think about a shot and how to tackle tough problems in a real work environment, and I can show them how easy Mocha actually is. I stand by my belief that an experienced artist can learn mocha in a week. A very green student may take two weeks, but it really shouldn't take longer than that to master Mocha's planar tracker and interface, and start diving into difficult shots. That's great news for people just starting to learn how to use our software. And our ease of use and small learning curve means that we get used a lot in roto houses all over the world.
After I got back from Vancouver, I got to briefly rest until I went to Atlanta. Now, I'm a Georgia girl, so this was a bit like going home. As soon as I got off the plane, my Southern Drawl increased. It had been raining and was unseasonably warm, and I finally got to experience the muggy, warm rain I'd been missing since I left the south over eight years ago to move to SoCal. I borrowed my mom's work truck, an enormous F1-50 pickup truck, and toured my old haunts in style… sortof.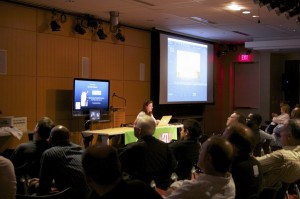 Mary Poplin giving a talk in Atlanta
The first night I flew in I presented Mocha Pro at Turner Studios with Walter Biscardi and his Atlanta Cutters group to over 130 people. They gave away lots of fabulous prizes, including an NFR license for mocha Pro. Everyone was excited and a lot of questions got asked. And again, everyone was surprised to hear that Mocha AE ship with Adobe AE CS4, CS5, and CS5.5. Adobe was also at this cutters meeting, answering questions about Premiere. It was great to see them. I love being able to work with the Adobe team. The enthusiasm in the room was wonderful and warm, and the hospitality was amazing.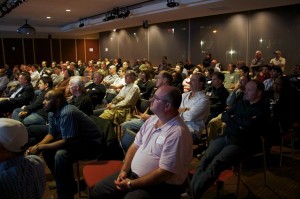 What a crowd at Atlanta Cutters!


Speaking of hospitality, while I was in Atlanta, I was hosted marvelously by Niche Video. They have a very cozy office with strong coffee and Anne Fowler and her team made me feel very welcome and took me on a tour of all sorts of studios around the greater metro area. I recommend checking out their website if you're in the industry in Atlanta. We went everywhere from large studios like Turner to small but efficient shops like Raven Pro Media, who handle all of Lynyrd Skynyrd's tours. Which is pretty awesome. Free bird! My last visit in Atlanta was back to Walter Biscardi's studio, Biscardi Creative, which is an ambitious editing studio up near Buford and Lake Lanier. All in all, it was a wonderful trip and I met some great new people. I hope it's not another year before I'm back in my old stomping grounds, but I will say one thing I don't miss about the South. The Traffic in Atlanta. Whoa. No matter what people say, it's just as bad as LA, any day. Especially in a truck.


And now, I am back in the office! I hope you all had a wonderful Thanksgiving and ate as much obscene amounts of food as I did. I was very thankful. So thankful, that I had to roll away from the table and I'm still recovering.


I'll try not to let it be so long between blog posts next time, so you guys stay tuned!