Hi Guys!
My How Mocha Thinks video is up! So far the response has been great! I think you guys are "getting" Mocha's tracker and I hope this helps you rocket through shots by eliminating some of the tedium that goes into tracking, clean-plating, and rotoscoping. If you thought the previous blog post was helpful, watch the video!

How mocha Thinks from Imagineer Systems on Vimeo.
Mary Poplin, Imagineer Systems Los Angeles based Product Specialist, talks about Planar Tracking and "how mocha thinks".
In other news!
We're very busy ramping up for NAB (come visit us in the Plugin Pavilion by Adobe's booth!) but I wanted to share a few things with you guys that you'll hear more about in the upcoming weeks!
We will be in Booth SL2024, South Hall. Las Vegas Convention Center
When: April 16-19, 2012
Where: Las Vegas Convention Center, Las Vegas, Nevada USA
Visit us at South Hall at Booth #SL202
Need a free exhibits pass? Register here and use VIP Code: LV3141
We can't wait to see you there! And we've got so much news to share with you, and new demos as well!
But wait, there's more!
As you probably already know, Mocha V3 is coming out VERY soon! We couldn't be more excited about it. There's been a few wonderful articles out, but FXGuide has by far the most comprehensive review out there right now about what is coming in V3! Ben Brownlee (of Curious Turtle) has a video overview in that article. Ben is also teaching a new intermediate level Mocha pro v3 course at fxphd during their April 2012 term. You guys should check it out! He's one of THE most knowledgeable guys teaching our software that you can find out there. And fxphd is such a convenient way to learn.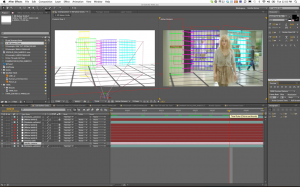 Mocha's camera solver in After Effects
I think the biggest announcement of V3 is our 3D camera solver, Mocha's 3D Camera Solver is not like a conventional camera tracker at all, and that's why it is interesting! It does not solve for THE exact camera and lens that the clip was shot with so much as it solves for our planar tracking data in 3D space, essentially converting our 2.5D planes into 3D planes. It does not generate a point cloud, but instead relies on our planar tracking technology in order to solve one of many camera solves within the scene. You can use it to track data quickly and easily where other camera trackers would fail, as long as you find good planes to track you should be fine (one plane is needed for pan/tilt/zoom solves or more for small and large parallax change solves).
Basically, we are solving for the planes Mocha has been able to track for years, and you attach 3D objects into the scene by aligning them to said planes. Who needs to take the time to camera track the whole shot when you can just solve for the ground plane in a few minutes?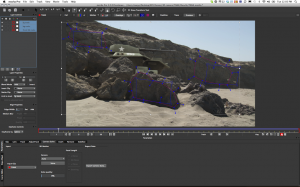 Track for Pan/Tilt/Zoom cameras or parallax changes.
Much like our un-conventional planar tracker is unlike point or feature trackers, Mocha's camera solver is unlike other camera trackers out there as well. Now, that being said, you can use our Mocha planar data to get a better camera track with Bouju, PF Track, or SynthEyes on a difficult shot that none of those programs might be able to track well on their own by inserting new planes with better detail OVER bad detail in your shot with Mocha and then using your conventional camera tracker to solve the shot for the exact camera with the new data. We have people using this method right now even without our 3D data, just by inserting 2D corner pins into the scene.
Because our tracker does not care about blur and feature detail and hangs on through a great many tracking problems, we can lock on where nothing else can. This gives Mocha a HUGE advantage over other trackers.
Anyway, make sure you stay tuned to what we've got coming up. We can't wait to see how you guys use our new features coming in V3!