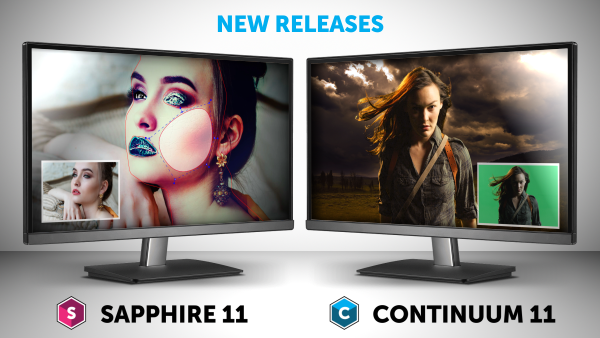 What's New in Sapphire 11  ●  What's New in Continuum 11
---
Sapphire
"I've been a fan of both Sapphire plug-ins and Mocha Pro for years, so having Mocha planar tracking and masking integrated right inside my favorite Sapphire effects is a dream come true.They complement each other perfectly." - Andrew Embury, Freelance Motion Designer
Learn more. ● Download a free trial. ● Buy now.
What's New in Sapphire 11
Pricing & Availability
Available for Adobe, Avid, Autodesk family, and OFX hosts,  including Resolve, Fusion, and NUKE
Sapphire 11 for Adobe/OFX, Avid or Autodesk
---
Continuum
"As a member of the Continuum 11 Avid beta team, I've been so impressed with the addition of Primatte's chroma key tool that I used it extensively during this season of NBC's World of Dance. You can't tell what is green screen and what isn't!" - Tal, Colorist and Online Editor
"When we are working on 8k, stereo 360 video files, we require robust tools. Continuum's new VR Unit inside Adobe is extremely useful for professional 360 video! We recently used Continuum 11 on a stereoscopic 360/VR project for Vogue and Google and found the VR Insert and VR Sharpen filters very intuitive and quite fast!" - Lewis Smithingham, President of VR, 30 Ninjas
Learn more. ● Download a free trial. ● Buy now.
What's New in Continuum 11
Pricing & Availability
Available for Adobe and Avid. (Apple and OFX coming soon)
Continuum 11 for Adobe
Continuum 11 for Avid