Hi guys! We have a lof of exciting news for you today! We have a new point release to announce! We have a winner of the Halloween Video contest to announce! And I'll be filling you in on some visits that we will be making around the US and some visits we recently completed.
mocha v3.1 Release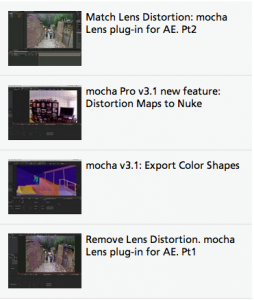 We have lots of new videos for 3.1!
New 3.1 Versions of Mocha Pro and Mocha AE Improve Lens Distortion Workflow; Adds New Support for ASSIMILATE SCRATCH v7 and HitFilm 2 Ultimate!
download now • purchase now • compare products chart • upgrade guide
What's New in Mocha Pro v3.1? The development team at Imagineer has invested significant time and resources, working directly with customers, to enhance the Mocha Pro workflow, and to ensure it integrates easily with the tools and platforms they use everyday. New features in Mocha Pro v3.1 include:
Greatly improved Lens Module;
Ability to import and use External Distortion Maps in all Mocha Pro modules;
Ability to export rasterized Distortion Maps for Nuke, Fusion, Flame and more.
Support for export to new Mocha Lens plug-in for After Effects.
3D Camera export to HitFilm2 from FXhome
RED (R3D) file support
Export colored roto shapes directly to Nuke and After Effects (or render externally)
Seamlessly export Planar Tracking data to Assimilate SCRATCH v7 watch video
We have a winner!
Congratulations to our
Halloween Video Contest
Winners! We received lots of videos, but these stood out among the crowd. Peter Butler was the lucky winner of a free license of
Mocha Pro
! Please check out these awesome videos from our winner and honorable mentions below!
First Prize:
final extended03
by Peter Butler
Honorable Mention #1:
Halloween Ghost Hunt 2012
by Sparkle VFX Glenn Maguire
Honorable Mention #2:
"Zombie Test"
by Jerome Mettling
Zombie test – After Effects + Mocha
from
Jerome Mettling
on
Vimeo
.
We've been visiting our users!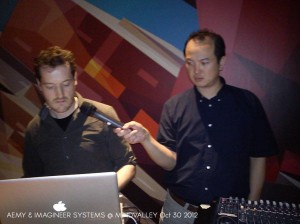 Photo by AEMY
Martin Brennand was in Malaysia at Adobe After Effects Malaysia (AEMY). He was presenting a Mocha showcase for Imagineer Systems at Mind Valley, Bangsar, on Oct 30th 2012. AEMY had this to say about Martin's visit: "Congratulations to Alvin Seah for winning a copy of Mocha Pro at the AEMY mixer. Thank you to all that made it. Martin Brennand gave an excellent presentation of all the Mocha versions, a great piece of software most take for granted…"
Thanks, AEMY!
Imagineer's Ross Shain was with the team from Assimilate in New York City on October 22nd to show how Mocha Pro now supports Scratch v7′s powerful color and finishing features.
Mary Poplin was in Mountain View visiting the folks at Google (Studio G). They have an amazing video department and were excited to learn more about Mocha Pro. Thanks for having us by, guys!
Mary will be in Atlanta November 14th for Walter Biscardi's Atlanta Cutters meeting! It's the final meeting of the year for Atlanta Cutters, so don't miss it. Details below:
MEETING DATE: November 14th
MEETING AGENDA: Member and Sponsor Appreciation Night;
Mocha Pro Demo with Mary Poplin; Small Tree Returns; Yonder Blue Films Aerial Videography, Imagine Products Dan Montgomery, and much much more!
Mary Poplin from Imagineer Systems returns with some new Mocha Pro sweetness!
One of our most popular demos from last year was Mary's mind blowing tracking demo using the Mocha Pro tool. Such simplicity breeds incredible power. We're excited to have our Atlanta native back in town for the final meeting of the year!
If you're in the Atlanta area, drop Mary a line for a demo while she is in town at maryp@imagineersystems.com.
Alright guys, that about wraps it up for now. Stay tuned for more!