Hi guys!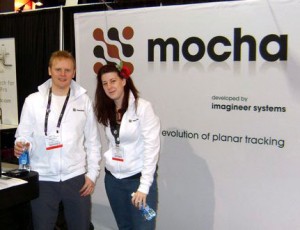 CEO John Paul Smith and Product Specialist Mary Poplin
I'm Mary Poplin, and I'll be helping contribute to our Imagineer Systems blog. I'm our Los Angeles based product specialist, and I am happy to share my experience with our users. As far as my production experience goes, I'm what you'd call a 2D "generalist," and I find having many tools in my tool belt to be a great asset in an industry that is constantly changing and growing, like film and television certainly are.
mocha is one of those tools, and frankly, I find it indispensable in any compositing or 3D conversion pipeline.
I've worked on all kinds of projects for film, television, and product development; cutting my teeth on jobs like marketing cleanup, paint work, color keys, graphic design, compositing, motion graphics, stereoscopic conversion, and matte paintings. I've been with Imagineer Systems since November 2010 and I love it here. My work with Imagineer Systems as a Product Specialist includes visiting studios and supporting our mocha product line, answering questions on our forums, supporting users via our customer support caseload, and creating tutorials for our free online educational videos. To that effect, I have created two new videos to help you guys better use our mocha software. Please see the links below:
In this short and sweet tutorial, I will show you awesome mocha users how to paste a mocha mask in as a spline in After Effects. This is a feature that has been available in AE CS5 and CS5.5 that some of our users might not have known about. Please note, you can not paste mocha masks as splines in AE CS4, but you can post mocha shapes as effects in all versions of AE.
In this video, I will show you how to use adjust track to fix our planar tracking data in mocha on older, compressed footage in order to get more useable results. We will also take a look at using the insert tool in mocha Pro for a simple A over B replacement composite, all without ever leaving mocha Pro.
I will be updating here regularly, so check back often!
Cheers,
Mary