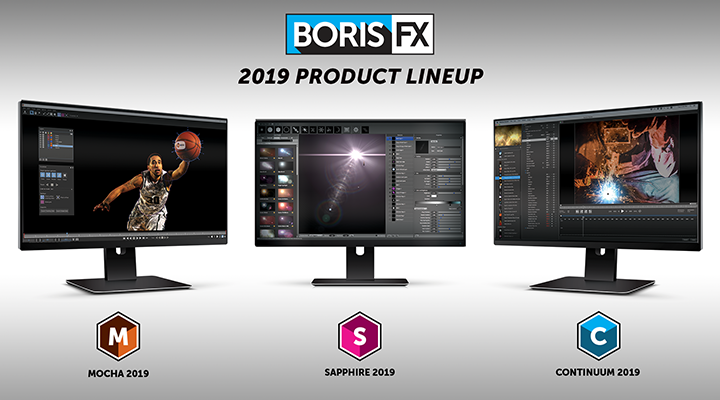 We can't wait to unveil our soon-to-be released 2019 product line! Swing by our IBC booth (7.A65) in Amsterdam to see what's new from Boris FX.
Starting this fall, you can expect yearly release updates (woo!) across our famed flagships - Sapphire, Continuum, and Mocha. It's part of our commitment to you, our valued community, to deliver the most powerful and creatively freeing tools you need to keep your clients coming back. Plus, we're also preparing to release the Boris FX App Manager, a simple one-touch licensing and support utility for managing all your Boris applications and licenses via a single, unified user interface (yes!). Now let's dive in.
---
Mocha Pro 2019 (available late September)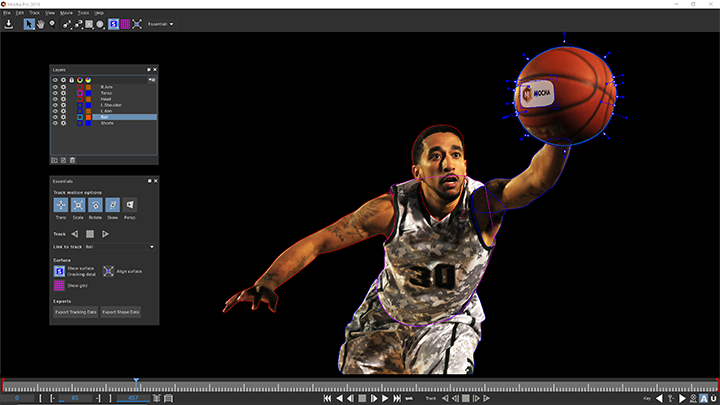 "I've used Mocha time and time again to see if seemingly impossible tasks are possible. The new Mocha Pro 2019 release improves on core functionality, usability, and speed which translates into VFX artists getting home earlier!" - Jake Morrison, VFX Supervisor, Thor: Ragnarok and Ant-Man
Whether you're a traditional VFX artist or you've made the leap to 360 post and VFX, Mocha Pro 2019 delivers the world's most versatile planar tracking toolset on the market. And you'll now have access to both. We've combined the features of Mocha Pro and the Lumiere award-winning Mocha VR into one all-encompassing plug-in. High-five!
Product Highlights:
Mocha Essentials workspace with streamlined user interface: Makes planar tracking easier to learn and master than ever before
GPU-accelerated object removal: Delivers dramatic rendering speed increases on the most challenging object removals and clean plating shots
Accelerated masking & roto with new spline creation tools: Adds magnetic spline with edge snapping, freehand spline tool, ellipse, and rectangle tools
Retina/High DPI monitor resolution support
Mocha Pro and Mocha VR features are now combined into one product
Mocha Pro is now officially part of the Boris FX U&S (Upgrade & Support) plan and moving to a yearly release cycle
---
Particle Illusion (available this fall)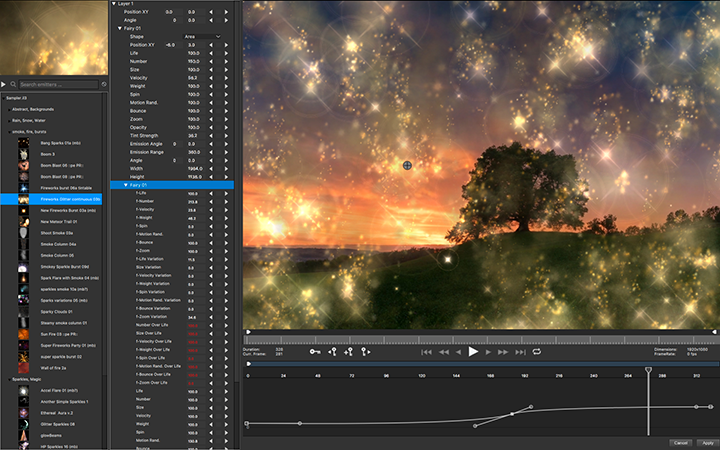 "I'm so excited to see Particle Illusion up and running again, in a modern UI, and also available for new host applications like Media Composer and Resolve. Even though it was created almost 20 years ago, the complexity and beauty of some of its effects are still unmatched." - Alan Lorence, Product Manager, Boris FX (former wondertouch founder and GenArts product manager)
Guess who's back? Back again! Everyone's favorite particle generator (previously particleIllusion) from Alan Lorence and the former Wondertouch team is completely revamped and is now a major addition to Continuum 2019. Create brilliant motion graphics elements like sparks, smoke, and fireworks with ease.
Product Highlights:
Real-time GPU-based particle generator
New slick 64-bit application with a streamlined, easy-to-use interface
Updated emitter library with a new search function and the ability to access an unlimited numbers of emitters without needing to reload libraries
Particle Illusion will be available as part of Continuum 2019 and the Continuum Particle Unit
---
Continuum 2019 (available this fall)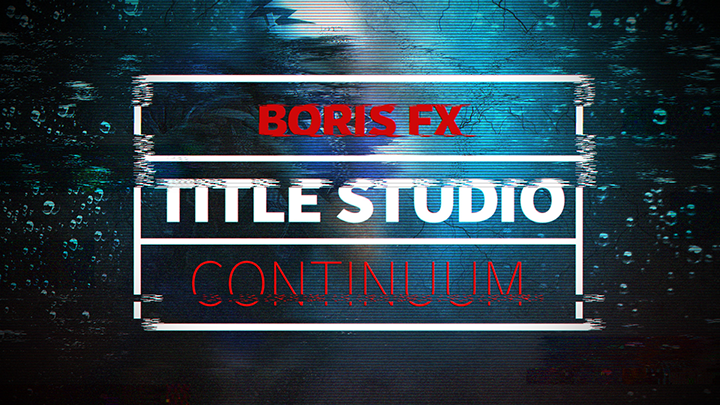 "The inclusion of Particle Illusion in Continuum 2019 adds a new layer of realism. It looks great, previews lightning quick, and comes with a ton of presets to get you going in the right direction. This, plus the addition of Title Studio's real-time Image Processing Shaders (Glows, Blurs, Light Sweeps, Light Rays, etc.), gives us so many more creative options when working on text looks!" - Kevin P. McAuliffe, Senior Editor, Extreme Reach Toronto
Known as the most complete plug-in collection in the industry, Continuum 2019 gives editors even more firepower. Easily create amazing mograph elements and title treatments with powerful, time-saving tools.
Product Highlights:
Adds Particle Illusion for quick and easy real-time particle creation
Title Studio adds the ability to apply GPU-accelerated Image Processing Shaders directly inside its interface, includes 150+ new professionally designed templates, a useful new grids and guidelines feature, on-screen Text Tools for even faster and accurate placement, and more
New Mocha Essentials interface with a new Magnetic Spline Tool and new geometric shape presets makes tracking and masking even easier before. Point trackers like spotlights, rays, and lens flare can now be tracked by Mocha.
Preview to External Monitor Support (Blackmagic Design only in initial release) for Title Studio and the FX Browser
Simplified Avid Effect list: Say goodbye to "blue dot" effects thanks to the addition of Mocha's parameter-based tracking, plus cleaner parameter layouts
---
Sapphire 2019 (available this fall)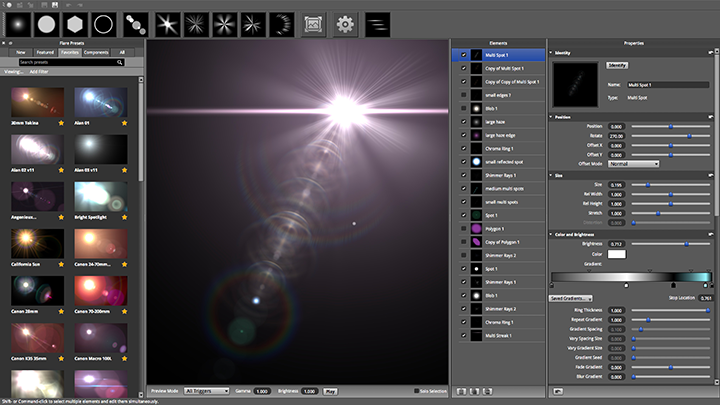 "Sapphire 2019 is a great new addition to my toolset. The new Lens Flare tool allows me to produce some truly stunning photo-realistic flares in my work." - Damien LeVeck, Owner/Editor, Skubalon Inc.
J.J. Abrams, eat your heart out. Sapphire 2019 builds upon its legacy as the go-to Lens Flare tool for top film and TV artists with a refreshed Flare Designer. Plus new and original stylized effects and transitions you'll soon be turning to.
Product Highlights:
Lens Flare Designer completely redesigned with a new customizable interface, new lens elements and components, additional functionality, and new presets created by the world's most talented artists
Brand new effects like S_PixelSort and S_Whiplash
Animating Shape Tool inside Sapphire Effect and Transition Builder for easier matte creation
New Mocha Essentials interface with a new Magnetic Spline Tool and new geometric shape presets makes tracking and masking even easier before
Preview to External Monitor Support (Blackmagic Design only in initial release) for applications such as Sapphire Builder and Sapphire Flare Designer
Faster speeds with improved GPU-acceleration
---
We hope you're as excited as we are about the upcoming releases! See you in Amsterdam!