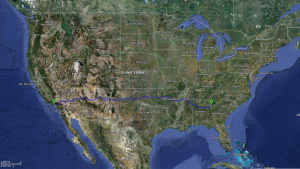 This is a completely sane and reasonable drive.
Hi guys! I flew out to Atlanta this week to come to the Atlanta Cutters meeting tonight and visit with some local studios and spread the mocha knowledge. I will be here through Thanksgiving and then I am flitting back across the country… in a car. It should be an adventure. The last time I drove across the country was ten years ago. So, that being said, I'm kindof looking forward to it. It's been so long I hardly remember how grueling that drive is. I'll be passing through Birmingham, Memphis, Little Rock, Oklahoma City, Amarillo, Albequerqe, and Flagstaff on my way home to Los Angeles. I think it can be done in three days…
Anyway, Atlanta's being very good to us; as the film industry, tv, and commercials are all flourishing here. I will be stopping by CNN and Turner, which is always a great crew to visit, and I am visiting with some of the kids from Lanier High School today before the Atlanta Cutters meeting tonight. I always like meeting students, they're so full of enthusiasm. If you're in the area you should really come by, it's the last Atlanta Cutters meeting of the year, so there should be a large turnout. We'll be giving away a copy of mocha Pro and I will be happy to discuss the finer points of mocha Pro and mocha AE with you.
I'm actually from Georgia, so coming back to Atlanta is always a nice treat because I get to see family I don't often see. I will actually get to spend Thanksgiving here with part of my mom's family before I roll out West, Oregon Trail style. How delightful!
In other news, my Southern dialect is back in force, but I'll try to tone it down by the time I record another demo.
If I am passing you by next week on my epic journey, drop me a line, maybe I can fit you in to say "hi"!
See y'all real soon!
Mary