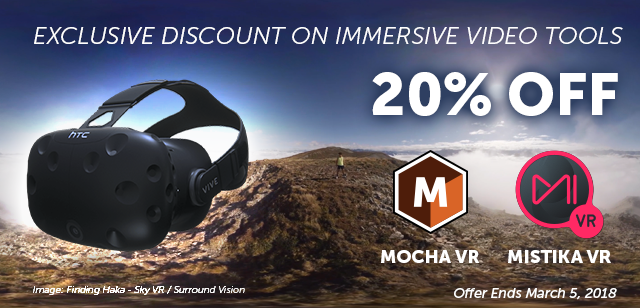 We've teamed up with our friends at SGO to share an exclusive 20% discount on the industry's most powerful solutions for 360° video stitching, image stabilization, clean-ups, and finishing.
Mistika VR and Mocha VR have become widely recognized as the go-to-tools for professional 360 post:
"Mistika's tagline should be: 'Goodbye stitch lines'. Wow! I'm so happy about how easy it is to get a good stitch!" - OLIVER LEROUX, IMPACT VR
"Mocha's planar tracking and removal tools are a must-have for moving camera shots in VR. The Remove Module is really the piece de resistance." - NICK BICANIC, RVLVR
---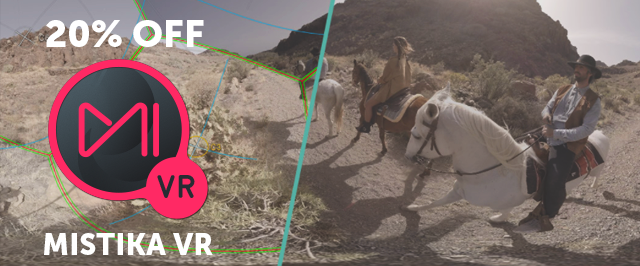 Mistika VR is an affordable VR focused solution and by far the fastest stitching software on the market. Developed using unique stitching algorithms, Mistika VR takes the headaches of parallaxes away, allowing you to maintain the highest image quality. Visit SGO.
It achieves speeds quicker than real-time for a 4K VR media encoding and stabilizes 360º footage in just one simple click. Stitch, review, improve, and get perfect results in just seconds.
Take 20% off Mistika VR.
Includes monthly & annual subscription options.
*Offer expires March 5, 2018, and is valid for the first payment only.
View Mistika VR Tutorials ● Purchase Mistika VR
---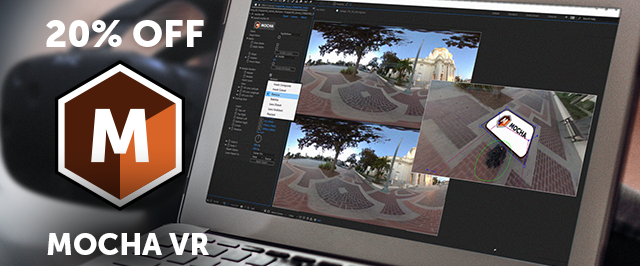 Mocha VR is an award-winning plug-in used for stabilization, removing objects, patching the nadir, and general 360° tracking and masking. Now updated to support stereoscopic 3D workflows, Mocha VR is the ultimate complement to Adobe Premiere Pro & After Effects, Nuke, Avid, and more. Learn more about Mocha VR.
Free Continuum VR filters for a limited time! Every Mocha VR purchase includes 5 VR filters designed for editing tasks: VR Reorient, VR Insert, VR Sharpen, VR Flicker Fixer, and VR Blur.
Take 20% off Mocha VR
Includes standalone, plug-ins, and subscription options.
Offer expires March 5, 2018
View Mocha VR Tutorials ● Purchase Mocha VR
---
Mistika VR Tutorials
Drone Stabilization test
Stereo Stitching
New features in the latest version
---
Immersive Shooter Product Review
Introducing Stereo 360 support
Object Removal