Hi guys!
It's been a short while since we updated, but that's because there has been a lot going on! First of all, I've been doing a lot of travelling. After NAB, I went to FMX in Germany, and in two weeks, I am heading to the Grand Expo Mexico. But we have a lot of other exciting developments I have been remiss in informing you about, let's remedy that! Read on…
FMX!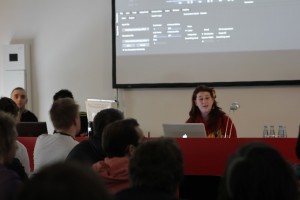 Mary Poplin speaking at FMX
FMX was really interesting. As a speaker at FMX I gave two Mocha workshop talks to tons of eager artists.
I was very glad to have the support of those of you that came to these events. I took a week travelling around Germany through Stuttgart, Munich, and Dusseldorf and was able to visit several German studios and meet so many artists and producers. Thanks for the hospitality, and if you ask me, America needs more Biergartens.
The Grand Expo Mexico!
Come see Mary at The Grand Expo!
I will be giving a Mocha Pro Planar Motion Tracking and Visual Effects Workshop at The Grand Expo in a few weeks. Attend this workshop to learn more about Mocha Pro, the popular vfx tool from Imagineer Systems that compliments compositors and animators worldwide.
Tracking and rotoscoping are core foundations of all visual effects projects. Learn how to solve the most difficult 2D & 3D tracking and visual effects challenges. Covers planar tracking, roto, object removal and more. I hope you can attend!
Grand Expo Mexico is on Tuesday 4th to Friday 7th of June 2013 in Mexico City. The Expo Cine Video Television is aimed at professionals and will be held at the World Trade Center in Mexico City, Halls Maya 1 and 2, Ground floor, located in Montecito no. 38, Col. Naples, CP 03810, Mexico DF
More Webinars!

Martin is presenting a Webinar! If you're interested in Mocha's 3D Camera Solving and understanding the 3D Camera Module this session is for you. In this free, live webinar, Martin Brennand will cover core concepts of planar tracking, camera tracking and explain the finishing workflow to export and use Mocha v3′s "planar cloud" data in applications like After Effects, Nuke, Smoke, Cinema 4D, HitFilm and more. Attend this free online training event and learn how to effectively use the 3D Camera Solve module and export to your favorite compositing and 3D animation programs.
Topics Include:
• Planar Tracking vs Feature Tracking – understanding the surface.
• Basic 3D camera solve
• Understanding PTZ, Small Parallax and Large Parallax
• Exporting camera data to After Effects and FBX.
• Advanced solve techniques
• Using your solve data.
• Moving object solves.
One lucky attendee will win a node locked license of Mocha Pro.
A $1495 value!
Last Month's Webinar!
Ross Shain and Mathias Möhl ran a "learn Mocha AE" Motion Tracking Webinar on April 24, 2013. The class was all about mastering motion tracking for Adobe After Effects with Mocha AE. As you know, Mocha AE is a planar tracking and roto utility bundled with After Effects CS6. In this 1.5 hour webinar, Dr. Mathias Möhl of mamoworld.com teaches the basics of understanding Mocha's powerful tracking technology. For more information, please visit Mocha-Pro.com!
If you missed Matthias's awesome webinar, you can catch the rerun here:
Learn Mocha AE – Motion Tracking Webinar Recorded April 24, 2013
from
Imagineer Systems
on
Vimeo
.
Mathias Möhl is the creator of
MochaImport
, an AE script designed to improve the workflow for mocha and After Effects users. Mathias also creates excellent tutorials geared for After Effects users, you can find out more about him at
MaMoWorld
.
The mocha open beta is live!
The Public Beta for Mocha 3.2.0 Prerelease is now live, and with it comes some major fixes and improvements. Including the OS X Mountain Lion Support issue where Users experienced license issues when upgrading to OS X Mountain Lion 10.8.3. We have resolved this with FlexLM and now Mocha will detect ALL hardware ids on the system to avoid cases where they may change.
This is a patch release with internationalization features and several defect fixes..
Since this is the beta for Mocha 3.2.0, we encourage you to test it vigorously and let us know of any characters that do not look correct, or any problems you experience reading, writing, exporting or rendering files.
You can download and read more about the BETA here: http://forum.imagineersystems.com/showthread.php?t=1955
We recommend that you hold off on Beta testing if you're in the middle of a project. This is only if you would like access to the flex fix early, though it comes with basic beta warnings: we don't recommend that you switch to beta for working on real projects, this is for testing purposes only.
In closing!
We've been busy bees over here! As usual, let us know if you have any questions or comments and we're happy to help. Be sure to follow us on linkedin, facebook, twitter, g+, or here on the blog to stay up to date on the latest Mocha tips and tricks and the latest Mocha news.
Cheers,
Mary