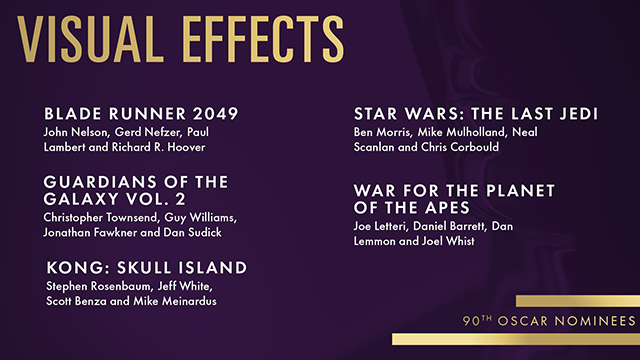 The Oscars countdown begins! Did you know that almost every feature film nominated for Best Visual Effects in the last 20 years used either Sapphire or Mocha software somewhere in the mix?
Whether it's the invisible art of tracking and compositing, or more in your face lens flares and lighting zaps, the team at Boris FX is incredibly proud to be associated with the distinguished artists and VFX studios that worked on this year's nominated films. Since their names are often overlooked, we'd like to acknowledge all the amazing work by our customers. And the nominees are…
Blade Runner 2049
Customers include: Framestore, MPC, Double Negative, Buf, UPP, Atomic Fiction, Prodigal Pictures, Stereo D and Territory Studio
Guardians of the Galaxy Vol. 2
Customers include: Framestore, Luma Pictures, Scanline VFX, Animal Logic, Trixter, Weta Digital, Stereo D, Bot VFX, Method Studios, Exceptional Minds, Lola VFX
Kong: Skull Island
Customers include: Rodeo FX, Hybride, Industrial Light & Magic, Gener8, Shade VFX
Star Wars: The Last Jedi
Customers include: Industrial Light & Magic, Bad Robot, Hybride, Important Looking Pirates, Jellyfish Pictures, One of Us, Rodeo FX, Prime Focus
War for the Planet of the Apes
Customers include: Weta Digital, Park Road vfx, Exceptional Minds, Stereo D
Best of luck to all the nominees on Sunday, March 2nd!