Harry Locke IV is a multi-faceted filmmaker with over 100 on-screen credits that include collaborations with celebrated industry talent such as Beyoncé and her creative team at Parkwood Entertainment, actor Pierce Brosnan and his wife Keely Shaye on their award-winning documentary Poisoning Paradise, actress Kate Hudson on the launch of her clothing line Happy X Nature, ABC Network's 30th anniversary special of America's Funniest Home Videos, Sean Baker's Tangerine, and the 2018 Academy Award-winning documentary ICARUS. As a director, Harry's feature-length directorial debut, The City of Gold, opened at number 17 and 21 in the UK's VOD and DVD sales charts for the month of August (2018), and was the only independent film release in the top 25 that year.
Harry primarily works in DaVinci Resolve, Adobe Premiere Pro, After Effects, and Avid Media Composer with Boris FX's Sapphire and Continuum suites being constant mainstays in his color grading work. Follow him on Facebook, Instagram, and Twitter.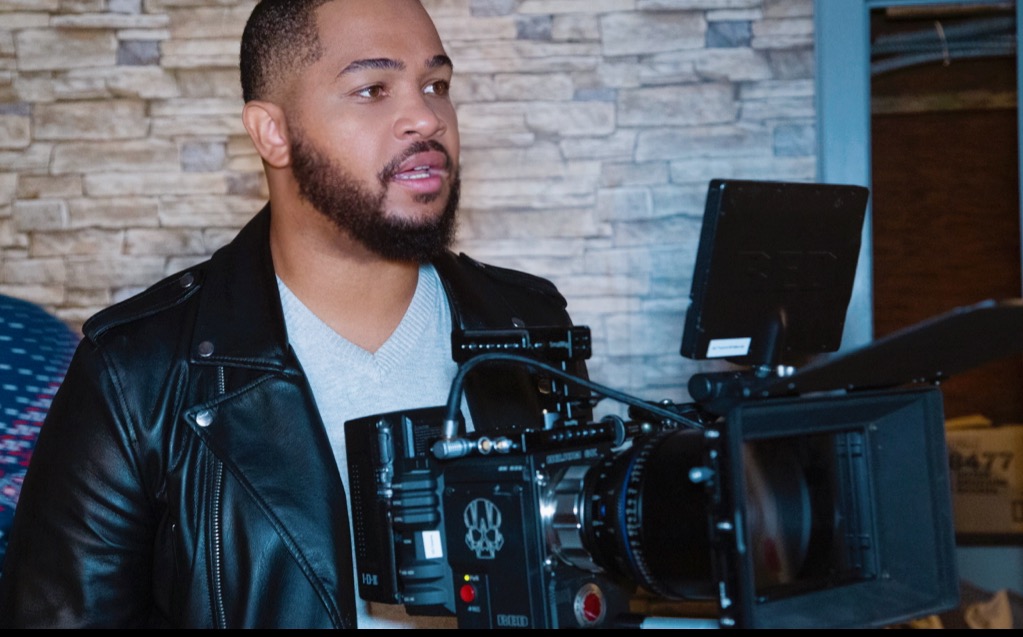 Where are you from and how did you get your start in the industry? I was born and raised in Calumet City, Illinois — a small suburb on the southeast edge of Chicago that is best known for being the birthplace of fictional brothers Jake and Elwood Blues of The Blues Brothers fame. I started dabbling in video production in high school with some good friends, where we used class assignments as an excuse to craft what were essentially short films. The spark I received from those formative years followed me into my undergraduate education at The Ohio State University where my self-taught production and post-production skills opened many opportunities for me, allowing me to be a one-man band in shooting and cutting promotional videos for the university's School of Communication and even a spec commercial for NIKE.
Having gained the confidence to actually consider myself a filmmaker, I decided to fully commit to working within the film industry and moved to Los Angeles in 2011 to attend the USC School of Cinematic Arts' MFA program. Upon graduation, I was able to use the connections I formed in the program as well as the body of work I had built to land my first hired director gig on a small budget action-adventure film called The City of Gold, which starred familiar Hollywood faces like Branscombe Richmond (Renegade, Finding 'Ohana), Christopher Atkins (Blue Lagoon), and classic bad-guy Vernon Wells (Mad Max, Commando). While undergoing the post-production process of that film, I began working at a post facility in Santa Monica as a conform-artist and colorist which quickly became second loves of mine in addition to writing and directing. Since then I have been working as a professional colorist and grading narrative films, docuseries, commercials, music videos, and more. I recently completed work on STARZ's critically acclaimed docuseries Seduced: Inside the NXIVM Cult, and the second season of the popular Netflix home makeover series Dream Home Makeover.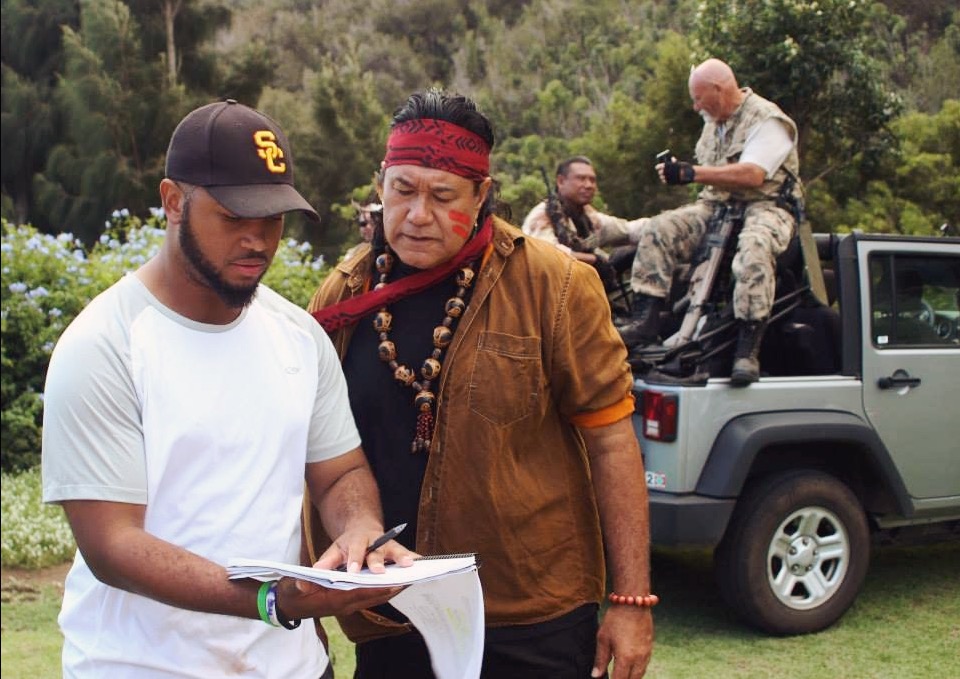 (Director Harry Locke IV and actor Branscombe Richmond on set of The City of Gold)
What are your go-to Boris FX plugins and which effect/features do you rely on most? Mocha Pro was my initiation into the Boris FX world and it continues to be a reliable friend for me when handling certain VFX requests that come my way during the coloring and finishing process. The planar tracker has always been incredible, but the addition of the all new PowerMesh tracker, which now handles warped surfaces with ease, is a total game changer.
I am also a huge fan of the Sapphire and Continuum suites. Effects like Glow, Chromatic Aberration, Camera Shake, Reflection, and many more often find their way into my looks in surprising and subtle ways thanks to the deep level of configurability that is offered in their controls.
What project are you most proud of and why? The project I am most proud of is one I am currently developing called The Redeemer, which is a revisionist western that weaves a sprawling revenge epic dealing with identity and race in post-Civil War America and the fallout of the Chinese Exclusion Act that was passed in 1882. I wrote, directed, edited, and colored a short-form version of the film that was co-produced by my wife, Fama Locke, and longtime friend and creative collaborator Alain Azoulay, which premiered at the Downtown Los Angeles Film Festival in 2019 and has gone on to win several awards throughout 2020. We are currently developing the feature-length version of the film with producing partners in China. It has been a wonderful experience to be able to use the production and post-production skills I have learned to collaborate with such an international team in bringing this story from concept to concrete.
How do you prep before a big project? Whether it be for a project I am directing or a client's project that I am coloring, I am huge on visual references and pitch decks to help ensure everyone gets on the same wavelength in regards to the mood and tone the end product should be resembling. Of course, 90% of the time those prep materials end up getting tossed out the window when the gears actually start to grind, but I do feel it is important that the communication between talents at least start on equal footing as we collectively move to discover what the unique look, sound, and feel of the film we are developing is.
What's a keyboard shortcut you can't live without? I think any artist working in any NLE or design program has forgotten to hit CMD + S (CTRL + S for you Window users) at least once in their career and received a painful reminder as to why that should definitely be the shortcut that is most used. Otherwise, it's definitely CMD + OPT + G for me when in DaVinci Resolve which activates the "Grab Still" option and allows me to apply a grade from a shot elsewhere or even use that shot as a reference in grading subsequent angles in that scene. Even though I have this mapped to one button on my color panel, I still find myself hitting this shortcut on the keyboard more often than not.
How do you keep yourself fueled/your favorite snack when you're in an epic session? I've hammered down so many 5 Hour Energy drinks at this point that I've either extended my lifespan to the realm of immortality or severely reduced it. Here's to hoping for the former rather than the latter.
Where do you turn for creative inspiration? Anything from graphic novels, films, videogames, TV series, and music can serve to be a great inspiration to me. One of my favorite activities for creative inspiration is to take an early morning walk with my wife along the beach and listen to film soundtracks which help me visualize the story I want to tell in my head. Recently, composer Natalie Holt's amazing work on the soundtrack for Marvel's Loki has really helped galvanize my creative juices on my latest projects.
What do you do when you start feeling creative burnout? Step away and step out from the workstation. This could involve taking a brief scenic trip to one of California's many beautiful places to visit, hitting the track at UCLA to let off some steam and get active, or plopping down in the living room to play some videogames and be inactive. I think it's highly important for artists to monitor and manage their fatigue so that their work can stay fresh, and not stagnant or mundane, which are feelings that are completely opposite of what lured us into this industry in the beginning.
What's your favorite film and/or TV series? My all-time favorite film is the 1993 classic Tombstone starring Kurt Russell and Val Kilmer. Almost every line in that film could be printed on a t-shirt or framed and hung on a wall. It's the first film I ever saw on cable and was one of those defining moments that made me realize how cool it would be to work in the film industry. Like so many others, I have also greatly enjoyed the surge of incredible episodic content that has graced our screens over the past decade with HBO making some of my personal favorites: Euphoria, Mare of Easttown, I May Destroy You, Years and Years, The Righteous Gemstones, and of course Game of Thrones. That being said, 90 Day Fiancé and all its variations is a current guilty pleasure for my wife and I. It's the sole reason we have a Discovery+ subscription!
If you could collaborate with any director/producer/editor/artist living or dead, who would it be and why? Christopher Nolan has always been an iconic figure to me since my best friend turned me on to Memento back in high school. It has been amazing to watch him create one immersive universe after the next. It would be a great honor to be involved in one of his productions in any capacity. Like Nolan, Denis Villeneuve is also a phenomenal artist that I look up to. You can tell that the craftsmanship that goes into every facet of his films takes a level of planning and ingenuity that eludes most artists. It takes a special talent to make a movie the size of Blade Runner 2049 or Arrival to still feel personal and intimate. I can't wait to see the work he has done on Dune. I'm sure it will be phenomenal.
What career and/or life advice would you give your younger self? I would tell myself to enjoy the journey and focus less on the endgame as building a career in this industry. It's a marathon and not a sprint. You have to pace yourself accordingly.