Kelly Rush is a Senior Promotion Producer at Nebraska Public Media (a PBS affiliate and award-winning original content creator) where she uses Continuum in her Avid-based workflow. In her downtime, she swaps digital media for clay sculpting.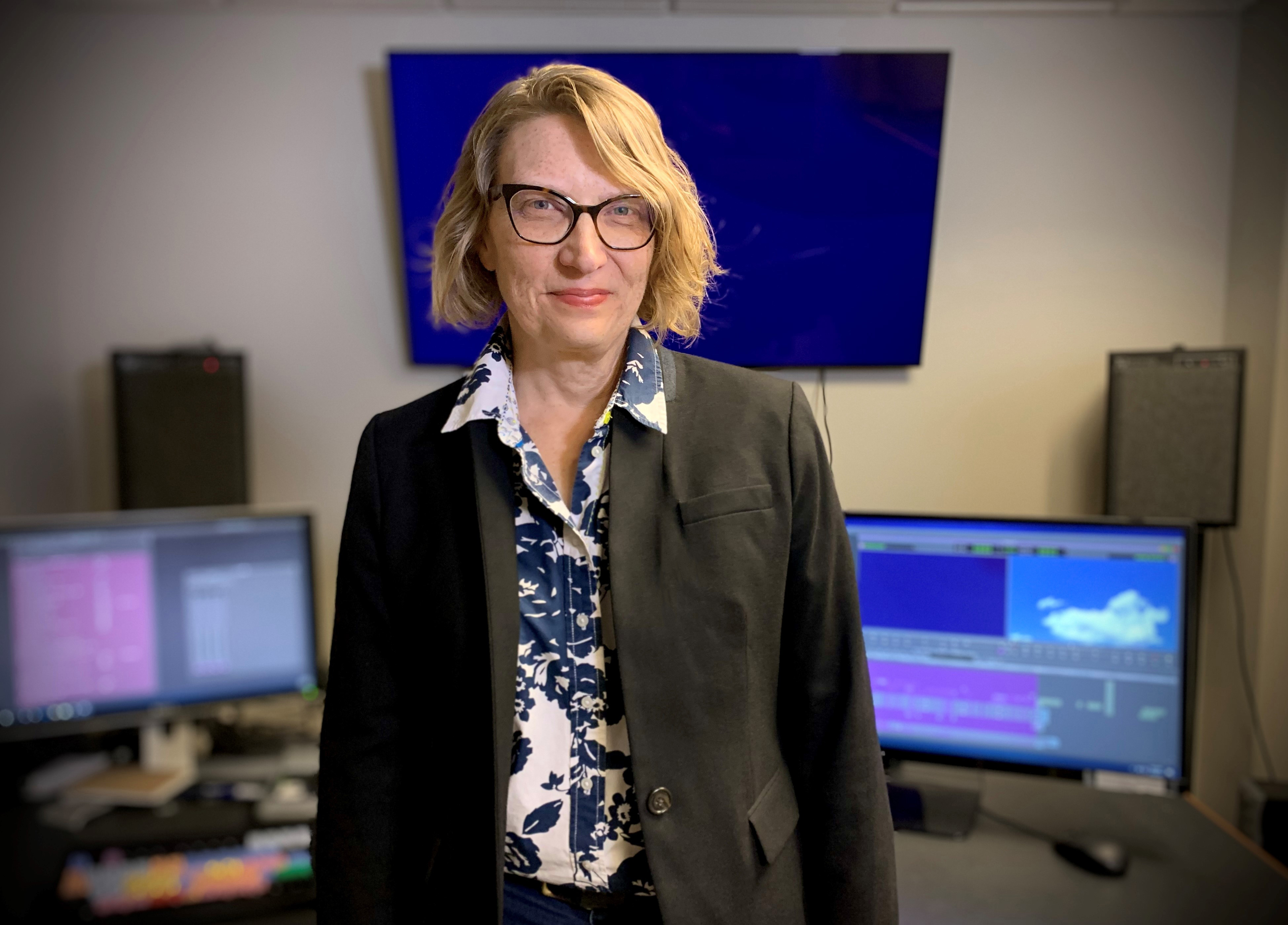 Where are you from and how did you get your start in the industry? I grew up in a small town in South-Central Nebraska. I was a big television watcher as a kid and watched Nebraska PBS (Public Broadcasting Service) a lot. I liked watching all the cooking programs, how-tos, and all the kid shows. So when it came to college I went into broadcasting which led to an internship at a local news station. After college, I applied for a job at Nebraska Public Media (Nebraska's PBS station) in Lincoln and my career started there as a camera technician. I also worked as a Production Assistant on many local programs, a producer/director for a half-hour documentary, and now in my current job as Nebraska Public Media's Senior Promotion Producer. Throughout my career, I've worked on many freelance productions, mainly national sporting events in the Lincoln/Omaha area.
What project are you most proud of and why? I co-produced and directed an hour-half documentary Emery Blagdon and His Healing Machine. It's a story about a Nebraska visionary artist, his passion for his artwork, and how his life's work was saved. I was able to work with a team of great people and I met so many others through this very interesting and amazing story. The program continues to air nationally on PBS and is available online.
How do you prep before a big project? When I'm conducting an interview with a Nebraska Public Media viewer, be it for television, radio, or both, I make a phone call before to gather as much information about why they watch or listen to our networks. I also want to know more about them personally so I can put together a promo/testimonial that has more depth. I want to tell a story about them as well as why they are viewers or listeners.
What's a keyboard shortcut you can't live without? There are many but I love "Alt+ C" = "Alt+ Clipboard"' and "Ctrl+ /" which collapses my timeline back to full view. I also have mapped a shortcut for "add an edit" and the "Effect Palette" to name a few.
How do you keep yourself fueled/your favorite snack when you're in an epic session? Hot tea, sparkling water, and a guilty trip to the vending machine. Salt or chocolate.
Where do you turn for creative inspiration? I watch documentaries, movies, and with COVID more film festivals went online which is a great resource. Plus I watch the national news to see how they use transitions, wipes, and other effects within the stories, YouTube, Vimeo, and of course national commercials.
What do you do when you start feeling creative burnout? I ask others around me for their ideas and thoughts. I work with very creative people and find their talents and insights helpful. It really is a team effort. Managing by inclusivity instead of control makes for better relationships and mental health in an organization.
What's your favorite film and/or TV series? I can't just pick one. I love the cinematography and direction in Ida (directed by Paweł Pawlikowski), and Roma (directed by Alfonso Cuarón) also for the cinematography ⁠— the opening scene was great! I'll always watch a Wes Anderson movie. It's hard for me to relax and enjoy a movie. I tend to notice editing, set design, direction, cinematography, etc. I like FRONTLINE, Independent Lens, American Masters, and P.O.V…
If you could collaborate with any director/producer/editor living or dead, who would it be and why? I would choose a still photographer(s). There are so many I would love to work with and try to understand their visual "eye."
What career and/or life advice would you give your younger self? I would tell myself to have more confidence in what I was doing.
What are your go-to Boris FX plugins? I use Continuum effects in my promos a lot. I use transitions and wipes to move the promo along visually. For video effects, I use light leaks, moving vignettes and I've also been playing around with compositing video, it adds a nice dimension. There are so many Continuum effects that I haven't used and hope to in the future. I love the FX Browser to look at preset thumbnails which makes it fast and easy to choose from many effects. To be able to drag and drop an effect without getting out of the program is time-saving when there's always a list of "to-dos" and more to produce.