Ruben Rodas (aka affectionately as Biggie) has worked in the visual effects industry for over 15 years. He currently works as the VFX Supervisor at PowerHouse VFX in a Nuke Studio-based workflow. "Nuke is my jam!" His credits include A Quiet Place, The Marvelous Mrs. Maisel, The Leftovers, Cosmos, Spider-Man 3, and Pan's Labyrinth.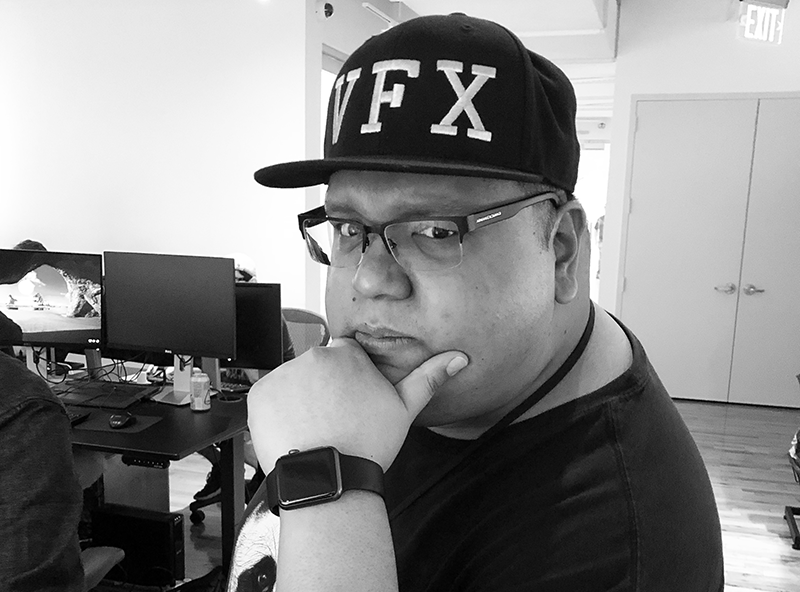 How did you get your start in the industry? It was an unexpected introduction which led to a joyous path of self-discovery and inspiration. At the time (circa 2002) I was very much enthralled with graphic design and web development. I felt strongly that my future was with web dev, but then I met Robert Garcia. High school, video class, BOOM! I was quickly introduced to filming, broadcast, and post-production as a visual effect medium for graphics in motion. This is awesome! I've now discovered a new outlet for my design work to be incorporated into a video platform. I soon realized there was a local company that worked on high-end VFX in the industry, CafeFX (Computer Cafe at the time). Jeff Barnes and David Ebner were making big movies, and I had no idea this was happening. My internship started in early 2003 and my journey hasn't stopped since. Longtime friends, Edwardo Mendez and Bob Lowery, have largely influenced and provided the opportunity to where I stand now.
What project are you most proud of and why? I'm inclined to say Pan's Labyrinth. I'm proud in the sense of the creative innovation for the era coinciding with my knowledge and skill development at the time. This was the breakout moment in my career where I learned the most and experienced versatility at the time. Working on other feature films in conjunction was a great learning experience. This was my opportunity to see how supervisors and production management worked to finish projects under specific deadline logistics.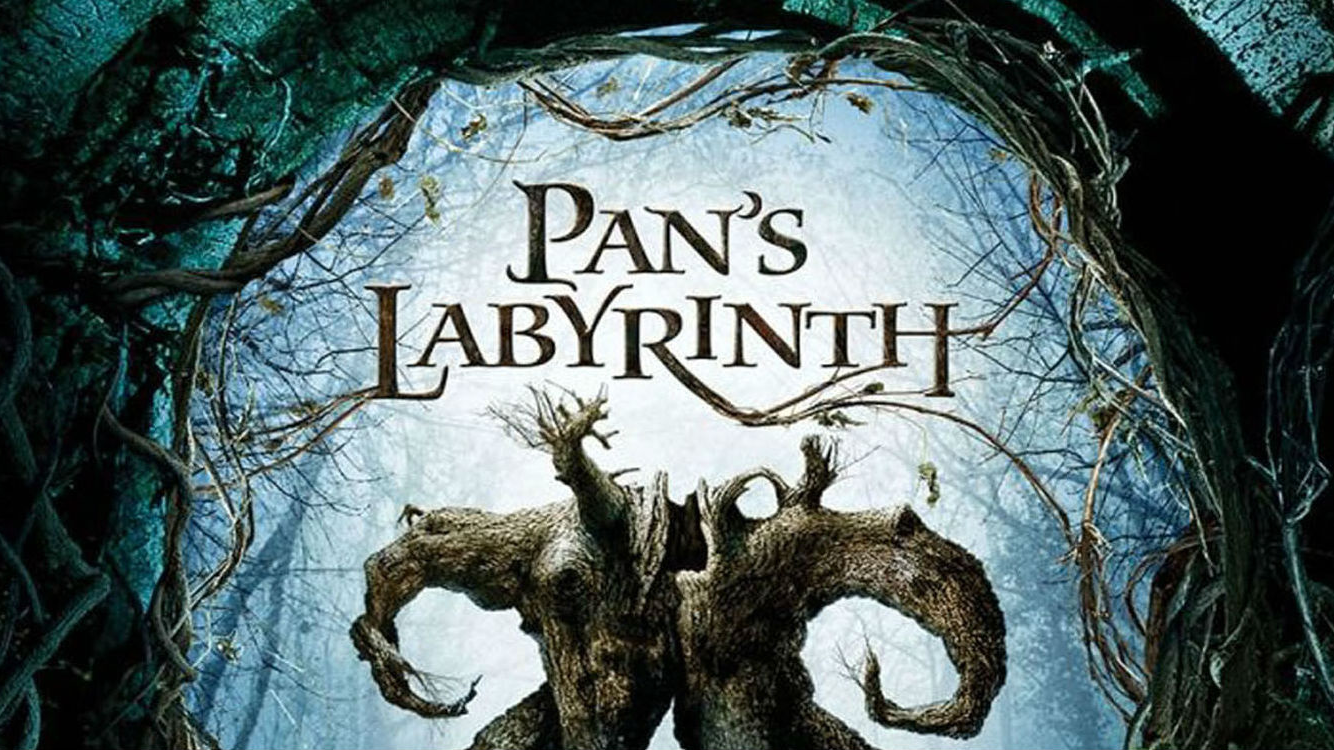 How do you prep before a big project? This right here is a luxury I don't often have. The state of the industry these days demands a readiness on-call scenario. There are times we bid for a project a few months before delivery but don't receive an award until some weeks before the project deadline. Typically there's not much prep time to set up show grains or scene templates unless we have some breathing room. Usually, this means a hectic studio online scenario and on the fly management to optimize the workflow for artists. If the timing allows for such, it best suits me to have a weekend to myself and help designate efficiencies before artists tackle shots.
What's a keyboard shortcut you can't live without? Honestly, the Nuke to Mocha python script, which was developed a long time ago. It's still my most valuable shortcut for post work. Sending plates over to Mocha and clipboard copying results is a very strong aspect as to why we can deliver a high volume amount of work. Mocha now offers the integrated Nuke plugin version which is the next step in our workflow integration.
How do you keep yourself fueled/your favorite snack when you're in an epic session? Tito's Vodka. That's the honest answer, but let us take it down a notch. Caffeine is the first supplement of a sort on a daily basis. The "workhorse" scenario is what we all try to attain. Yep, this is the objective we strive for, but we don't want to encourage unhealthy methods. I'll psych myself up prior to a session and envision myself completing everything on my task list. There's a "go" mode where I visualize a state of performance having no obstacles and pushing through work on high efficiency unhindered by a diminished mindset.
"Tito's day," what I tell my producers, helps accomplish the tight turnaround work at hand. This is a hard one to explain, but I try to envision the project load and turn it into a subconscious Minority Report / Matrix controller interface. I keep three partitions in my mind. One is my job queue of shots which need processing. Second is a bucket listing of pre-task and pre-comps, which I have actively rendering in the background. The third is the current shot I'm working on. Knowing and identifying these three pools in my brain helps my subconscious troubleshoot and extrapolate solutions to complete shots.
Where do you turn for creative inspiration? The worst inspiration to turn for visual effects is to reference other completed VFX work. This is generally the case, but when we look at stylized requests sometimes the only thing to reference is an already established and delivered image. Beyond this, I first try to imagine what the finished work would look like. I take the time to pre-visualize the shot in my head and attempt to articulate the aspects which will make the shot successful on the ask, but also rich in imagery for the audience. For invisible effect work, I scour the internet to try and find real-world photography of what the scene should resemble. There's nothing better than an image reference captured through a lens and sensor to help guide implementation.
What do you do when you start feeling creative burnout? If possible at the time I'll switch to another task or deal with another problem not related to the specific creative issue. Creative solutions come at random times. It's not a proven or surefire observation, but the brain does well in problem-solving when working under adjacent tasks. Sometimes if I force the issue, I'll hit a wall and further delay the solve. Either this or I'll involve another creative to help troubleshoot the issue. The main objective is to ultimately understand how to solve the job by oneself. If I can't envision how the imagery needs to be manipulated, then I'll start playing this guessing game which usually leads to diminishing results. Sometimes the answer is to psych myself out and really force the idea where I need to mentally reset the shot and reimagine the final result. The most difficult choice is to realize when a shot needs to be redone and not continue trying to refine an already failed path.
What's your favorite film and/or TV series? The films that influenced me at the time of my VFX discovery were The Matrix, The One, and The Core. Having the word "The" in the title is pretty peculiar don't you think? This must be a generation trait. These films really inspired me and made me realize that at some point I, too, wanted to be involved with movies like these. Black Monday, Ballers, and Billions are my go-to TV shows these days. Not heavily VFX involved, but these speak to me in regards to the content and inspiration. We happen to be working on Black Monday at PowerHouse VFX, so there's a strong connection I have with the project. We've been involved with a lot of invisible visual effects, but are proud of developing a full CG Lamborghini (converted to a limousine) which we've helped incorporate into period footage.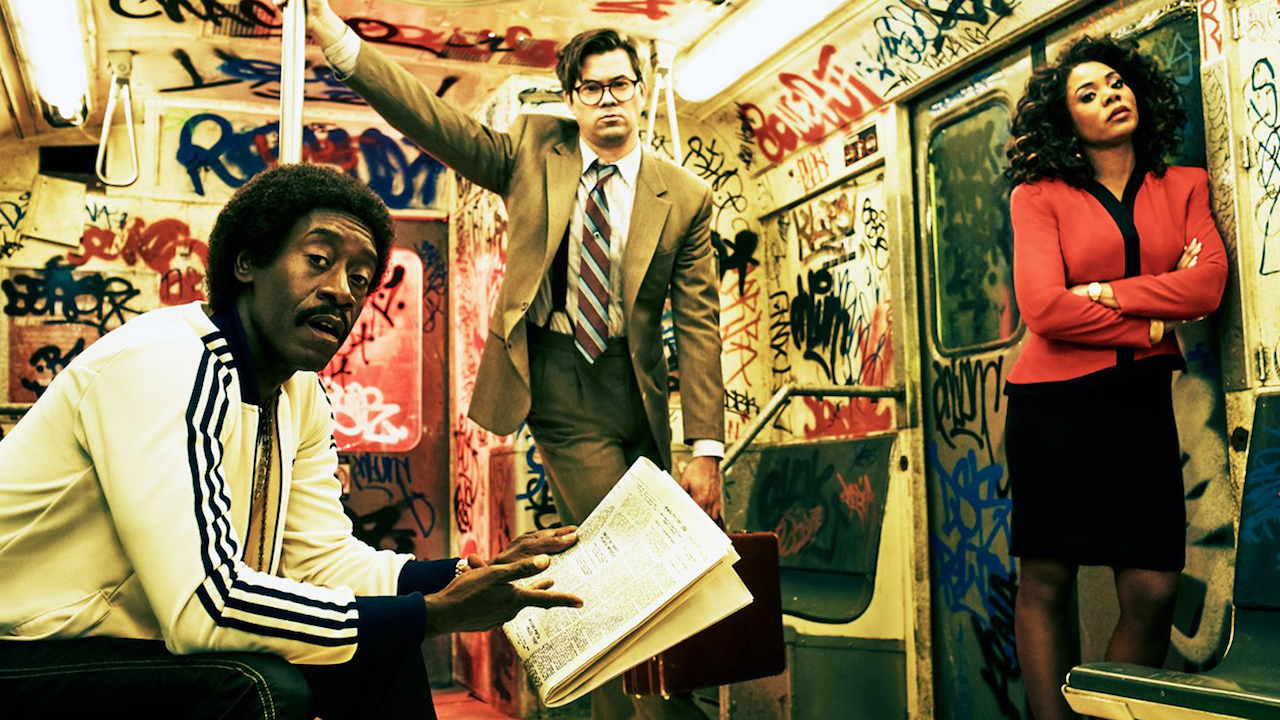 If you could collaborate with any director/producer/artist living or dead, who would it be and why? Real first thoughts without thinking too deep would be James Cameron / Quentin Tarantino. I've worked on projects with other great directors like Robert Rodriguez, Peter Jackson, and Guillermo del Toro. James seems to have a steady upcoming portfolio to fill, while Quentin has a limited amount of productions in the future on the effort of completing his journey. I now have the pleasure of working alongside Chris Kenneally, who directed Side by Side among other great projects. He's helped me through some difficult times and through his experience guides me in the effort of comprehending a broader understanding of the multi-level production process.
What career and/or life advice would you give your younger self? I would probably tell myself not to be afraid of change. Change is a scary idea, but you shouldn't think too much of it and just move forward on opportunities. There's a lot of knowledge I would share with myself, but wouldn't fit in the category of advice per se. The biggest idea would be not to limit myself based on geographic opportunities, but accept them in the effort of improving myself. I ended up on the east coast as part of my travels, but there could've been more exploration into a broader reach, i.e. Australia / New Zealand. Chase the dream and give it your all.
What are your go-to Boris FX plug-ins (Continuum, Sapphire, Mocha Pro) and which effect/features do you rely on most? Mocha Pro is the big one. Mocha's tracking does a lot of foundation work with tasks. Fast is the key. Mocha provides a quick option up to the most menial aspects. If I need a base track to assist roto Mocha helps drive the base motion. Sapphire has been essential in helping procedural effects. There are times we've been tasked with broad term effects where Sapphire has aided on a fast experimental level.
Closing thoughts: Reaching out to my fellow comrades.
The industry is obviously changing. Shots are being asked to be completed quicker and to reach a higher quality standard. Know yourself, and know your worth. Realize, sometimes you're creating something visually appealing versus technically accurate. In the end, viewers want to experience something visually rich. Shoot for the stars! Your growth is only hindered by one's desires. Dream BIG to go BIG. Become the person who will confront a situation and provide a sophisticated, yet elegantly simple solution.
This may sound primitive, but become A BEAST with your work. Not only will you gain interest as a top-shelf artist, but you'll be elevating your booking desirability.
The largest motivator is being told something can't be done. If you can overcome this… mang, you're doing things right! Bring the "A game" with you, no matter if it's a simple screen comp versus a complicated CG and environmental complex shot.
Something I think about quite often is an inspirational quote from Dwayne Johnson: "Always be the hardest worker in the room." I remind myself of this whenever I feel a slight slow down. Take this to heart, it absolutely makes the difference!
- Biggie