Today Adobe shipped Creative Cloud, the subscription based service that includes new versions of After Effects, Premiere and more. Imagineer's planar tracking and visual effects products, Mocha AE and Mocha Pro are widely used by After Effects users, so we wanted to take a moment and answer some common questions the AE community has been asking about Adobe's new "CC" offerings.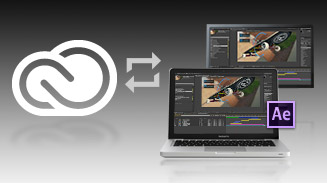 New Version! Adobe Creative Cloud includes the bundled: Mocha AE CC
Q. Is Mocha AE still bundled with After Effects? Are there any new features?
A. Yes, After Effects CC now ships with a new version called Mocha AE CC.
Mocha AE CC is not a plug-in. To launch, select a layer in AE and go to:
Animation>Track in Mocha AE
Mocha AE CC has been updated with the following fixes and new features:
support for RED Digital Cinema (.r3d) footage

new layer grouping & multi-select
dope sheet for moving, copy/paste keyframes
transform tool for editing roto splines
multi-spline selection and modification
attach layers tool to link points of separate layers
ability to customize color for mattes & splines
ability to see individual pixels when zooming
many bug fixes
Q. Do I need to be connected to the internet to run Mocha AE CC?
A. Only for installation. Mocha AE CC has the same exact technical requirements as After Effects CC. You can learn more about Creative Cloud here.


Q. I am interested in upgrading to Mocha AE v3.1 OR Mocha Pro. What is the difference between the bundled version and what you sell?
A. Mocha AE CC includes 2D planar tracking and roto tools for After Effects CC only.
Upgrading to Mocha AE v3.1 for $195 USD adds advanced modules for 3D camera solving, lens distortion and support for Final Cut v7, Boris FX and HitFilm.
Upgrading to Mocha Pro v3.1 adds advanced modules for object removal, stabilization and support for applications such as Flame, Smoke, Scratch, Nuke and more.
view the upgrade guide or product comparison chart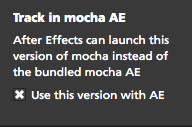 Q. Can I launch Mocha Pro from After Effects CC?
A. Yes, you can set Mocha Pro or Mocha AE v3 to launch from within AE CC. Simply run the first time from start up icon and set the preferences to " Use this version with AE". The next time you "track in mocha AE" it will launch the version you selected.
Q. After Effects CC includes 3D Camera Tracking, why do I still need Mocha AE?
A. Mocha is a planar tracker and uses algorithms that are different than point or camera tracking. After Effects users still find many projects in which Mocha is necessary to solve a shot… after all the mocha team won an academy award for tracking! Mocha's unique image analysis engine often solves tracks where other trackers fail: tracking objects that go off-screen, objects that are partially obscured, even grainy and noisy footage. Planar tracking is used for screen inserts, digital makeup, set-extensions, assisted roto and much more.
If you have more questions, please contact us!