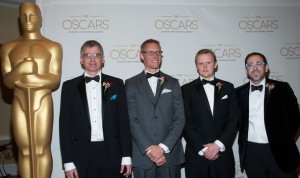 February 9, 2013 – Source: Valerie Macon/Getty Images North America
This past Saturday I tagged along with John-Paul Smith and Ross Shain as they went to the Academy of Motion Picture Arts and Sciences 2012 Scientific and Technical Awards to collect Scientific and Engineering Awards alongside Dr. Philip McLauchlan and Allan Jaenicke at the Beverly Hills Hotel. It was a huge honor and all of us at Imagineer Systems are still so excited about our colleagues, but more importantly our friends, receiving this award.
Watch the acceptance video here: 2012 Scientific and Technical Awards | Academy of Motion Picture Arts and Sciences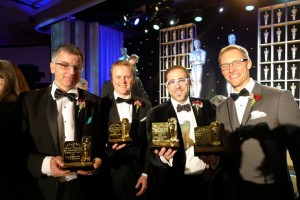 Photo by Jenn LaBelle
As Ross says at the end of this clip, we couldn't have done it without the widespread suport of you, our incredible users. Thank you. It was truly a night to remember, and special thanks also needs to go to the families, friends, and colleagues that supported these innovators while they worked to make the next generation of motion tracking tools.
As usual, your continued feedback helps us develop Mocha into a competitive package that has enjoyed world-wide adoption in the film, television, motion graphics, and end user markets. News sites are buzzing with write-ups on our software and we'd like to be able to show off some of our incredible users work. We've had some wonderful appearances in Forbes, FXGuide, The Guardian, Digital Production Buzz, The Academy, and Zimbio. With that in mind, we're making a big final push to get some great footage for our reel for 2013 that we can show off at NAB, Siggraph, and SXSW. So this is the last reminder I will put on the blog! It would be great to have your work helping represent Imagineer, and time is running out to submit your shots. We can only accept your clips until the end of the month. We are specifically looking for interesting before/after examples in which Mocha AE or Mocha Pro has helped on a project. Our preferred Format is: 1920×1080 Quicktime – Pro Res. Please email me for the ftp upload information at maryp@imagineersystems.com.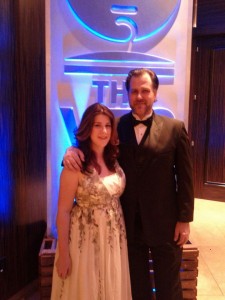 The VES Awards!
The Annual Visual Effects Society Awards
But the Sci-Tech Awards weren't the only thing going on in Hollywood this week. I was also able to attend the Annual VES Awards at the Beverly Hilton. The VES Awards recognizes and honors the most outstanding visual effects work of the year and honors the artists who created them. It was incredible to be able to mix and mingle with some of the VFX Industry's best artists and technical wizards. And while the Oscars may be a once in a lifetime opportunity, as a member of the Visual Effects Society, I can tell you that this is an event I will look forward to every year.
Congratulations to all the winners this past week. The technical innovation that pours out of these incredibly talented men and women is an inspiration to us all.
Until next time!
Cheers,
Mary