Register for this free webinar! December 17, 2015 at 1pm EST
BCC 10 plug-ins for Adobe Premiere Pro & After Effects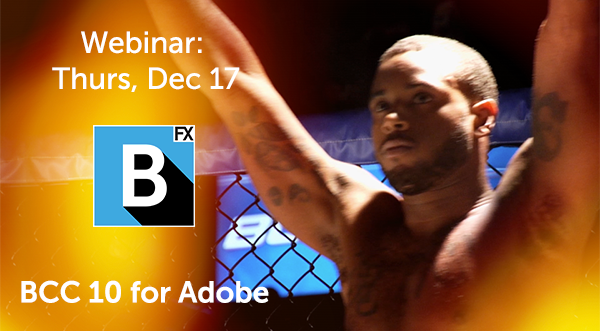 Space is limited. Reserve your webinar seat now.
Join Boris FX & special guest presenter, Nick Harauz, certified Adobe trainer for a free 1 hour webinar training session on new plug-ins for Adobe Creative Cloud.Learn how the new BCC 10 plug-ins for Adobe Premiere Pro and After Effects add tools for image restoration, digital beauty work, motion graphics and much more.
When : Thursday, December 17, 2015
Time : 1pm EST
Duration : 1 hour
Where : online from any computer
Topics Covered :
Pixel Chooser: Now powered by integrated mocha planar tracking!
Beauty Studio: Your one-stop shop for digital make-up needs
3D titling and animation tools
Image Restoration: Remover & Reframer
Import Maxon Cinema 4D models
Stylize: Lights Leaks & Video Glitch
Transitions and much more!
Special Door Prizes :
One lucky winner will win a 1 year subscription to Adobe Creative Cloud , thanks to our friends at Adobe.
More Prizes: A full license of BCC for Adobe . (Retail value $1995 USD)A full license of mocha Pro . (Retail value $1495 USD)

About the presenter
: Nick Harauz is an Apple, Adobe and Avid Certified Trainer. He has an uncanny ability to engage his students and create a level of relatedness that keeps them coming back for more. Since 2002, Nick also works with domestic and international brands offering video production and motion graphic services. He has worked with clients such as Proctor and Gamble and Virgin Mobile.
Currently, Nick is working on his first feature film entitled Lost and Found . You can find some of his online training on both Lynda and Creative Cloud Learn.