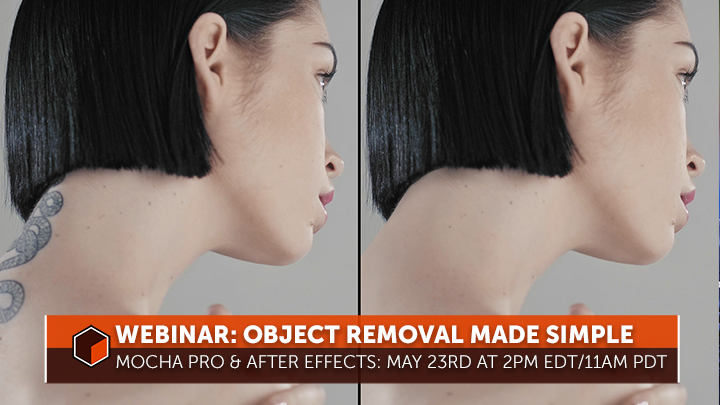 Did a mic drop into the shot the director wants to use? Need to remove a tattoo, an unwanted actor or those noticeable wires from a stunt scene? Or even clean plate for matte painting or advanced digital beauty work?
Removing objects may seem like a complicated task with lots of clone and paint technique needed, but Mocha Pro's planar motion tracking makes it simple thanks to its unique and powerful feature — the Remove Module.
Join Mary Poplin, Mocha Product Specialist, as she breaks down the Remove Module and shows you how to painlessly rid yourself of unwanted elements using Mocha Pro inside Adobe After Effects. Get ready to save yourself tons of time!
The webinar will be presented in the Adobe After Effects plug-in, however these tools and techniques are relevant for the standalone Mocha Pro or running as a plug-in inside Adobe Premiere Pro, Avid Media Composer, HitFilm, NUKE, and many more hosts.
What you'll learn:
When to use the remove module
How the remove tool works
When to use a clean plate
How to remove objects under shadows
How to remove objects over a complex plane
How to remove objects faster
Date & Time: Wednesday, May 23rd at 2pm EDT/11am PDT
Giveaways:
1x - Boris FX Suite (Sapphire, Continuum, Mocha Pro) one year subscription ($1195 value)
1x - Mocha Pro one year subscription ($495 value)
1x - Sapphire one year subscription ($895 value)
1x - Continuum one year subscription ($695 value)