Roto & Clean-Up Workshop with Roto Supervisor, Clark Harding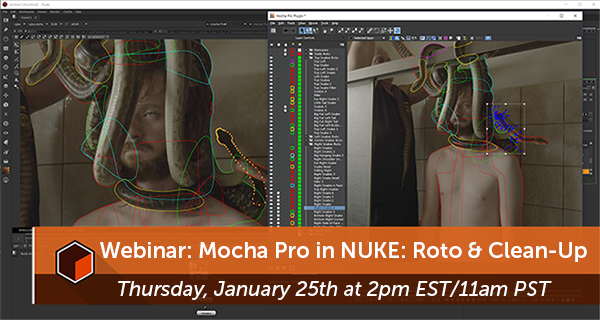 An exclusive Mocha training event featuring professional VFX artist and roto/paint supervisor, Clark Harding. Join Boris FX product specialist Mary Poplin and Clark for an in-depth look at the Mocha for NUKE workflow that Clark has used on tent-pole Hollywood films such as Fantastic Beasts and Where to Find Them and Dr. Strange.
Learn how to apply the Mocha Pro plug-in inside of NUKE, rotoscope twice as fast as tedious hand techniques by making Mocha do your hard work for you, and apply rotopaint for flawless beauty work.
Topics covered:
Tracking and Roto in Mocha Pro
How to Apply Shapes and Tracking Data into your NUKE Composition
Basic and Advanced Roto Techniques
Applying Rotopaint using the Mocha Pro Plug-in
Not too be missed! While this event is focused on NUKE workflows, many of the techniques covered in this webinar will be useful for all Mocha, Continuum and Sapphire users — regardless of host application.
Date & Time: Thursday, January 25th, at 2pm EST/11am PDT
Giveaways: Over $3K of VFX software!
1x - $1000 promo code to ActionVFX ( ActionVFX creates high-end visual effects assets for VFX artists, filmmakers, and other creative professionals.)
1x - One year subscription to Mocha Pro
1x - One year subscription to Mocha VR
1x - One year subscription to Continuum
1x - One year subscription to Sapphire
About the presenter: Clark Harding is a VFX artist and roto supervisor. He got his first job as a production assistant for the VFX facility Hydraulx, eventually gaining him his first screen credits on The Day After Tomorrow, Torque as well as countless music videos and commercials. Harding's commercial credits led him to the advertising agency TBWA/Chiat Day where he worked on the accounts of Apple, Playstation, Nissan and Visa. It was Harding's passion for travel, though, that brought him to India, where he supervised VFX for Prime Focus on Harry Potter 7, Shrek, Cats and Dogs 2, My Soul to Take and, everybody's favorite, Star Wars 3D. He currently lives, works, and plays in Los Angeles, CA.