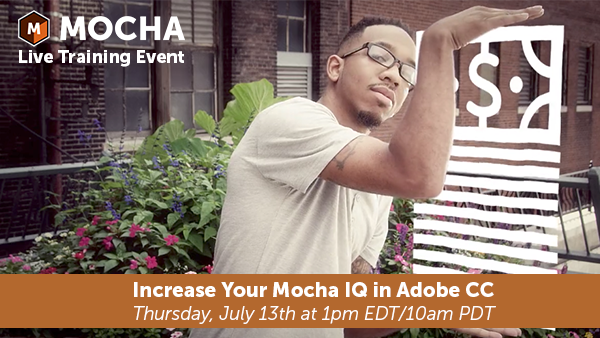 This must-watch webinar will focus on Mocha workflows in Adobe After Effects and Premiere Pro. Discover tools, techniques, and shortcuts to increase your speed and problem-solving chops. Ross and Mary will be answering your questions live. Plus, we're giving away over $2k of VFX swag, including a 1 year sub to Adobe CC, Mocha Pro, Mocha VR & more!
Date & Time: Thursday, July 13th at 1pm EDT/10am PDT
About the presenters:
Ross Shain is an accomplished post-production specialist and the chief product officer of Boris FX/Imagineer Systems. In 2013, Ross was recognized by the Academy of Motion Pictures with a Science and Engineering Academy Award for his work on the development and design of Mocha planar motion tracking software. With 20 years of creative and technical experience in post-production, visual effects and the software industry, Ross has held responsibilities ranging from senior compositor, colorist and effects supervisor to product and user interface designer.
Mary Poplin is an experienced visual effects and motion graphics artist. Mary has worked on major Hollywood feature films such as The Last Airbender, Gulliver's Travels, and Jackass 3D. As Boris FX/Imagineer Systems' west coast product specialist, Mary consults with film studios and customers to provide hands on training.