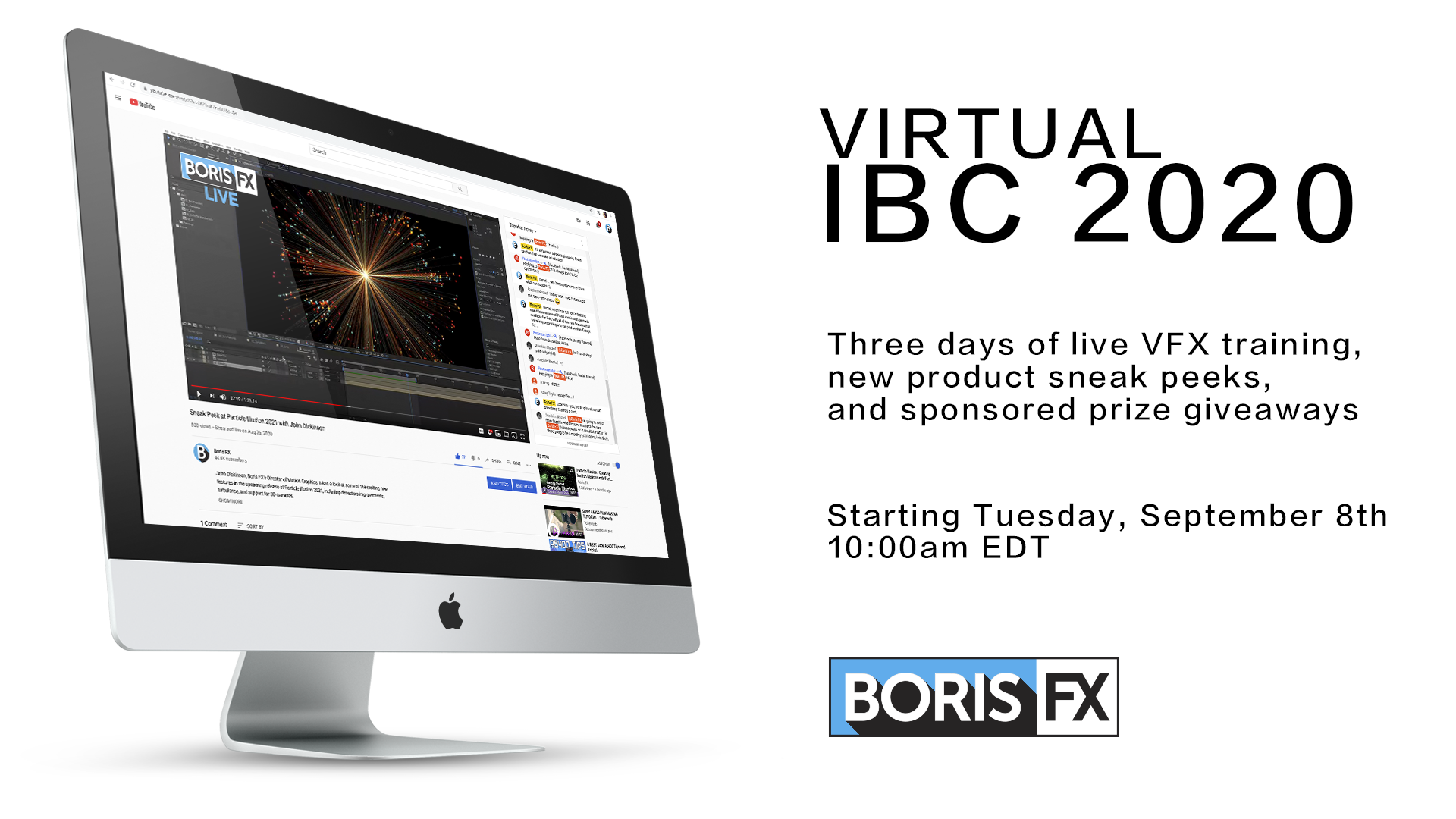 We truly wish we were heading over to Amsterdam next week. We love the hustle and bustle of IBC, seeing old friends & meeting new ones, and stuffing our faces with waffles, gouda, and more! Since that's not an option this year, we're bringing you the next best thing right from the comfort of your homes.
Join us for three full days of live streams on borisfxlive.com starting on Tuesday, September 8th, at 10 am EDT! Featuring customer presentations, sneak peeks of the upcoming 2021 releases, and tons of giveaways.
---
Win Big! Over $40K of Prizes!
We'll be giving away amazing VFX prizes during each session. Many thanks to our partners and friends at Accusonus, ActionVFX, Adobe, AMD, Avid, Dell, Foundry, Future Media Concepts, HitFilm, Intel, iZotope, NVIDIA, School of Motion, SGO Mistika, and VEGAS Pro! And as always, we'll be giving away Boris FX tools like the new Boris FX Suite which includes all of our award-winning plugins and standalone applications. See the daily prize breakdown!
---
Tuesday, September 8
| Time | Presentation | Artist |
| --- | --- | --- |
| 10:00 am EDT | Create Cinematic Looks in Photoshop with Optics | Ben Brownlee, Director of Production & Learning, Boris FX |
| 11:00 am EDT | Featured Customer Presentation: Stylistic Edits in Avid with Sapphire | Angus Emmerson, Director/Editor |
| 12:00 pm EDT | Advanced Object Removal: Silhouette & Mocha Pro | Mary Poplin, Senior Product Specialist, Boris FX |
| 1:00 pm EDT | Sneak Peek! New Features in Continuum 2021 | John Dickinson, Director of Motion Graphics, Boris FX |
| 2:00 pm EDT | Tips & Tricks for Finishing Editors with Sapphire & Continuum | Dan Harvey, Trainer, Boris FX |
| 3:00 pm EDT | Sneak Peek! New Features in Mocha Pro 2021 | Martin Brennand, Product Manager, Boris FX Mocha |
---
Wednesday, September 9
Time
Presentation
Artist
10:00 am EDT
Adding Natural Life to Your Shots with Sapphire LensFlare
Ben Brownlee, Director of Production & Learning, Boris FX
11:00 am EDT
Advanced Keying Workshop with Continuum
Peter McAuley, Senior Product Manager, Continuum
12:00 pm EDT
Visual Effects for Photographers with Optics
Ross Shain, Chief Product Officer, Boris FX
1:00 pm EDT
Set Extension Tricks with Mocha Pro Mega Plate
Mary Poplin, Senior Product Specialist, Boris FX
2:00 pm EDT
Creating an "Into the Spider-Verse" Inspired 3D Title Sequence with Continuum
John Dickinson, Director of Motion Graphics, Boris FX
3:00 pm EDT
Roundtable Discussion with Boris FX Engineering Team
Boris FX Engineers
---
Thursday, September 10
| Time | Presentation | Artist |
| --- | --- | --- |
| 12:00 pm EDT | Featured Customer Presentation: Making Motion Graphics Sizzle with Sapphire | Robert Hranitzky, Designer |
| 1:00 pm EDT | Transition like a Pro with VEGAS with Sapphire & Continuum | Vin Morreale, Product Specialist, Boris FX |
| 2:00 pm EDT | Motion Tracking for Editors with Continuum | Mary Poplin, Senior Product Specialist, Boris FX |
| 3:00 pm EDT | Featured Customer Presentation: Advanced Beauty work in Flame and Nuke with Mocha Pro and Silhouette Paint | Christoph Zapletal, Compositor |
| 4:00 pm EDT | Ben's Secret Sauce with Sapphire Builder | Ben Brownlee, Director of Production & Learning, Boris FX |
| 5:00 pm EDT | The Top Boris FX Plugins You Can't Live Without | John Dickinson, Director of Motion Graphics, Boris FX |
---
Daily Prize Breakdown
| Tuesday | Wednesday | Thursday |
| --- | --- | --- |
| FMC Online Class - provided by Future Media Concepts ($1500) | Mistika Boutique 12-month ($1515) | Nuke Studio - permanent license ($12k value) |
| School of Motion - Class ($1000) | School of Motion - Class ($1000) | Dell Precision 5750 laptop ($5000) |
| Adobe Creative Cloud - 1 year sub ($599) | Adobe Video World Pass - provided by Future Media Conferences ($795) | School of Motion - Class ($1000) |
| VEGAS Pro 18 ($599) | VEGAS Pro 18 ($599) | Adobe Video World Pass - provided by Future Media Conferences ($795) |
| Accusonus ERA 4 Bundle PRO ($499) | Accusonus ERA 4 Bundle PRO ($499) | Mistika VR 12-month ($861) |
| HitFilm Pro ($349) | iZotope RX 8 ($399) | Accusonus ERA 4 Bundle PRO ($499) |
| Avid Media Composer - 1 year sub ($239) | HitFilm Pro ($349) | Adobe Creative Cloud - 1 year sub ($599) |
| ActionVFX - $200 online certificate | Avid Media Composer - 1 year sub ($239) | VEGAS Pro 18 ($599) |
| Boris FX Suite - 1 year sub ($1295) | ActionVFX - $200 online certificate | HitFilm Pro ($349) |
| | Boris FX Suite - 1 year sub ($1295) | Avid Media Composer - 1 year sub ($239) |
| | | ActionVFX - $200 online certificate |
| | | Boris FX Suite - 1 year sub ($1295) |