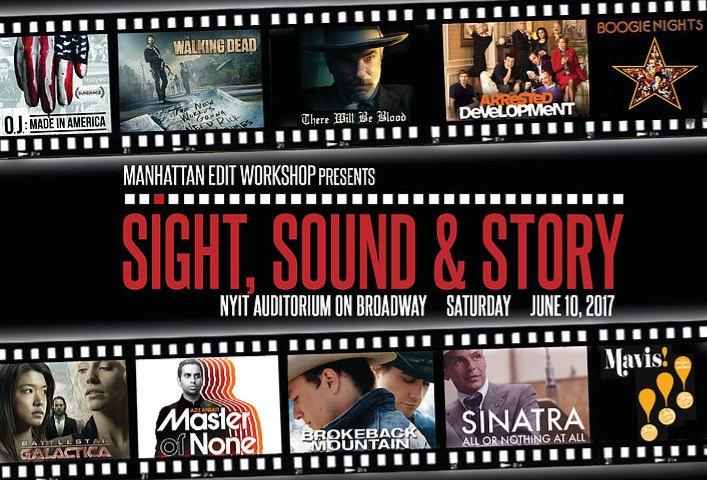 Join Ross Shain of Boris FX at "Sight, Sound & Story", a high-profile speaker series that brings audiences "behind the scenes" with legends of visual storytelling. Ross will be moderating the Cinematic 360/VR Panel: 360 Degrees of Storytelling.
Event attendees will receive a complimentary three-month license for the Boris FX software of their choice (Multi-Host License option for Avid, Adobe and OFX Hosts only).   
Event Location
NYIT Auditorium on Broadway, 1871 Broadway, New York, NY 10023
Event Schedule - June 10, 2017
9:30am - Check-in
10:00am - 11:30am - Anatomy of a Scene: Deconstructing Documentary Films
Moderator: Garret Savage (My Perestroika, Karen Schmeer Film Editing Fellowship)
Speakers: Amy Foote (The Work, Mavis!, A Matter of Taste: Serving Up Paul Liebrandt ), Maya Mumma (O.J.: Made in America, Restrepo), and Sam Pollard (Four Little Girls, When The Levees Broke)
11:45am - 1:15pm - Cinematic 360/VR Panel: 360 Degrees of Storytelling
Moderator: Ross Shain,  Chief Marketing Officer at Boris FX & Imagineer Systems
Speakers: Joergen Geerds (CEO and Creative Director at Koncept VR), Graham Roberts (Senior Editor at The New York Times), and Julina Tatlock (Co-founder 30 Ninjas)
1:15pm - 2:00pm - Intermission
2:00pm - 3:45pm - TV is the New Black: Television's Cinematic Revolution
Moderator: Michael Berenbaum, ACE
Speakers: Kabir Akhtar, ACE (Crazy Ex-Girlfriend, Arrested Development, New Girl), Suzy Elmiger, ACE (Mozart in the Jungle, Master of None, Casual), and Julius Ramsay (The Walking Dead, Battlestar Galactica, Outcast)
4:00pm - 6:00pm - "Inside the Cutting Room with Bobbie O'Steen": A Conversation with an award winning editor
Moderator: Bobbie O'Steen, "Cut to the Chase," "The Invisible Cut"
Speaker: Dylan Tichenor, ACE (There Will Be Blood, Brokeback Mountain, Boogie Nights, The Town)
6:00pm - 8:00pm- Networking Party & Tech Lounge sponsored by American Cinema Editors
Visit the event website for more information and to get your ticket!