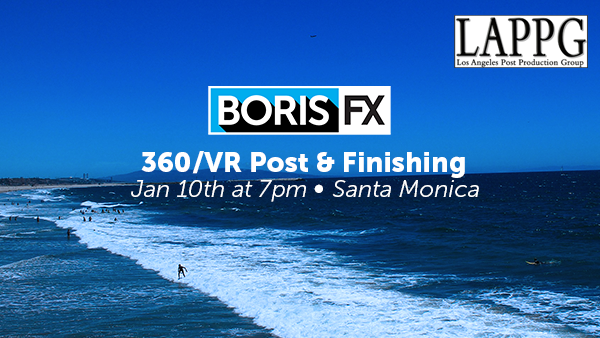 The Los Angeles Post Production Group is holding its first event of 2018, and Boris FX is excited to be among the presenters. Come network, enter to win awesome giveaways, find out about Boris FX's VR offerings, and get some tips on working in Hollywood.
360/VR POST AND FINISHING WITH BORIS FX
As the growing immersive video space evolves, editors require robust, stereoscopic enabled tools for fixing and finishing 360 video projects. Mary Poplin, local product specialist from Boris FX will discuss common 360 challenges and how Mocha VR and the new Boris FX Continuum VR plug-ins complement the 360 video workflow for Adobe, Avid and Blackmagic users.
Topics covered:
What is 360 Video?
How to edit, add graphics and improve 360 video quality.
Advanced tasks: stabilize the horizon to fix nausea inducing motion and remove the camera from nadir.
Mary Poplin is an experienced visual effects and motion graphics artist. She has worked on major Hollywood feature films such as The Last Airbender, Gulliver's Travels, and Jackass 3D. As Boris FX's West Coast product specialist, Mary consults with film studios and customers to provide hands on training.
TEN TIPS FOR SUCCESSFUL EMPLOYMENT IN HOLLYWOOD
Whether you are looking to start the year out fresh with a new opportunity or hoping to advance in your current one, January always bring us the chance to make sure that you are putting your best foot forward in this fiercely competitive industry. Join us as LAPPG co-founder and award-winning re-recording mixer and owner of Allied Post Audio, Woody Woodhall, CAS shares some of his hard-won lessons on this subject in an informative and entertaining presentation about what you need to know to get or keep your job in 2018.
Date: January 10, 2018
Time: Doors open at 7:00pm
Register Now