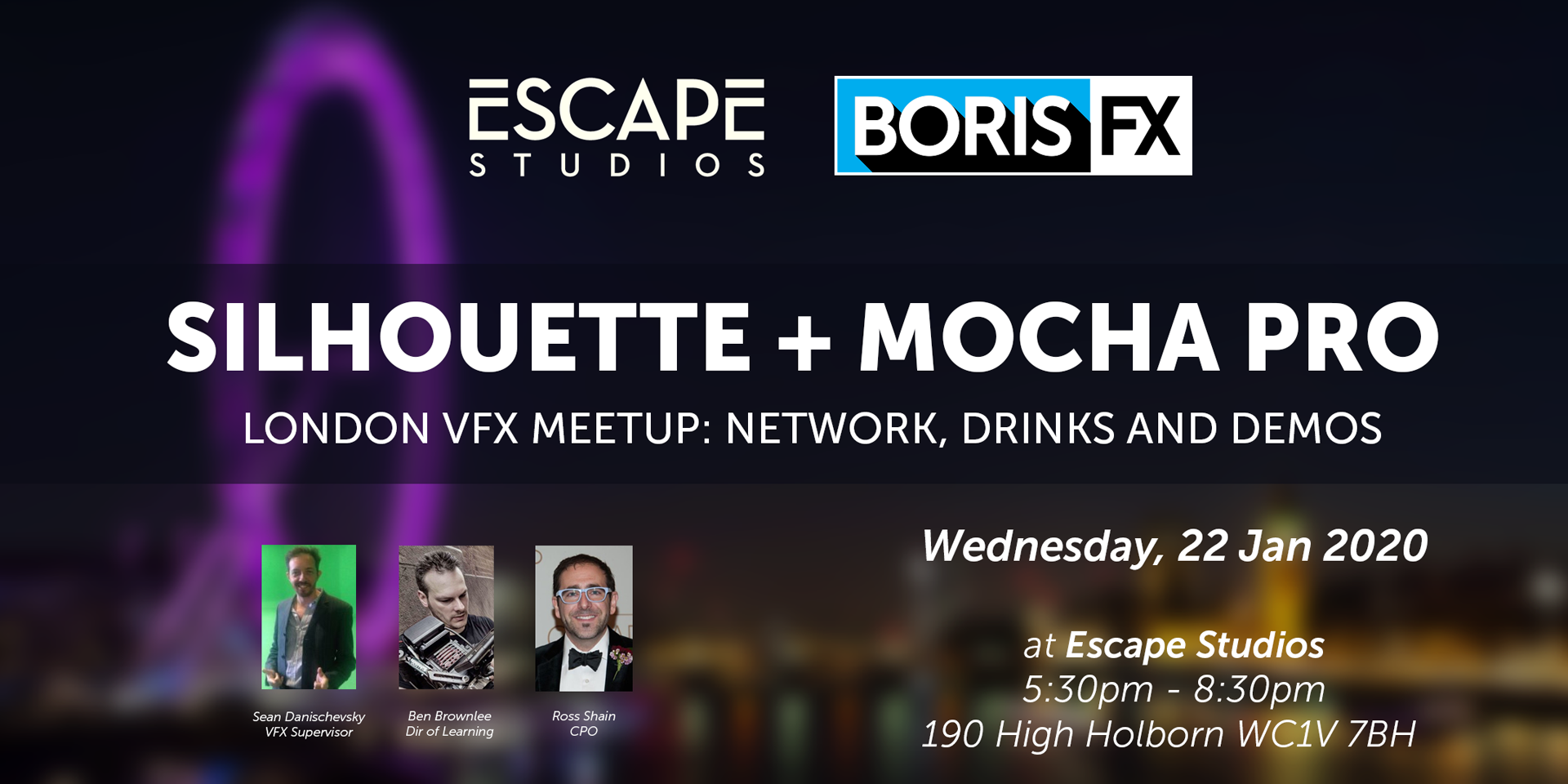 Boris FX is teaming up with London's Escape Studios on Wednesday, 22 January 2020, for a fun night of VFX, networking, refreshments & prizes. See the newest versions of Silhouette and Mocha Pro in action along with special guest artist presenters.
PRESENTATIONS:
Silhouette 2020 & Mocha Pro 2020
Ben Brownlee, Boris FX Director of Learning, will show you the newest powerful and time-saving features in the recently released 2020 versions of Silhouette and Mocha Pro. Silhouette's award-winning non-destructive paint and roto tools combined with integrated Mocha planar tracking tools are ideal for feature film VFX work and roto/prep teams. Learn why both applications have been awarded Academy Sci-Tech and Emmy Engineering Awards.
Special Guest, Sean Danischevsky
Sean Danischevsky is a Visual Effects Supervisor at Automatik-VFX, where he programs and implements machine-learning solutions for image generation, rotoscoping, de-noising, de-aging, and beauty work. He's led teams on features including British Independent Film Awards 'Best Visual Effects' nomination The Girl With All the Gifts, The Aftermath with Kiera Knightley, Ophelia with Daisy Ridley and Naomi Watts, My Dinner with Hervé with Peter Dinklage, and Simon Pegg and Nick Frost's comedy horror, Slaughterhouse Rulez. He's a huge Mocha fan and will tell you why it's cool to get excited about tracking, stabilizing, and rig removal.
DATE & TIME: Wednesday, 22 January 2020
5:30 pm — Network & Drinks
6:00 pm — Presentations
ADDRESS:
Escape Studios
190 High Holborn WC1V 7BH (Pearson's building)
Room # 2.9 at 2nd floor (collect security pass at bldg entrance)
Door Prizes: Swing by and you could win one of Boris FX's award-winning products: Silhouette, Mocha Pro, Sapphire, and Continuum.