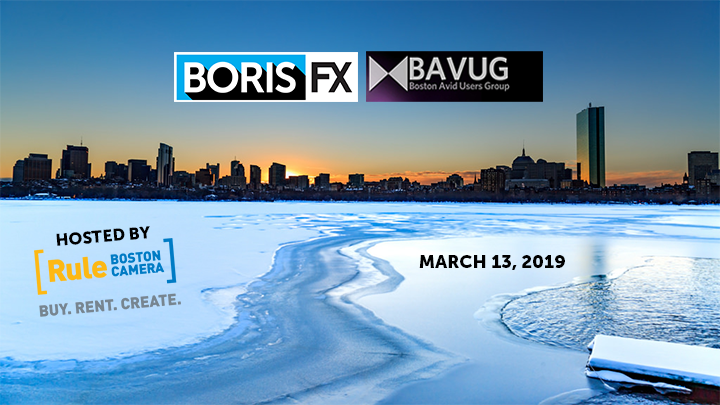 We always love presenting in our hometown! Join the Boris FX team at the Boston Avid Users Group (BAVUG) for a night of 2019 demos, food & drinks, raffles, and fun. RSVP Now
See our newest VFX and editing tools and learn how they'll help save you time and give you the creative flexibility you need.
Date & Time: Wednesday, March 13, 2019, at 6:00 pm-9:00pm
Place: Rule Boston Camera, 320 Nevada St, Newton, MA 02460 (view on map)
Learn how Continuum's new Particle Illusion changes how you create high-end motion graphics; track lens flares, spotlights, and rays using the new point-parameter driven Mocha tracking; and add glows, blurs, and more directly onto your titles inside Title Studio.
Create flares with ease using Sapphire's totally revamped and enhanced LensFlare and Flare Designer (a Hollywood favorite); meet your favorite new transition, WhipLash, a warp-speed swish pan; and add digital glitch art looks to your next project with PixelSort.
Discover how Mocha's new Essential Interface (found in Sapphire, Continuum, Mocha AE, and Mocha Pro) makes it easier to not only master tracking due to the streamlined workspace, but to also quickly create masks using 4 new spline tools including a magnetic spline with edge snapping, a freehand tool, and new geometric shape tools.
photo credit: ejmoreno783 via photopin (license)