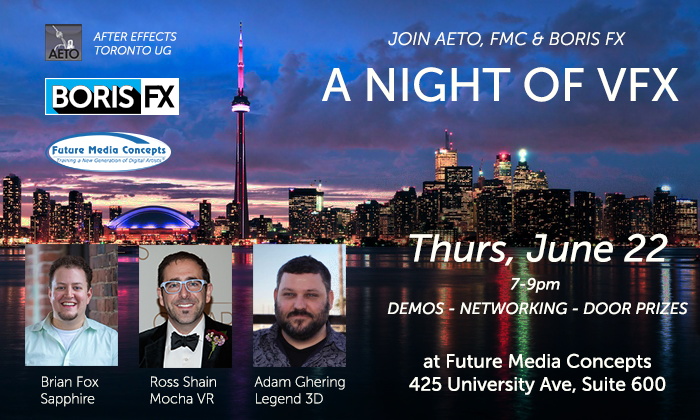 Please join AETO, Boris FX, and FMC on Thursday, June 22 for a night of VFX presentations, networking, refreshments & prizes.
Featuring Sapphire, Mocha VR and special guest artists from Legend 3D!
Space is limited. Register today.
Presentations:
Sapphire: Brian Fox, Director of Product Marketing for Boris FX, will present Sapphire Visual Effects plug-ins for After Effects. Topics include an overview of the top Sapphire effects for AE, an introduction to the Sapphire Effect Builder, and a sneak peek at the upcoming release of Sapphire 11, which features integrated Mocha tracking and masking.
Legend 3D|VFX|VR:
VFX Supervisor: Adam Ghering
Compositing Supervisor: Anthony Garcia
Legend is a visual effects, virtual reality, and stereoscopic conversion company based in Los Angeles and Toronto. Supervisors Adam Ghering and Anthony Garcia will provide an exciting overview of Legend's work, which includes blockbuster feature films, celebrated television shows, high-end commercials, music videos, and award-winning VR pieces. For more info, visit: legend3d.com/
Mocha VR: Academy Award-winning product designer, Ross Shain, will discuss 360 video post and present Mocha VR. Mocha VR was developed for cinematic VR workflows; tools for planar tracking, masking, removing camera rigs, stabilizing camera motion, and more. Mocha VR works as a plug-in for Adobe After Effects, Premiere, Avid, and OFX.
DATE & TIME: Thursday, June 22, 2017
6:30pm - Meet & Greet (food & drinks)

7:00pm - Presentations
**LOCATION: **Future Media Concepts
425 University Ave, Suite 600, Toronto, ON, M5G1T6
Door Prizes: Attend for a chance to win software prizes! Giving away Boris Continuum, Sapphire, Mocha Pro & more!