Blockbuster visual effects typically get all the glory. For the LA-based team at Wolverine VFX, the glory is in what you can't see — the invisible visual effects, graphics, and motion design you don't notice. The boutique, founded by veteran VFX artist Chuck Dulin in 2013, has left an invisible mark on high-end episodic and film projects for clients including Amazon, CMT, NBC, Netflix, and Universal Pictures.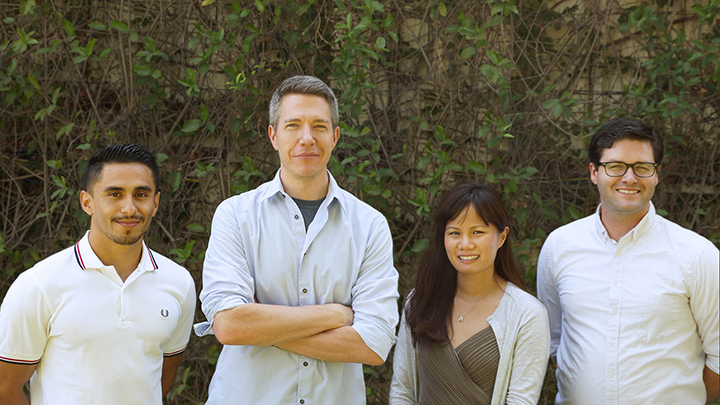 (Wolverine VFX, pictured L-R: Jerad Riojas, Chuck Dulin, Nancy Dulin, Tyler Shanklin)
The team works on between 2-4 shows at once with an average of 10-20 shots per episode while also acting as an emergency VFX shop. Daily tasks range from removing unwanted elements to screen replacements to de-aging talent and beauty work to creating elaborate set extensions. "Mocha Pro has been with us since the beginning. It's our go-to tool, not only for tracking and removals but for creating masks and roto splines," says Chuck. "Mocha Pro's plug-in inside After Effects has made our work much easier and sped up our overall Adobe workflow (After Effects, Premiere Pro, Photoshop, and Illustrator) which means we can get shots back to the client when they need them."
"I love telling our clients, 'Yes, we can do that!' and then surprising them when the budget isn't $100 grand!" continues Chuck. "When I think about the amount of time these shots would have taken 10 years ago, I'm shocked. The industry has changed from a technical challenge to a creative problem-solving experience."
Wolverine recently tackled what would have previously been an extremely tricky remove on the Netflix original series Seven Seconds. The series, which takes place in New York, features a shot circling the Statue of Liberty. Unfortunately, the shot also prominently featured a crane from a nearby construction site. "Typically, removing a crane isn't too difficult, but this was front and center in a constantly sweeping camera move, meaning the crane crossed over many buildings and plant life," notes Chuck. "The client asked us what was possible. We turned to Mocha Pro's Remove Module and found that it helped get us much of the way to our final shot! There was a little clean-up and finessing needed, however, the results thoroughly impressed our clients."
(Netflix Seven Seconds: Crane remove with Mocha Pro)
(CMT Nashville: Camera remove with Mocha Pro)
Mocha Pro's powerful time-saving features played a dual role on the indie sci-fi thriller Thirst. Wolverine transformed the natural background of LA's aqueducts (trees, power lines, and water) into a dystopian wasteland with a giant refinery set extension. The team used Mocha to rotoscope the actors from the foreground before adding the set extension. In another scene, Wolverine enhanced the burn makeup on an actor's arm after it boils and smokes when a drop of water hits it. "Mocha allowed us to create a seamless VFX and successfully track the actor's arm, ensuring the effect didn't slip," comments Chuck.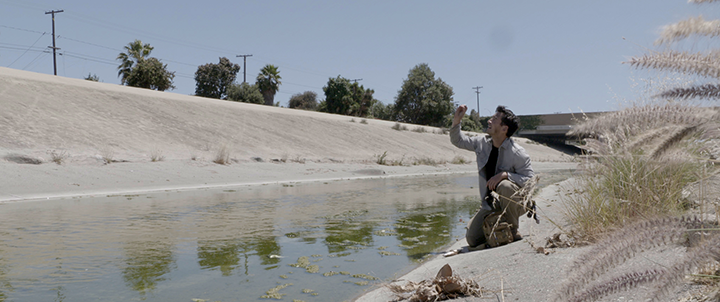 (Thirst: Original shot of Los Angeles aqueduct)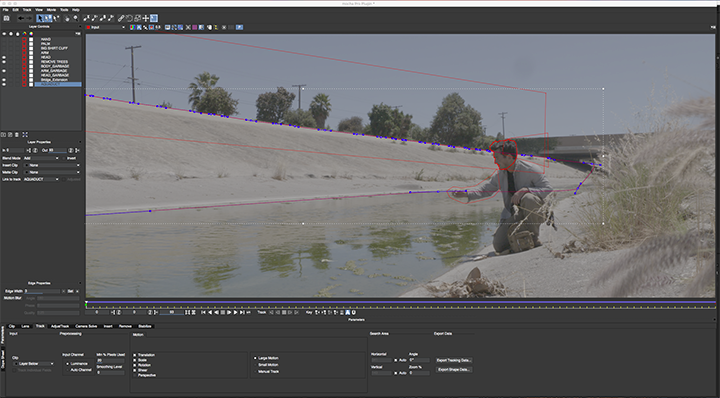 (Thirst: Rotoscoped actor using Mocha Pro inside After Effects)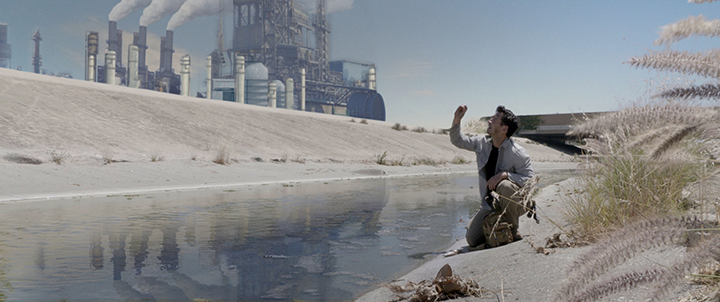 (Thirst: Final shot with refinery set extension)
(Thirst: Tracking VFX with Mocha Pro)
As artists, Chuck and his team are always looking for new outlets to spark their creative juices. Layton's Mystery Journey, a 30-second spot for a puzzle App & video game, provided such an opportunity. The team used Mocha's roto and masking tools to add a fuzzy CGI-hamster into a live action sequence delivering instant comedic laughs.
"Most every shot we work on that needs tracking gets brought into Mocha Pro," says Chuck. "Mocha Pro's planar tracking features allow us to track damn near anything we want: foregrounds, blurry backgrounds, even constantly changing skin, random bits of camera equipment, and the occasional wardrobe malfunction."
Learn more about Wolverine VFX
Download a free trial of Mocha Pro