Jesse Michael Newman is a high-end VFX artist who has worked on Academy Award-nominated films, a digital matte painter whose personal work has been featured in galleries across the country, and father to seven kids.
"It is a massive challenge to balance career and life. I think that having a daughter while I was still in college provided essential insight into life's priorities before I embarked on my career," says Newman. "The best practical advice I can give is to live below one's means. I say that recognizing that it's not always an option since for many it's a struggle just to cover the basic necessities. However, when possible, living below one's means allows for a financial cushion that doesn't make one beholden to a job that demands too many hours, allows for extended periods of time to pursue your passions, etc."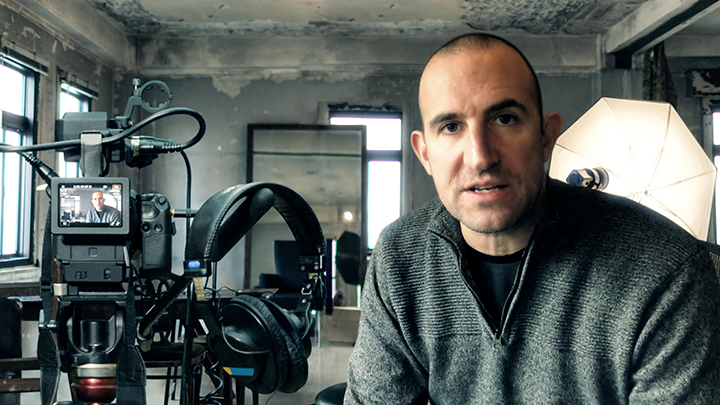 Newman, whose recent credits include shots for DC Comic's Justice League, Netflix's Lost in Space, an HP/Star Wars commercial, the US Navy, and hologram-makers Light Field Lab, works across various areas of post-production. "I might do the CG, motion design, and compositing all within the same shot," states Newman. "I think it helps to have an interdisciplinary approach so that, for example, there is a sense of design in the composite of a lens flare, a nuanced sensibility to the motion of a 3D piece, etc. It seems that more and more people are working this way."
(2019 Demo Reel: Sapphire effects used S_RackDefocus, S_EdgeDetective, S_Glow, S_DigitalDamage, S_TVDamage, S_WarpChroma, and S_Scanlines)
"Sapphire is integral to my After Effects workflow," continues Newman. "It's the effects package — the glue —  that holds many of my projects together. I feel so much gratitude to the geniuses who create these tools. Everything I do I consider a team effort with the effect creators who make these techniques possible." Rather than adding effects to the end of a project, Newman incorporates Sapphire into his workflow from the beginning to help him get a sense of what the final look will be as he's creating it. Among his favorite effects are S_DistortChroma, S_ZDefocus, S_Glint, S_Kaleido, and S_DigitalDamage.
(Project example: Shapeshifter, a film by Charlex)
(Project example: HP/Star Wars commercial)
Newman works on between 20-30 projects a year with an average turnaround time between one and two weeks, and when he's not busy with family life, he finds time to work on his personal projects blending art, technology, and spirituality. Regardless of what he's working on, Sapphire is a constant. "There are so many different ways Sapphire's effects can be used that not only save effort and time. They are often indispensable," comments Newman. "From what I can tell, several of the things I do couldn't even be achieved any other way."
(Breakdown: How Sapphire was used on personal art project Rebirth of Gaea)
(Breakdown: How Sapphire was used on projects Shapeshifter and Easy Skanking)
"I love discovering the latest tools that I can add to my bag of tricks. I feel like a kid in a candy store when I come across some amazing new tool that either helps me more authentically replicate what I see in my mind's eye or through happy accidents allow 'me' to create something beautiful," ends Newman. "A lot of times I just move the sliders around until something cool emerges, and it's hard to take credit for those moments of serendipity."
Learn more about Jesse Michael Newman
Download a free trial of Sapphire